Here are some of the ways companies around the world are creating great workplaces for their employees:
Genevive Ammar, Poly
Genevive Ammar is the Marketing Manager, ANZ, for Poly – a global outfitter of professional-grade audio and video:
"I love Poly's flexible working policy – there's a trust in people to deliver based on outcomes, rather than time spent in the office. This means I am able to balance work and life as a mum of two kids; not having to miss parent-teacher meetings and other important events, which is great.

"The fact that Poly delivers best-in-class audio and video devices means I can take home my headset and video conferencing camera – they help me connect with the rest of the team as if we were in the office. This helps us develop a culture that is collaborative and inclusive, which results in having a team that is passionate and dedicated and feels like a big family. Even now as we have fewer people in the office due to the pandemic, the team meets for regular company-sponsored breakfasts to get people together, to ensure those still working from home remain connected.

"Poly looks after its people by providing a generous private health insurance package, which gives me peace of mind that my whole family is covered. Another great perk is that staff can have a 90% discount off a massage each week!" https://www.poly.com/au/en
Monica Watt, Chief Human Resources Officer of ELMO Software
"ELMO Software has a 'whole of employee' approach to employee wellbeing. We focus on building our sense of community, encourage collaboration and create career opportunities for our employees. This means we focus on more than just the team lunches and after-work drinks. While we do both of those things, we also offer other initiatives like yoga, meditation and Tai Chi in our wellness room, plus a fully stocked kitchen and barista-made coffee. For ELMO, it needs to be more than just drinks with the team, it's activities that support physical and mental health as well."
 "We believe that wellbeing must include an employee's professional development and career progression too. This is why we invest in training and development and run programs such as Toastmasters to help develop communication skills and present with confidence. As we have grown as a business, we have also invested in initiatives to strengthen our talent pool from within, establishing career paths and cross-boarding is essential in ensuring we are building our talent pool and have the right talent at the right time. To sustain our continuous growth, we run an emerging leaders' program to find the high performers and offer them structured mentoring to eventually move into leadership positions. It is critical to develop and grow from within as it helps us to respond in real-time which provides us a strong competitive edge." https://elmosoftware.com.au/
Laura Petruccelli, Contino
"At Contino, we make informed decisions backed by data. By understanding data and turning it into actionable insights, we are able to empower our teams to do amazing work for our customers and partners. We also apply this mantra internally, using insights to identify areas of improvement to ensure that team members have what they need to achieve success on a daily basis. Within the tech industry there is a consistent thirst for knowledge and skill development, and Continis, that's what we call people who work for Contino, are no different.
"To support this ongoing culture of learning and development, Contino implemented a series of initiatives. In addition to a generous training budget, dedicated training days and nurturing tech communities of like-minded engineers, we launched Contini University. This is a comprehensive program of learning and further education, that leverages both internal and external expertise, to help build high-value skills and knowledge across Contino."
"Our success starts with our people and by providing them with a supportive culture that inspires our team members, we know that they will continue to create the best experiences for our customers," said Laura Petruccelli, Director of People, APAC at Contino. https://www.contino.io/
Ayaan Mohamud, Impact
Ayaan Mohamud, Regional Marketing Director, APAC says: "Impact is a marketing technology company. Our Partnership Cloud, a SaaS platform, helps brands manage all types of partnerships (brand to brand, influencers, charities, affiliates, publishers) at scale."
"We are an innovative company that's pioneering the partnership automation category. It's a fast-paced work environment but we all feel that we are part of something truly special. We constantly innovate for our clients but it's even more important that we provide a supportive, inspiring and empowering environment for our employees. It's certainly by far the best company I have ever worked for and I'm constantly impressed by the business and how they lead with empathy and compassion, especially during these crazy times."
"Here are some of the incredible perks that our employees are given (some providers differ by region):
We get unlimited leave (people don't abuse this but it offers fabulous flexibility)
We have private healthcare with BUPA
In APAC we have access to LifeWorks, an employee assistance programme that provides incredible mental health support and resources
Our senior team members receive executive coaching from the wonderful Angela Heise
Impact schedules company-wide long weekends to celebrate key holidays and to give people time back with family and friends as a thank you (e.g., Diwali, International Day of Happiness)"
"We are all encouraged to get involved in charitable initiatives via our #CreateImpact initiative. As a company, we support UnLtd (in fact our APAC MD just completed the 3 peaks challenge and raised over $180k), OzHarvest, Starlight Foundation (through meetings for good) and several other organisations."
"We also have an amazing Diversity, Equity and Inclusion Director who has created an ambassador programme (which I'm part of) for volunteers to get together globally and work on external and internal programmes." https://impact.com/
Kat Robinson, Miroma Project Factory (MPF)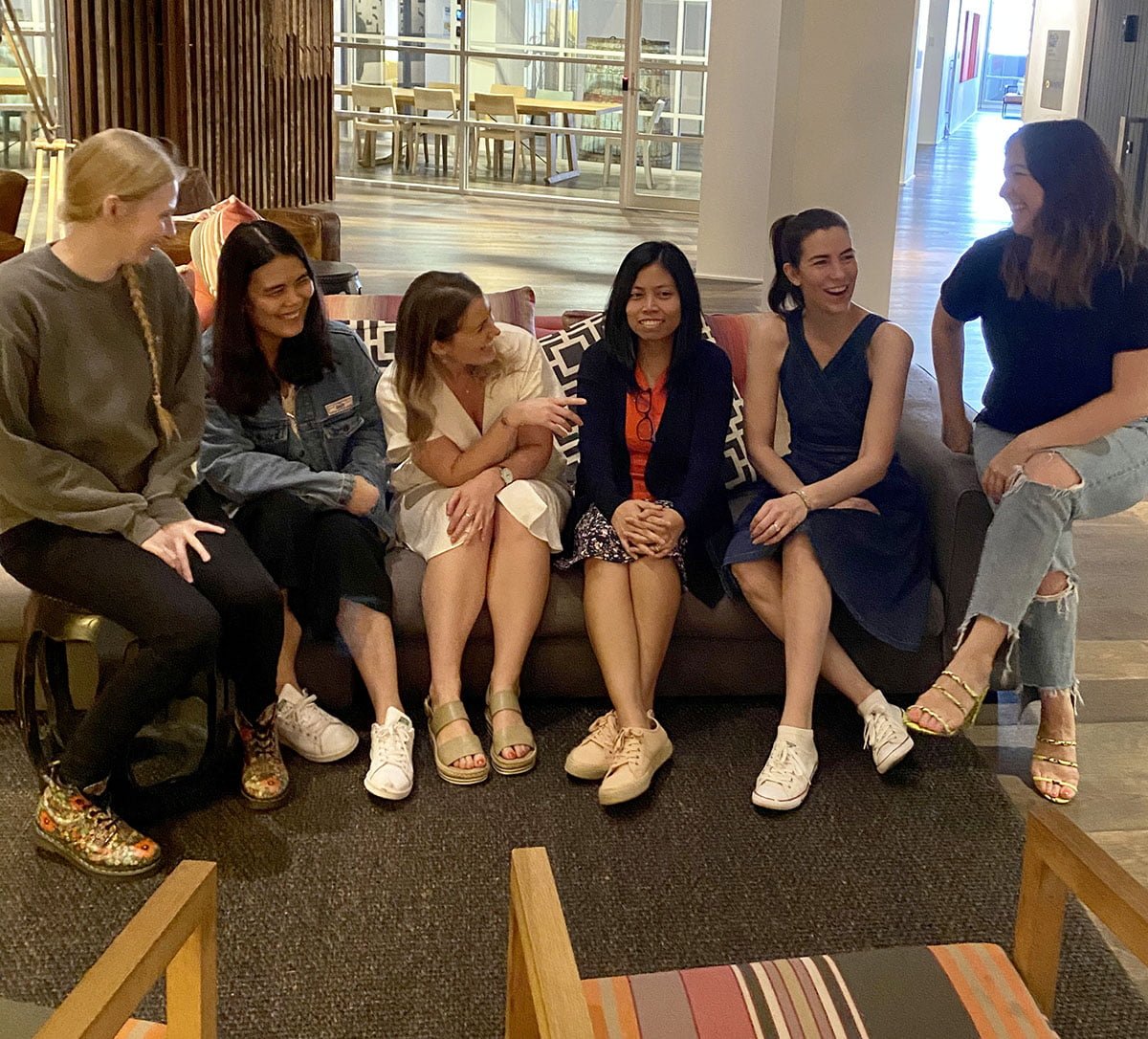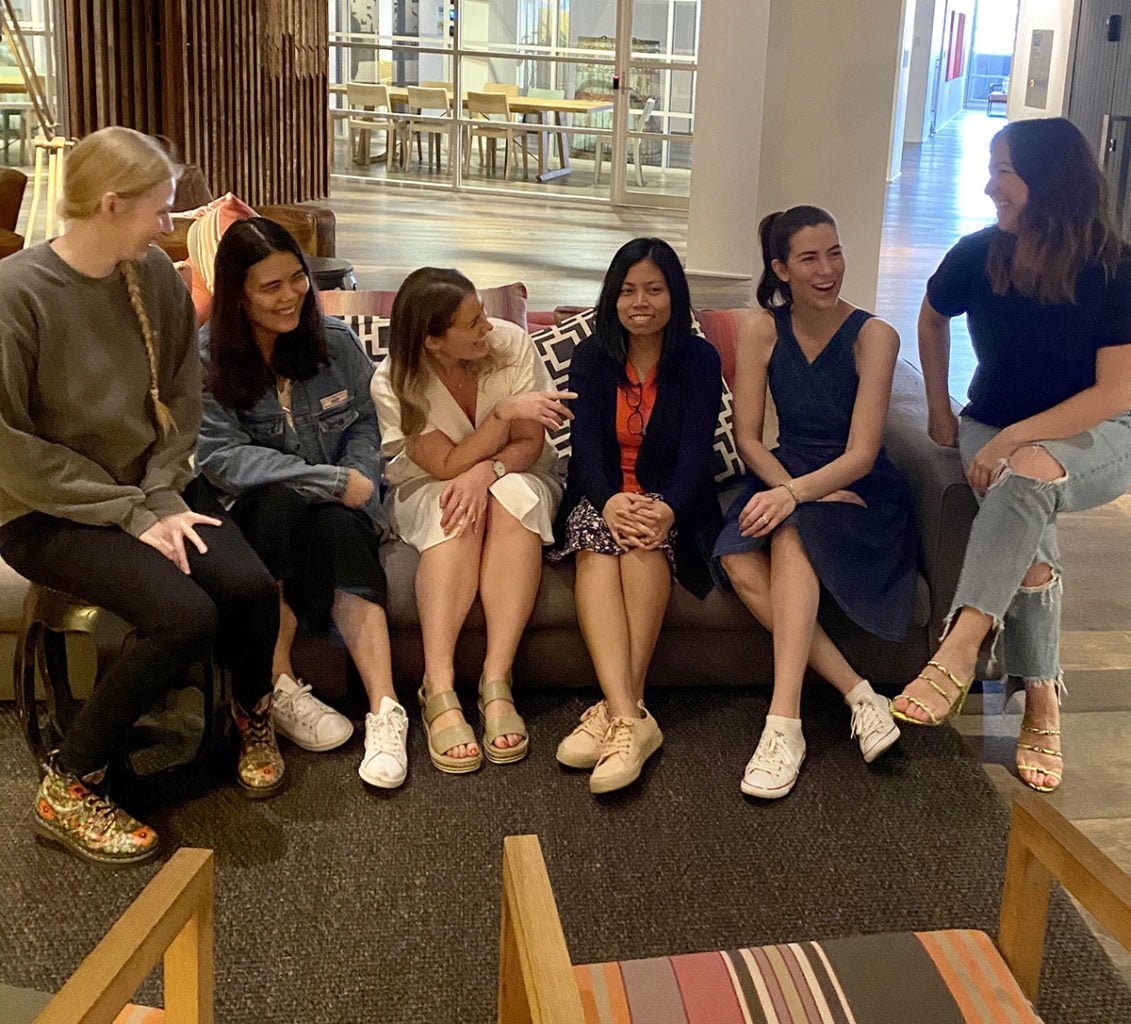 "We are a globally integrated digital development studio that couples leading edge, engaging solutions with unique behaviour change, storytelling and gamification services, building experiences that resonate individually to each and every person we connect with."

"MPF is continually in pursuit of a diverse, vibrant and culture-rich flat structured workplace. We are passionate about what we do and want our crew to have equal input into the company's future. As a technology company, we are proud to have a female founder, current female CEO and 48% female staff."

"Our business as a whole has a 'technology for good' challenge and we seek clients who align with our core values."

"Our soft benefits reflect the needs of our crew and change continually, they include items such as free flu shots, dedicated charity give-back days, flexible working conditions, skunkworks learning days, birthdays off and team social activities." https://www.theprojectfactory.com/
Sarah Liberty, CEO, JustSociale
My name is Sarah Liberty, and I'm the CEO of JustSociale, Australia's first NGO dedicated to online human rights.

"I am proud to provide an incredible work environment for my team at an office in Darlinghurst, Sydney. We have a large screen with a constant Twitter feed, kombucha on tap, a breakout/kitchen area, the latest iMacs, a creative Boardroom, and I also promote flexible working arrangements. I have a very diverse team and Board, including Aboriginal, transgender and disabled members, and I am a CEO who is heavily tattooed (although I do usually dress in business attire)."
"This makes for a truly unique team that gets the perk of learning different perspectives from each other. I proudly promote diversity, inclusion, freedom of expression and of course social justice and human rights. I don't have a separate office – my team and I all work together in the same area, and as an intersectional feminist leader I believe in promoting self-care, respect for the opinions and input of all team members and a healthy tech/work/life balance." https://justsociale.org/
Alison Bernstein, founder and president, of Suburban Jungle
"In today's world, flexibility and multitasking are key to mom's success on the job, and with the help of connective technology, it has never been more manageable. We have seen so many talented mothers drop out of the workforce due to time constraints, family obligations, lack of childcare and overall guilt. What we have done to support our team of moms is to encourage them to work hard, but on their own schedules. This allows Suburban Jungle to tap into the workforce of great talent, and empower our team to truly succeed on their terms. What we get out of it is enhanced, productivity, overall happiness — and a greater work product. This arrangement is of course not for everyone as the right fit for a role at our company must be self-motivated, driven and not looking to take advantage of the autonomy, independence and lack of direct contact supervision the job affords."

"Suburban Jungle is a real estate advisory and tech platform dedicated exclusively to helping young families leave urban for suburban."

"While many companies are reluctant to hire women, who have been out of the workforce for an extended period of time Alison Bernstein believes that it is a win-win for all. She gets to support women and their families and choose them from an almost untouched and extensive talent pool including former executives, newscasters, bankers etc. The organization has a plethora of wonderful working women all over the country who pseudo-work as entrepreneurs, managing their own clients on their own time on their own devices, and winning for themselves and their families! In this rapidly changed/changing world there are few careers you can just reintegrate yourself into. This is a unique concept that truly makes SJ special. From taking internal calls from the car to having email and SJ user-friendly interfaces all available on your hand-held… mom can finally do it all!"

"Suburban Jungle house hunters are each assigned a local strategist with whom they can create a personalized search approach based on their family's distinctive personality, needs, and interests. Using technology and proprietary methodology, the company is able to customize a list of towns and develop a personalized home search strategy that will fulfil the individual wishes of the client. Free of charge, the advice and insight provided is completely objective." https://suburbanjunglegroup.com/
Carol Chris, Regional General Manager, Australia & New Zealand at GBG Plc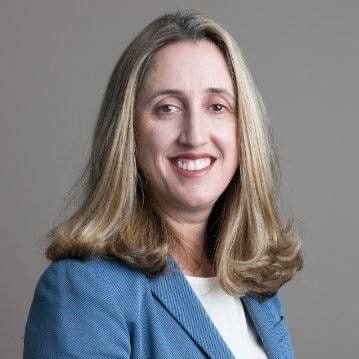 "With more and more amazing women leading some of the world's biggest technology companies, the tech sector has been making progress in gender equity. At GBG, supporting and advancing the careers of our female employees is in our DNA as we understand the sentiment of women's experiences in the workplace, especially on topics such as fair compensation, career opportunities, leadership and managing motherhood."
"GBG has a family-friendly policy which offers all of GBG employees, regardless of their gender or levels, 16 weeks of maternity or adoption leave at their full salary. To stay in touch with the business during that time, GBG offers employees up to 10 "keeping in touch" days, whereby they get paid at their normal daily rate and still have their maternity/adoption leave protected. The same policy applies to cases of adoption and fostering."
"And upon their return to work from their maternity/adoption break, new parents have the option of working 4 days a week at their full-time salary for 3 months. This is so they can adjust to their new schedule and slowly get back into the workforce."
"GBG also offers mental health support, giving all employees as well as their immediate families, free access to the Employee Assistance Program. We also have access to a well-being consultant based in the UK who we can reach out to at any time for a quick chat or talk through a particular challenge we are facing." https://www.gbgplc.com/apac/
Merylee Crockett, Interactive
At Interactive, we were voted Australia's Best Place to Work in 2020 because we are truly an amazing place to work. Beyond the basics like on-site baristas, state-of-the-art facilities, free parking, and paid parental leave (which like most, we have too) we are helping our people realise their impact – on our business, our communities and our customers.
Merylee Crockett, Director of People and Culture, shared, "The usual perks aren't enough. People want to feel like they're making a difference and they want to feel an investment in their careers. We see that connecting people to a shared purpose and providing flexibility and choice have a larger impact on engagement than free coffee and a nice office."
"We work in the midst of the most dynamic and rapidly evolving industry on the planet – the tech industry – and people come to Interactive to get involved. The opportunity to be mentored by experts in their field, be supported to work on the latest innovations from some of the world's largest innovators, access learning academies in areas such as Public Cloud, Cyber Security, Network design combined with developing your own personal skills and innovation capabilities all contribute. We are so passionate about helping our employees develop that we've created dedicated academies for our teams to attend".
"Most importantly we value what our team already has, what they already know and what they already have done. We want to see our staff use all the talents, experiences and passions they already have and bring them to bear in an environment that encourages experimentation and celebrates the positive contributions that our company and our industry can have on those around us".
"It is more than a nice office, it is making a direct, tangible impact every day that drives our people and makes Interactive Australia's Best Place to Work". https://www.interactive.com.au/
Vanessa Cremona, Head of Brand and Communication APJ, Rackspace Technology
At Rackspace Technology, we believe a satisfied and enthusiastic workforce leads to happy customers. However, creating a fun yet focused remote working environment that's designed to keep employees motivated is not an easy task, especially during a pandemic. Rackspace Technology had the processes, systems and technology in place to support a remote workforce prior to COVID-19 – and this WFH flexibility has ALWAYS been the biggest perk for me as a mother with a school-aged kid. So for us, 2020 was about exploring unique ways to keep our remote workforce engaged.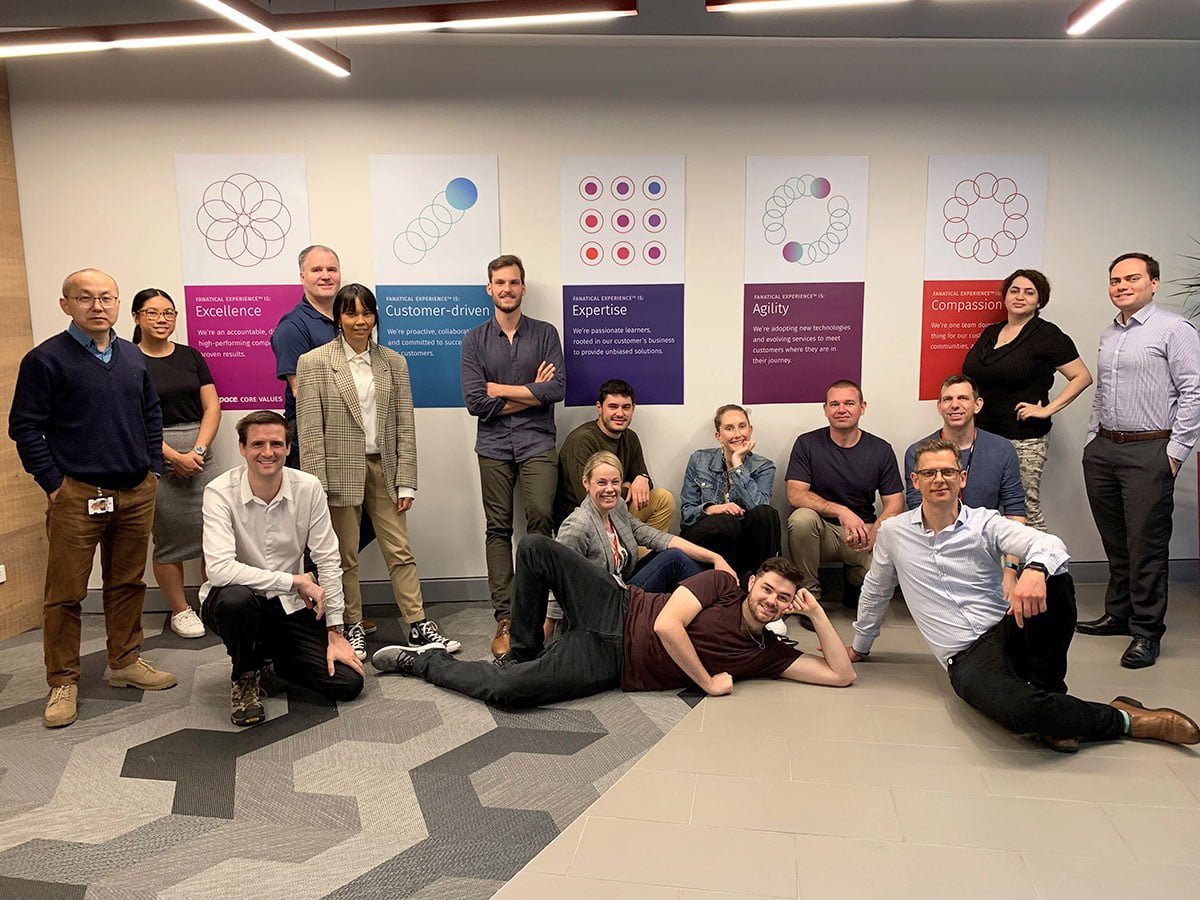 Currently, we have the Worldwide Wellness tour – a six-week fitness challenge where 'Rackers' have three ways to earn daily points, allowing us to travel virtually around the world. The aim is to connect with colleagues globally and build well-rounded healthy living and wellness habits that last long after the challenge ends. It also gives you daily healthy recipes, and health tips, and you can leave messages for others to encourage them to get out there.
We also launched Spotlight, our peer-to-peer recognition program, where each 'Racker' receives monthly points to acknowledge the achievements and hard work of anyone in the company. These points can be used to purchase rewards from gift cards to an iPhone, Samsung, or TV. https://www.rackspace.com/
Inga Latham, CPO, SiteMinder
"The perks offered by tech companies have rightly evolved. Flexibility has replaced office catering, and opportunities to feel a deeper connection are now demanded. As an example, at SiteMinder, we introduced the Shadow Equity Plan two years ago, so our people felt literally invested in the company as shareholders."
"Going into 2021, it was important that our people had the autonomy to choose how they worked. We knew that last year was a pilot. After many months, each person had learned what drove them to excel and so we implemented an Open Working model, to let our people choose between working in the office, remotely or both."
"It's required us to get creative in order to maintain connections and our culture. We launched Social SiteMinder for this reason, giving team leaders an allowance every quarter to organise their own events. In doing so, our people have the freedom to connect in the way they want to, rather than have that dictated by HR." https://www.siteminder.com/