Father's Day is around the corner and as usual, it is not easy to find the perfect gift for 'dad'. Let me tell you a secret, pick a tech gadget gift because whatever your budget is, it will be a winner. Trust me. This is why I have selected myself and tested those amazing tech and practical new gadgets, they are high quality, affordable, and fabulous Australian products.
9 Amazing Gift Ideas For Tech-Savvy Dads
For the Dad who has everything:
Give your Dad a UFO Supercharger to help him charge all his tech toys! TheSuperCharger UFO (RRP $49.95) provides a powerful Five Amps total output via a smart chip that detects the number of devices plugged in (up to five), and then divides the power between the ports used. If speed is of the essence, simply utilize two of the five ports to access maximum 2.1 Amp charging for maximum power.
The UFO Charges all USB powered devices, including smartphones and tablets, as well as GoPro, compact digital cameras, portable speakers, Bluetooth headsets and headphones, Powerbanks, GPS devices, Console controllers, and Smart Watches eg: Fitbit or AppleWatch.
For the Dad who's always running low on power
Keep him charged and happy with the ChargeUp Digital 6,000 Portable USB Charger. Powered by lithium polymer battery technology, which allows smaller cells to deliver higher power output in an ultra-thin package. ChargeUp also features a digital power display so he knows precisely how much power remains and a tactile rubber finish. ChargeUp Digital 6,000 (RRP$69.95), and also available ChargeUp Digital 10,000 (RRP$99.95)
For the super-classy Dads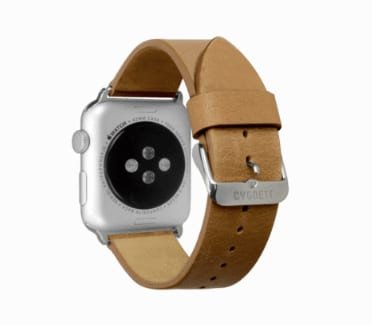 If your Dad likes his gadgets with a classic feel, the LuxBand Leather Apple Watch band (RRP $99.95) exudes luxury and will look great on him. Made from thick, luxurious 100% genuine leather in either classic tan or elegant black, the Luxband brings a characteristic watch feel to the sleek lines of this revolutionary smartwatch.
For car-loving Dads
MagMount Vent Magnetic
If your Dad spends a lot of time in his car, the MagMount 360 and MagMount Vent Magnetic Car Mounts (both RRP at $25.95) are the quickest and easiest way to have his phone in plain view without having to touch it.
MagMount 360
The MagMount 360 Magnetic Vent Car Mount combines the most convenient way to attach your phone securely in your car with the ability to take it anywhere. Simply place your phone on the magnet and it stays put. With an ultra-compact form, the MagMount 360 takes up little space in your car and features an incredibly strong hold that's always reliable, even on rough roads.
MagMount360 mobile phone holder is the ultimate in convenient hands-free access for your smartphone or any other compatible device, via the magnetic hold system. Mount this mobile phone holder it to a smooth surface like a windscreen and it stays in place. View your phone effortlessly at multiple angles.
For Dads who want to rest easy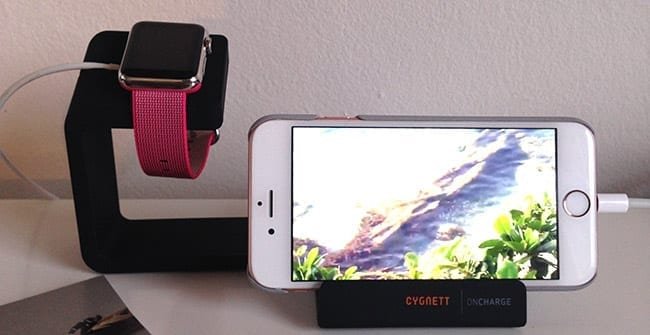 Help him stay on top of the day ahead with the OnCharge Duo powered charging station. Charges and displays his Apple Watch and iPhone at the same time and purpose built to manage cable clutter and keep his bedside table or desktop tidy while charging. Two built-in USB ports provide a hefty 2.1A, fast-charging both devices simultaneously.
For Dads with Tech Addictions
Whether he likes to read the paper or books, watch movies or shop online, Cygnett's TekShell Slimline iPad Air 2 Case provides his iPad with ultra-thin protection. Available for iPad Pro 12.9" (RRP $49.95), iPad Pro 9.7" (RRP $49.95), iPad mini 4th Generation (RRP $39.95) and iPad Air 2 in Blue and black, Red and black, Purple and Black and Black and grey.
Urbanstone Case For iPhone 6S & 6 Light Grey
The UrbanStone case wraps around all four corners of your phone and encases it in a highly tactile and protective shell. The super slim form emphasizes the sleek lines of your iPhone, protecting it from scratches and wearing, while enabling access to all functions. Easily snap the case on or off. Pair it with a Screen Protector for iPhone 6s & 6 for extra protection.

RRP$24.95 AUD

Gostick Bluetooth Camera Selfie Stick & Tripod

Capture your best angle and always be part of the action with the extendable GoStick Bluetooth Camera Selfie Stick & Tripod, featuring a secure universal cradle for your smartphone or mount for your GoPro mount compatible camera. Trigger your shutter with the Bluetooth remote that attaches neatly to the stick, or use it to trigger exposures remotely for photos, videos and time-lapse sequences. The collapsible tripod enables hands-free photos anytime, anyplace. Never miss a moment with GoStick!
RRP 

$59.95 AUD
All products listed are currently available at Cygnett.com or JB Hi-Fi.
I have teamed up with Cygnett for this article.
Have something to add to this story? Please share it in the comments.