Over the past year, many more of us have worked from home and this has created the rise of the flexible workplace with a greater demand for hybrid working solutions. Acer has responded to the changing way people are consuming technology and this week the company showcased its latest range of innovative laptops including:
The Swift 5 ultra-thin consumer laptop with world-first antimicrobial solution on its touchscreen.

The ConceptD 3 Ezel – a creative toolbox for those on the go.
The Helios 300 and Triton 500 are latest generation gaming laptops.
The TravelMate Spin P4 laptop which combines mobility and business-grade performance.
As Acer's Oceania managing director, Darren Simmons said at the Acer showcase: "During the pandemic last year, over 4.3 million people or 32% of working Australians, worked from home. Many people, across several industries, demonstrated that when equipped with the right technology, they can successfully work from home, remain productive and be engaged."
"Hybrid ways of working and living are at the core of our collective psyche in the current climate and this has accentuated the importance of technology in enabling connectivity – not only in the business sector but also across consumer, creative and gaming," he added.
"Acer's latest products demonstrate our commitment to innovation and adaptability and are purposely designed to enrich people's lifestyles. As we look to the future and what a 'new normal' may look like, Acer is focused on enabling a world where hardware, software and services will fuse as one to unlock new possibilities for consumers and businesses alike," Simmons continued.
So whether you're after a lightweight laptop for use on the go, at work or home, or a device to unleash your creativity or accelerate your gaming potential, Acer has a product to meet your needs. Similarly, Acer has a range of business notebooks or desktops to suit different workforces, giving Australian businesses access to the latest technology.
Work or Play Anywhere with Swift 5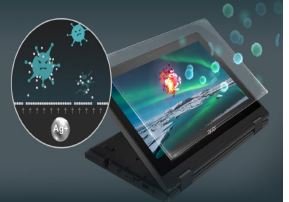 In response to COVID-19, this notebook has an antimicrobial solution which help protect users against germs and bacteria. The Swift 5 features an Antimicrobial Corning Gorilla Glass touch display which means the surface can stay cleaner longer and is less susceptible to bacteria.
This is achieved via trace amounts of silver ions leaching to the glass surface to eliminate the surface bacteria while still offering other benefits such as improved durability and improved scratch resistance.
Ultra-thin and lightweight, the Swift 5 offers productivity while on the go. The laptop features a 11th Gen Intel Core processor, Intel Iris Xe graphics and a fast-charging battery delivering up to 17 hours of power.
Design Versatility with ConceptD 3 Ezel

Creativity can happen anywhere and ConceptD makes it possible. The ConceptD 3 Ezel is a creative toolbox designed for creators on the go with up to 18-hour battery life. This device is fully convertible, lightweight and features a 15.6″ FHD PANTONE Validated touchscreen display which comes with its own dockable stylus.
The Predator Helios 300 & Triton 500 for gaming
Powered up your gaming performance with the Predator Helios 300 and Triton 500. The Predator Helios 300 drops you right into any game with cutting-edge speed power and graphics. This laptop features a NVIDIA GeForce RTX 30801 screen, a 10th Gen Intel Core i7 Mobile Processor and custom-engineered 4th Gen AeroBlade 3D Technology.
The Predator Triton 500 features the latest 10th Gen Intel Core Processors and cutting-edge GeForce RTX 2080 SUPER Max-Q Design, DDR4 memory at 2933MHz and ultra-fast PCIe NVMe storage.
Not your typical gaming laptop, the Triton 500 offers fast speed, sports a 300Hz1 panel with a 1ms response time empowered with NVIDIA G-SYNC Technology, as well as custom engineered cooling technology which monitors temperatures and adjusts fan speed accordingly during heavy loads.
Get Down to Business with TravelMate Spin P4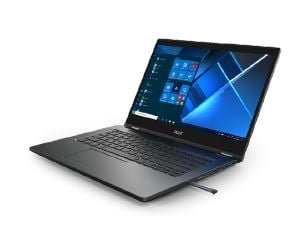 Offering mobility and performance in a compact design, the TravelMate Spin 4 has a 14-inch business-grade screen convertible laptop with the latest 11th Gen Intel Core i7 processor3. Featuring a semi-metal, versatile design, this laptop provides built-to-last durability, security and connectivity.
For more on Acer: Founded in 1976, Acer is now one of the world's top ICT companies and has a presence in over 160 countries. Acer has 7,000+ employees, dedicated to the research, design, marketing, sale and support of products and solutions which break down the barriers between people and technology. For  more information on Acer in Australia, you can visit here.
For more about laptops and computer hardware from Women Love Tech, visit here.