Podcasts can now be streamed on Amazon Music for no extra cost on all tiers, including Echo, web, and in the Amazon Music mobile app. To boost the offering, there will be new, original shows hosted by creators including Jake Brennan, John Bishop & Tony Pitts, DJ Khaled, and Dave Cawley. You can access these podcasts via the Amazon Music app for iOS and Android, on Alexa enabled devices, and at music.amazon.com.au/podcasts.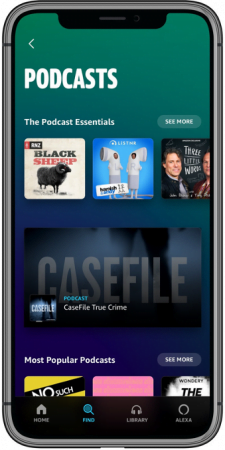 "From home-grown Aussie talent such as Hamish and Andy and Shameless, to US hit The Vaping Fix, it's now easier than ever to be educated, entertained or inspired by voices from across Australia, and the world," says Kate Burleigh, Country Manager ANZ for Amazon Alexa.
The exclusive true crime podcast COLD will be among the podcasts offered on the platform along with popular series such as Australian comedy duo Hamish & Andy. Podcast lovers will be able to tune into favourites including the RNZ's Black Sheep, the story of some of New Zealand's most controversial characters, presented by William Ray, TED Talks Daily, providing a daily dose of thought provoking ideas on every subject imaginable, and No Such Thing As A Fish, the weekly comedy podcast that delves into the hosts favourite facts that have been unearthed that week.
Visit http://podcasters.amazon.com.