If I say so myself, I'm a brilliant multitasker. As a mother of two, I've been known to cook, take a phone call and work on my laptop all at once. There's only one thing that I constantly struggle with and that's multitasking on my computer. 
And, when you are working from a transcript of an interview as you write a story and need to tab furiously between screens, it's a mightily inefficient way to work.  
So when I road tested the ASUS ZenBook 14 UX482 with its dual display and benefited firsthand from the ability to work seamlessly on two screens at once, my first thought was hallelujah.
But there's more than one feature in the new ASUS that plays to the strength of a multitasker like me. 
In fact, this beautiful streamlined machine is virtually made for busy on the go professionals. Not only is it thinner, lighter and brighter than previous models; it is an impressive piece of hardware. 
Powered by the latest 11th Gen Intel Core processors, the new ZenBook has plenty of RAM and battery power (12 hours) and makes for a premium laptop.
Brimming with cool features such as the hands-free login, you can use the infrared camera with Windows Hello to login with just a glance even in the dark.
But it is the benefit of its dual screens that wins out, and the ease in which you can move files from one screen to another by dragging them across. 
Both screens are touch enabled. The secondary display comes with a new tilting design which works well ergonomically and helps stop the computer from overheating thanks to the way it has been engineered. Also, by placing it on the bundled Duo Stand, the tilting ScreenPad Plus provides a stable platform for writing or drawing using the stylus pen. So, for those who love sketching out ideas and jotting down notes, it's brilliant.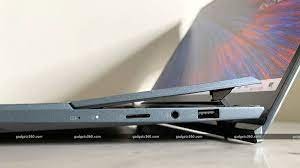 The image resolution is sharp and that's down to the next generation MX graphics. There's also some superb photo and video-editing applications making it ideal for content creators such as myself.  
Whether it's to listen to podcasts on Spotify or to watch the latest binge-worth show on Netflix, you can have multiple apps on your screen making them easy to access.
There's also plenty of ways to customise your ASUS ZenBook. Setting this up to your own liking takes a little bit of practice at first but once you've fashioned it for your needs you'll never look back.
The compromise of the dual display is the keyboard is placed further down than other laptops and the extra screen also means the touch pad is smaller but those factors didn't really bother me. 
Overall, I found the ASUS ZenBook Duo ultra portable and stylish and particularly love the distinctive royal blue colour. But more importantly, I found it really helped increase my productivity and workflow. 
ZenBook Duo 14 Features
The new tilting SceenPad Plus is powered by ScreenXpert 2 software, has been upgraded to make cross-screen multitasking and creativity easier.
You can boost your productivity with the built-in apps, and change up  your creative workflows using the exclusive new Control Panel app.
The Control Panel is a new tool that gives you intuitive control over your creative apps. With Control Panel, you can change saturation, adjust layer opacity and it's fully customisable. It works with Adobe Photoshop, Lightroom Classic, Premiere Pro, and After Effects.
Touch screen, 14.0-inch, -, FHD (1920 x 1080) 16:9, IPS-level Panel , LED Backlit , 400nits, sRGB: 100% , Pantone Validated, Screen-to-body ratio: 93 %, with stylus support.
Intel Core i7-1165G7 Processor 2.8 GHz (12M Cache, up to 4.7 GHz, 4 cores)
Smart Amp Technology, built-in speaker, built-in array microphone
harman/kardon (Premium) with Cortana and Alexa voice-recognition support.
Find out more here
Price: AU $2,739
More ASUS ZenBook offerings
ZenBook Flip 13 UX363
The ASUS ZenBook Flip 13 has an all-new design that combines ultimate portability with supreme versatility.
ZenBook Flip S UX371
The ASUS ZenBook Flip S UX371 has an all-new design that makes it even more desirable.