The ASUS  Zenfone 8 series  is the most powerful yet in the Zenfone smartphone family. You can expect a super-compact 5.9-inch Zenfone 8  and the photography-focused 6.67-inch Zenfone 8 Flip which is  designed to cover all bases of your typical user.
Powered by the latest flagship Qualcomm Snapdragon 888 5G Mobile Platform, it features the fastest possible 5G speeds. Plus, it has long lasting batteries — 4000 mAh in Zenfone 8 and 5000 mAh in Zenfone 8 Flip.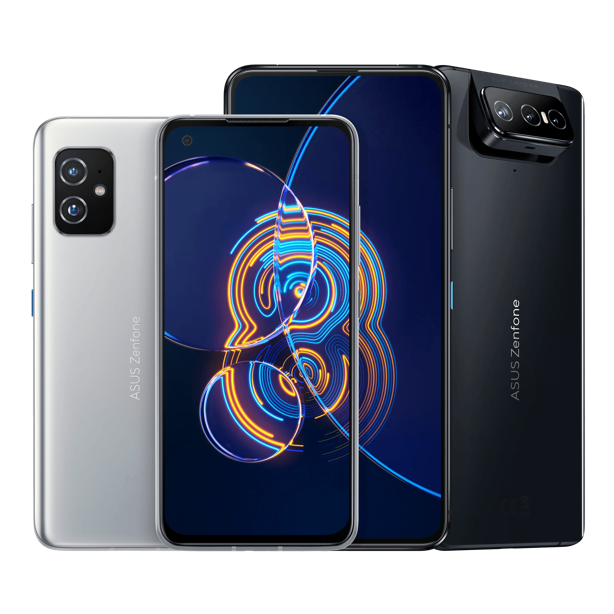 Zenfone 8 Series:
Both Zenfone 8 and Zenfone 8 Flip feature exquisite Samsung AMOLED displays with immersive visual experience with ultra-vivid colours. Additionally, Zenfone 8's display has an ultrafast up to 120 Hz refresh rate. The displays also include in-display fingerprint sensors for convenient security.
Flagship Sony camera sensors add superb photo and video capabilities to both phones. Zenfone 8 has a fixed rear dual-camera system, while Zenfone 8 Flip features the innovative triple-camera Flip Camera, a motorised flip-up module that enables the same high-resolution photos and videos at both front and rear.
Zenfone 8 has a sleek all-new design, with dimensions specifically chosen to allow easy pocketability and effortless one-handed operation. A 3D-curved back with a new frosted glass finish for a more secure grip. Zenfone 8 is additionally the recipient of a 2021 Red Dot Product Design Award, awarded by an international jury in recognition of its outstanding design.
Zenfone 8, the compact performer: Perfect for one-handed use, with 5.9″ 120 Hz Samsung AMOLED display, dual Sony rear cameras, 4000 mAh battery
Zenfone 8 Flip, the photo powerhouse: Unique triple-camera Flip Camera for both front and rear use, 6.67″ all-screen AMOLED display, 5000 mAh battery
ZenUI 8: Mindful improvements to stock Android, featuring One-handed Mode, Dark Mode, System Mode and AudioWizard for a strong user experience