Audio Engagement Has Taken the Throne to Become King report by Aarthi Ramamurthy, Head Of International, Clubhouse
The Engagement Battleground
In a noisy, busy world filled with content, it's difficult to find quality content that provides the trifecta of engagement; educational, emotive and a human connection. Marketers battle daily to produce content that leads people to linger and engage, be it a like, a follow or a share to validate the content's place in the digital world.
Visual Content Is No Longer Retaining Engagement
For a long time, video and image have been deemed leaders in engagement, because they capture instant attention using colour or movement, but they don't hold that attention for long lengths of time, unless it's coupled with emotive text. But in a world where scrolling is habitual, marketers then struggle to create positive brand associations and have to create more and more content, layering noise upon noise on social media sites.
Audio Moving Into The Lead 
In recent years, there has been an increase in the consumption of audio content from audiobooks, and podcasts, to radio and music listening platforms, for example, the total podcast audience is growing at a compound average growth rate of 20%. The pandemic has certainly increased audio engagement, as with the increased use of computers for video calls and meetings, as well as scrolling social media for human connection, issues such as digital eye strain and video conferencing fatigue are fuelling the need to take a break from the screen.
Why is Audio King?
Audio provides the perfect break, allowing multi-tasking to take place, the eyes get a break but the mind is still stimulated. The pressure is eased as no one has to look good to listen to audiobooks or podcasts. Recent research shows that fifty-six per cent of Gen Zs and millennials agree that audio is an escape from too much visual stimulation. The annual Infinite Dial Australia 2021 study, indicates more Australians are embracing digital audio post the pandemic. Podcast listening has continued to grow over the past year and more people are listening to radio using apps, catch-up podcasts and smart speakers.
Overall, 86% of Australians aged 12+ listened to radio over-the-air, online and via catch-up radio podcasts in the last month and 37% have listened to a podcast in the last month.
A study at the University College of London shows that audio can cause a larger jump in heart rate and other biometric measures of emotion. Audio engagement is how we originally told stories before the written language came to be. It allows tone, and emotion and can convey meaning in a far superior way. It also has a longer engagement rate and provides that much-needed human connection.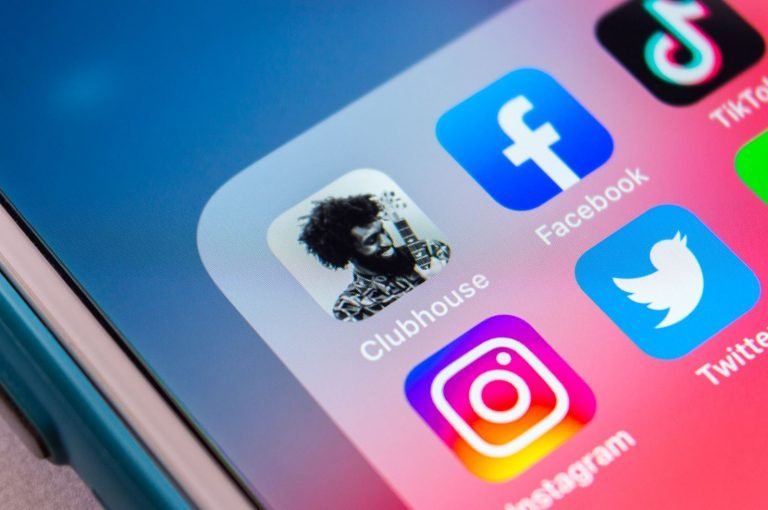 The Evolution of Interacting Via Audio
When Clubhouse launched in March 2020 it signified the next evolution of audio engagement. Clubhouse exists to create a world where people talk with each other, creating a more human place on the internet with an app based on voice – when you open the app you can see a hallway full of "rooms" full of people talking – all open so you can hop in and out, exploring different conversations. We discuss topics and have lively conversations on stage and inside rooms. We invite people into our communities and clubs. You enter each room as an audience member, but if you want to talk you just raise your hand, and the speakers can choose to invite you up. Or you can create a room of your own. It's a place to meet with friends and with new people around the world – to tell stories, ask questions, debate, learn, and have impromptu conversations on thousands of different topics.
Clubhouse is voice-only, with no camera, users don't have to worry about eye contact, what they're wearing, or where they are, allowing for multitasking whilst users go about their daily activities. The intonation, inflection and emotion conveyed through voice allow you to pick up on nuance and form uniquely human connections with others. You can still challenge each other and have tough conversations—but with voice, there is often an ability to build more empathy.
Currently, Clubhouse is seeing more than 700,000 rooms created each day, up from 300,000 in May 2021, and people are spending an average of 70+ minutes every day on the app. To date, there have been more than 10 million downloads on Android, this is especially notable as the app only became available on Android worldwide on the 20th of May 2021.
So how can brands utilise audio engagement? 
Currently, brands focus on image, video or written content, but the demand for audio content is growing. Audio influencers are benefiting from a meteoric rise and boasting engagement levels that are unrivalled by other formats. For example, users of Clubhouse engage for 70+ minutes each time they use the Clubhouse app. This length of engagement is prime for brands to tap into and create true human connection over brand advocacy which can be fickle.
Other social apps are now taking cues from audio's success and investing in audio aspects to complement their current model.
Clubhouse is focussed on improving the experience with the latest announcement of Spatial Audio, which gives 360 sound through headphones – perfect for dramatic readings or music, 'Wave' so users can jump into private rooms, and also Clips – the ability to record and share 30 seconds of content across social media platforms.
By creating an audio brand, engaging with topics that are timely, relevant and emotive and working on human connection to build loyal followers brands can create a voice for themselves that transcends likes and shares. Join Clubhouse and discover your unique and unfiltered voice.