Australia now has its first online beauty bot which takes the guesswork out of your beauty and skincare purchases. To use the beauty bot, you simply go to the askbella site and punch in your details and the beauty bot will analyse and match your skin to a range of products with the most appropriate ingredients for your needs.
According to askbella's founder, Elaine Yang, there's a need for this type of AI tech because 74% of Australian beauty consumers say they feel "overwhelmed by the number of product choices they face when making purchases."
Yang adds: "The askbella beauty bot is the first of its kind in Australia, educating shoppers, offering ingredient-first, high-quality product suggestions and making it easier for shoppers to feel confident about their purchase, without overwhelming them with choices or sales pitches."
"We've created askbella to make selecting products easier. By doing a skin analysis for our customers, they'll be shown the right products for their unique needs the first time, instead of being presented with a huge range and trialing a number of different products until they find something that works," Yang says.
Before setting up the beauty bot, askbella conducted research into the area and surveyed 500 Australian beauty shoppers aged between 18 and 65 who had made a beauty or skincare purchase in the past three months.
The research showed there was a need for a beauty bot because:
More than half (57%) of Australian beauty shoppers like being left alone when shopping in-store.
Over one third (36%) of Australian beauty shoppers said they would use a virtual assistant to help them select new products.
74% of Australian beauty customers are overwhelmed by too many product choices.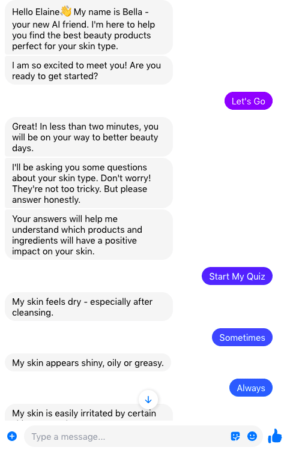 Yang also points out that while the research they conducted showed women in Australia prefer to be left to their own devices when they're researching products and making a purchase, it also showed they often make purchases based on popularity, without understanding the effects of the ingredients.
"The beauty bot takes away the stress and confusion of choosing from thousands of products typical on traditional e-commerce sites," Yang says.
"The brands we stock on askbella include COSRX, Klairs, MAKE P:REM, Dr. Jart and more," she adds.
To learn more about the askbella Beauty Bot you can visit here.
For more information from Women Love Tech visit here.