Bang & Olufsen Beoplay H95 Noise Cancelled Head Phones take the concept of noise cancelling several steps further. They don't just dim out noise. The literally cancel it. Shonagh Walker discovers they are also the antidote to all her pet peeves.
Things that truly get my goat: Taxi Drivers who snap their gum. People who chew loudly. Hearing other people's music next to me on the bus, train or plane (when we are allowed on them). My neighbour's sons practicing their drums. Pretty much other people's noise in general, to be honest.

However, I also loathe sticking ear buds in my ear canal (tinnitus, anyone?) and wearing those daggy, loose and uncomfortable over-the-ear headphones are just a hard no for me.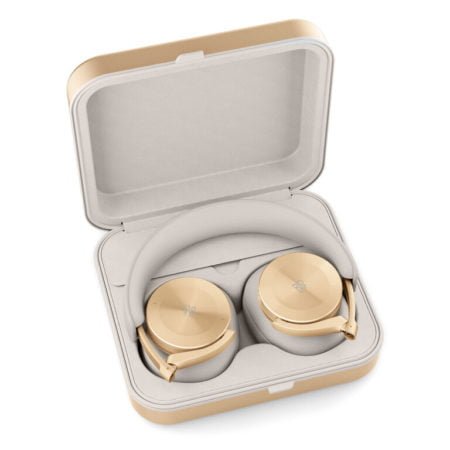 Thank goodness then, that I came across Bang & Olufsen Beoplay H95
Noise Cancelled
Head Phones. Please note the 'noise cancelled' in the name. I bolded that for a very good reason. They
literally
cancel all the noise you don't want to hear, and leave you with just a clean, clear, perfect sound of the music, podcast or audible book you've been dying to relax with all day.
Style Meets High Tech
Aesthetically, you really can't beat these head phones. I chose the classy rose gold as I think it's the best colour in tech right now, but I also get that it's not really everyone's cuppa tea. Lucky then, you can purchase these stunners in an array of colours, including silver and white, and black.
The head phones have been tuned by B&O's industry-leading acoustic engineers to deliver outstanding sound performance, plus comfort, thanks to the soft lambskin ear cushions with memory foam. Volume control and skipping tracks is a cinch – you simply swipe your finger across the flat surface of each ear phone, in much the same way you do your smart phone.
Connect Bluetooth with the slider, use the right dial to turn volume up or down and use the left dial to switch to Transparency mode, voice assistant activation, hit play or pause, skip a track or go back to replay your favourite tune and even answer phone calls.
On making or answering calls … you can also expect the best sound possible – with four built-in microphones making the audio crystal clear. The head phones also boast voice assistant technology, which means in the very near future, you can link them to Amazon Alexa and Google Assistant via and easy software update.
No More Pet Peeves
The real joy for me though, was cleaning day. I love my cleaner and I love the way my home looks once she's been. However, the sound of the vacuum cleaner drives me a little bit nuts (in the same way the gum chewing taxi driver does!).

So I decided when it's vacuum time, I will lay down with my Bang & Olufsen Beoplay H95 Noise Cancelled Head Phones and follow a guided meditation. I've done this for a few weeks in a row now and it works a treat. I can't hear a thing, except for the guided meditation. The only issue I have is I tend to fall asleep and don't wake up until about an hour after she's left. Can't be a bad thing, right?
More About The Bang & Olufsen Golden Collection
Beoplay H95 ($1,399 AUD), the brand's flagship headphones, or Beoplay E8 3rd generation ($499 AUD), its best-selling true wireless earphones. Beoplay H95 features sand-coloured lambskin earcups and golden aluminium user interface.
Beosound Balance ($4,100 AUD) features golden-hued aluminium detailing, white knitted textile, and an elegant Carrera marble base – marking the first time that Bang & Olufsen has used Carrara marble. The organic nature of the marble means that no two speakers are identical, adding an extra layer of exclusivity to an already stunning speaker.
Beoplay A9 ($4,500 AUD), a wireless speaker regarded as a piece of furniture by designers, features a gold tone aluminium ring, light oak legs and a sand-coloured fabric cover produced by Danish textile manufacturer Kvadrat.
Beosound 2 ($3,300 AUD), known for its unique conical shape and powerful 360-degree dispersion of sound, features a double anodized gold tone aluminium body, produced at Bang & Olufsen's aluminium factory in Struer, Demark.
Beovision Harmony, Bang & Olufsen's premium TV experience known for its magical unfolding movement, features a new golden-hued aluminium sound centre, a matching floor stand, and a hand-crafted speaker cover made of aluminium and light oak veneer. Beovision Harmony comes with a Beoremote One remote control, made out of a single piece of gold tone aluminium.
Bang & Olufsen's state-of-the-art active loudspeakers, Beolab 50 and Beolab 90, feature golden hued aluminium detailing, and warm sand-coloured textile, and hand-crafted light oak accents.
Customers can also take the Golden Collection to go with the award-winning Beosound A1 2nd Generation ($420 AUD), which features a pearl-blasted golden-hued aluminium grill, a genuine leather strap and an aluminium tag displaying the Bang & Olufsen logo.