Say hello to the latest offering by Beats by Dr. Dre – the brand's first on-ear, noise-cancelling headphone, the Solo Pro.
So what's new about the the world's most popular headphones, which have sold 30 million units since the company first launched in 2006? Women Love Tech road tested the new headphones with Beat's team from Los Angeles and got the low down.
To sum it up, there is a vast improvement in sound quality using the latest acoustic technologies, better ergonomics for longer wearing comfort and the major new features include Transparency, Apple Audio Sharing and a fun and easy fold-to-power design. In fact, the new headphone is designed with such simplicity and ease of use there is just one on-off button which toggles back and forth.
A single tap will start the noise cancelling, tap again for transparency and a long hold for voice activation. So for a natural sounding chat, you can switch to transparency.
Singer/ Song writer Pharrell Williams, the brand ambassador, helped create the new vibrant matte colours – Dark Blue, Light Blue and Red. Personally, i find the inclusion of fun colours to choose from a bonus but you can also select one in the core colours Black, Ivory and Grey. Either way, what gives this brand cred is Pharrell and its origins with the music world.
"I've been along for the ride since Beats started and have collaborated on several projects throughout the last ten years," said Pharrell. "As a music producer and artist, I'm so thrilled to have contributed to the design and curated a dynamic range of colours for such an innovative and sound-focused headphone.
"I hope the audio experience inspires creativity and focus in you as it does for me, and I look forward to sharing our global campaign soon."
The Beats' team explained that the headphones were created with three pillars in mind and they were comfort, form and sound and the actual creation process was three years in the making.
It all starts with the digital modelling and "the biggest thing is creating a remarkably strong framework," the team explained. "We completely redesigned the ear cushion. There's also new drivers, and new chip set."
Exposed metal sliders enable a more durable and personalised fit, making the headphones more accommodating to users. A monolithic headband creates a singular structure without a visible separation at the hinges when unfolded, reinforcing the sleek appearance custom to Beats products.
Sound and Design
Solo Pro includes a refined driver with two beam-forming microphones and an updated speech-detecting accelerometer to provide audio quality for voice and video calls and enhanced voice pickup for "Hey Siri" functionality. The aim of the design is to reduce distortion and balance tonality across the frequency curve to drive an emotive listening experience.
Today's headphone users are not just music fans but also video gamers and people wanting to listen to podcasts, and they all want a better listening experience on their daily commute or on the plane. This means the designers need a solution that is more dynamic than ever.
"Ultimately, we are designing for an emotive experience," explains the Beats' designer.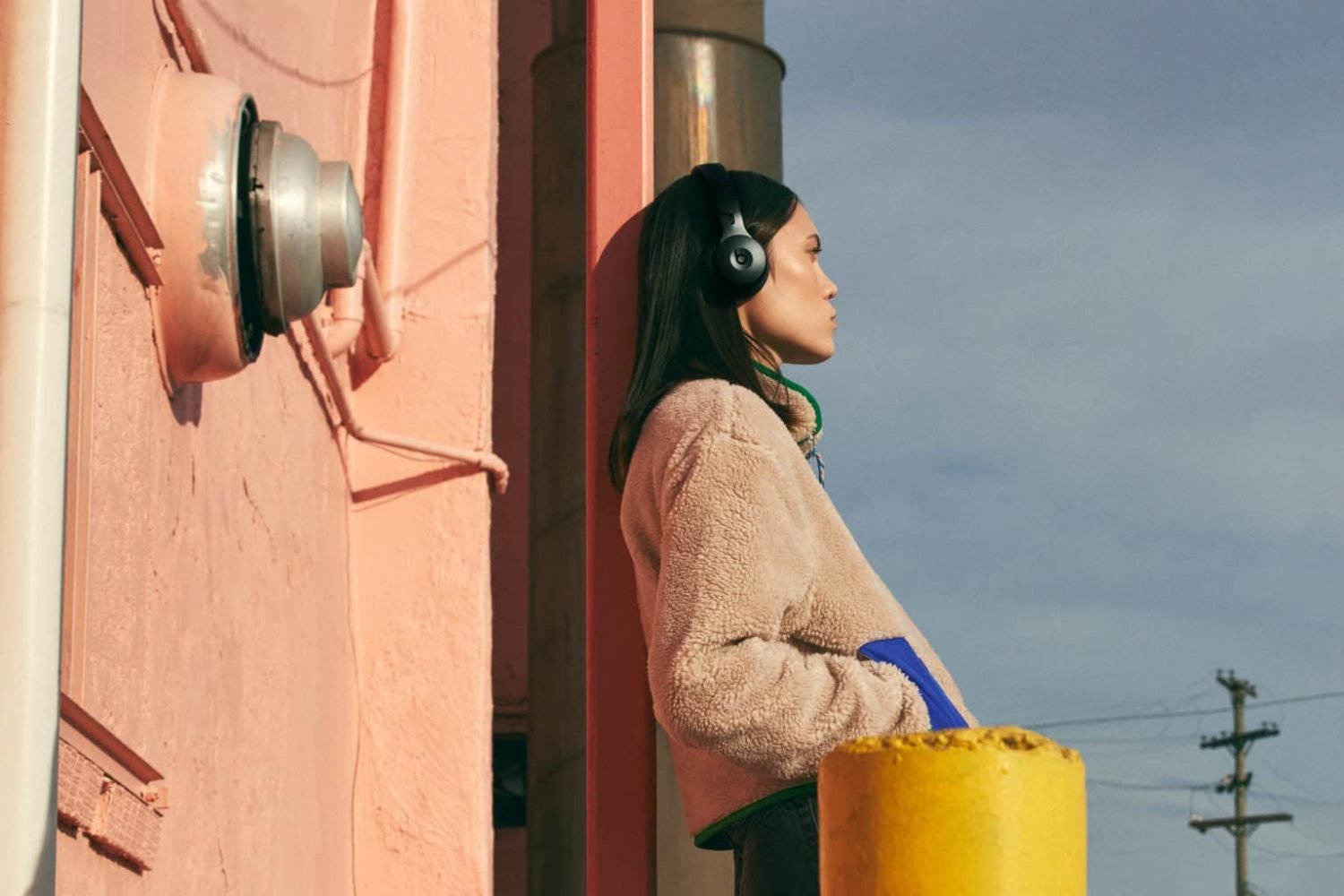 Active Noise Cancelling
Solo Pro is Beats' first-ever on-ear headphone featuring Pure Adaptive Noise Cancelling (Pure ANC), the brand's proprietary technology derived from Beats Studio3 Wireless, with updated tuning to accommodate the on-ear form factor. Using advanced algorithms to continuously monitor and adjust to your listening environment, Pure
ANC efficiently detects and blocks ambient noise—not only on an airplane, but also in a noisy café or a busy office. Pure ANC also evaluates fit and adjusts for leakage caused by hair, earrings, different ear shapes and movement of your head as you go about the day. Additionally, it simultaneously checks what you're hearing while noise cancelling is applied against the original music content to ensure impressive audio fidelity.
Transparency
Choose to escape the world with Pure ANC — or tap back into it with Transparency. When enabled, Solo Pro activates its external microphones for a natural filter of environmental noise without sacrificing great sound. No need to pause your music as Transparency effectively blends the outside world into your listening experience.
Hear announcements, talk with your friends and stay aware of your surroundings — all with a tap of a button.
Battery Life
Expect significant battery life3 on Solo Pro, no matter your preferred listening mode. With Fast Fuel, get up to 3 hours of full-featured playback with a 10-minute charge using the included Lightning cable.
Pure ANC or Transparency: Up to 22 hours
Pure ANC and Transparency off: Up to 40 hours
Pricing and Availability
Solo Pro AU$429.95 in Black, Ivory, Grey, Dark Blue, Light Blue and Red.
About Beats
Beats by Dr. Dre (Beats) is a leading audio brand founded in 2006 by Dr. Dre and Jimmy Iovine. Through its family of premium consumer headphones, earphones and speakers, Beats has introduced an entirely new generation to the possibilities of premium sound entertainment.