CES or the Consumer Electronics Show is the world's biggest tech show and this year, despite the pandemic, it didn't disappoint. CES 2022 was held in Las Vegas and was still a huge event with over 40,000 people attending – in person.
The show was still a global event with 30% of attendees from outside the US, representing 119 countries, and checking out some gobsmacking new products which were on show across 11 indoor and outdoor venues.
Here's a roundup of some of the amazing new products which are actually out there – and not many of us knew – until CES 2022 that is.
The Chipolo Card Spot so you'll never lose your wallet again
This Chipolo Card Spot connects your wallet or other personal items with a companion app so you can locate where it is in seconds if you need to. While the Chipolo Card Spot was already out for your keys or other vital items, at CES the company released a wallet finder which easily slides into one of your card slots. It's safe, it's slim and it hits up to 105dB when you ring the alarm and it's IPX5-rated water-resistant. It has a long battery life as well, lasting up to two years.
This is one of those products you just have to ask – "Why hasn't this been available before?" – because hey, everyone should have one. The new wallet finder starts at US$28 but the first batch has already sold out and more will be shipping in March. Check them out here.
The Freedom device which lets you know if you have COVID in five seconds
In the category of "Where can I buy this right now?" was a device called Freedom from ViraWarn which can tell you if you have COVID in five seconds after you breathe into the device.
Yes, the technology exists and it was released at CES 2022. Freedom only requires the user to exhale once and within seconds it will tell you if you have COVID or the flu – or if you're perfectly healthy.
The device has sensors which can detect the spike proteins on the outer shell of the COVID particle. The device gives you a red LED indicating COVID, amber LED for the flu and green means you're all clear. And on top of its accuracy, Freedom can detect all the variants of COVID.
We know – you want to know where you can buy one and we're working on getting this information right now so stay tuned. You can find out more here or watch our video below…
Belkin Wemo Video Doorbell gives you extra security
This smart doorbell opens up this market – especially at its opening price of US$250. It has all the standard options including two-way talk, live streaming and activity zones, as well as premium features like a 178-degree field of view, end-to-end encryption, local processing of person, animal and vehicle alerts, and facial recognition features that work with Apple's HomeKit Secure Video Set. It's slated to ship within the next two months. Take a look here.
Samsung launches The Freestyle – a new portable projector so you enjoy high quality content – anywhere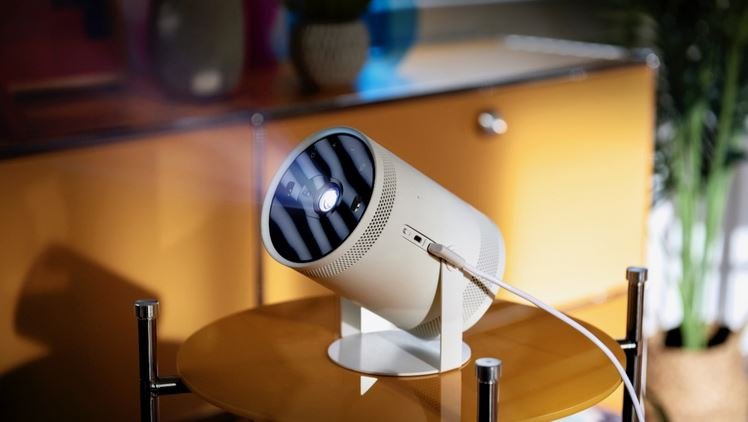 Samsung unveiled its new portable projector called The Freestyle at CES. This small projector is cylindrical in shape and is so compact you wouldn't guess it was a high-definition projector at first glance.
It can beam a 100-inch picture onto your wall or ceiling in 1080p resolution from 2.7m away so it's ideal for those of us who move around a bit or when you're traveling.
It's also designed so it's easy to rotate and you can aim it wherever you want to see your content. The Freestyle also has speakers on board with the dual passive radiator, so you get 360-degree sound and nice clean bass.
Priced at US$899, The Freestyle looks amazing. You can see more in the video below…
TCL Mobile released its NXTWEAR AIR wearable display
TCL unveiled a range of new products at CES 2022 including an updated NXTWEAR AIR wearable display which are the second generation of the company's wearable display glasses but they're 30% lighter than the previous ones while still providing a rich big screen experience for entertainment and productivity.
When using these glasses you no longer need to be in your office or living room to be able to enjoy your entertainment. And the display moves with you whether you are standing, sitting or lying in bed.
Inside the glasses are two 1080p micro-LED displays which provide amazing detail and vibrant natural colours while still maintaining deep blacks and impressive contrast.
It's the equivalent of watching a 140-inch screen from 4m away which means it's basically like your own personal movie theatre. Audio is played through the arms of the glasses but, for more private viewing, you can also connect your own wired or wireless headphones.
The glasses connect to your device with the USB-C cable which allows the glasses to operate without an onboard rechargeable battery and without the weight of a wireless receiver onboard. For more info take a look here or at the video below…
Coway Airmega
Coway went to CES 2022, promising the first smart air purifier with a wireless charging station. The Coway Airmega has all of this plus it covers a 700-square-foot space with Google Assistant and Amazon Alexa support. You can even charge your phone on top of it.
Coway says this air purifier will be available in April. For more, take a look here or at this video below…
For more from Women Love Tech on the latest tech products, visit here.