Canva has just launched the free Canva Video Suite software – giving people the power to create powerful edits without breaking the bank. 
Free-to-use on the web, desktop, and mobile, Canva Video Suite is giving creators a new tool with the likes of new animations, recording features, video templates and more.
Let's break down Canva Video Suite's main features:
Intuitive video editing
Whether you're an expert or a beginner, Canva Video Suite gives users the tools they need to jump right into their video creations. Thanks to its many templates, you can start building your project instantly, adding the necessary elements as you go. Some of the new features include:
Scene-based editor: like building a PowerPoint presentation, it's easier than ever to start your project – whether it be a TikTok ad, YouTube video or anything else.
Single Layer Timeline on Desktop and Mobile: reorder, change the length, or split your scenes as and when you wish.
Multiple audio tracks: your timeline now supports multiple audio tracks, giving you more flexibility with your work. On top of this, Canva Pro users will have access to over 27,000 royalty-free tracks.
Screen and camera recording: users can now record footage from a camera, screen, or Chrome tab, perfect for video messages and tutorials.
Animations: choose from a number of animations to give your text, visual elements or even full pages a whole new feel.
Streamlining the video creation process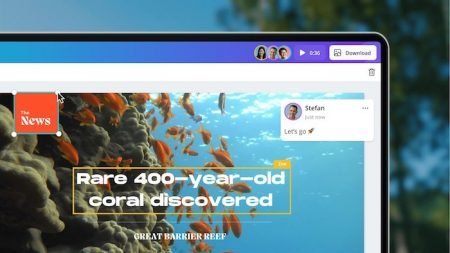 Video creation is becoming increasingly important in the workplace. And to ensure that efficiency and productivity are at its maximum, Canva is paving a way for streamlined group video projects including real-time collaboration between colleagues.
To read more about Canva Video Suite, click here.