Two of Australia's most fabulous drag queens, Courtney Act and Vanity, have returned for a new season of their hit original podcast Brenda, Call Me!
What started as a way for two best friends to stay in touch while one was overseas in the UK has become the largest Australian podcast focused on the LGBTQIA+ community, with a huge international audience in over 170 countries. Season one amassed over 750,000 listens and reached over two million people on socials each week.
The show is high energy and features plenty of sass, with each wildly entertaining episode transporting the listener into the conversation, no matter where they are in the world.
Returning with the same candour that fans loved in the first season, the sisters-in-crime will share personal stories, talk through pivotal moments in queer history and explore the impact of pop culture on the LGBTQI+ community. Season one saw Courtney and Vanity joined by some of the biggest names in the drag world such as Bianca Del Rio, Trixie Mattel and Katya Zamolodchikova – you can expect more drag superstars and guests from around the world in season two! From the political or educational to the downright silly, no topic is off limits.
Courtney said, "A long time ago in a galaxy far, far away, two drag queens set out on a quest to create aural pleasure for planet earth *record scratch* OH EM GEE! Brenda and I are so excited to be back for another season of our pod! Expect more astounding honesty, more best friend antics and a delve into some Aussie queer history…and whatever other chaos unfolds along the way."
Vanity said, "I'm so excited to be coming back to Nova for season 2 of Brenda, Call Me! with my sister Courtney. I can't wait to share what we've been up to over the last year with our "astonishing honesty". I was finding my feet in season one, but this season feels different. I feel like we can really let loose and have even more fun."
Courtney Act, aka Shane Jenek, is one of Australia's most well-known and high profile drag queens. The talented singer, dancer, artist and advocate is fresh from her 2022 return to Dancing with the Stars Australia, where she sashayed into the finals.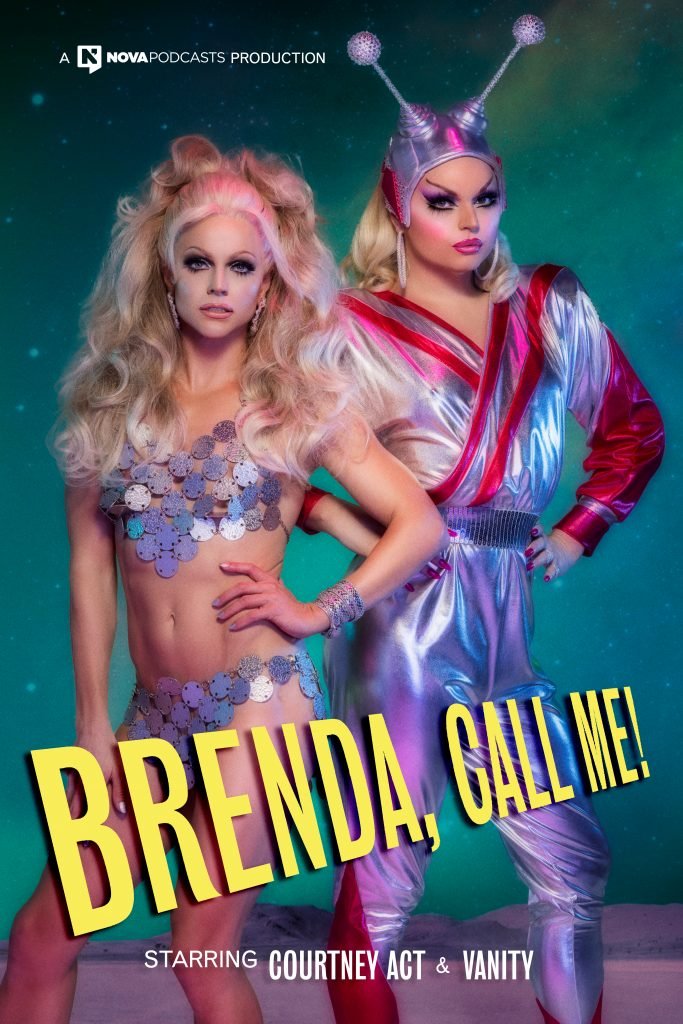 Courtney's global rise first began after appearing on RuPaul's Drag Race in 2014, and eventually went on to win Celebrity Big Brother UK in 2018. For the past two years she has hosted SBS's Sydney Gay & Lesbian Mardi Gras and was MC of Australian Open 2022's first AO Pride Day.
A talented performer and master wig stylist, Vanity has become legendary within the drag scene, both in business and on stage. Becoming Australian drag royalty, Vanity aka Benjamin Moir started the hugely successful wig company 'Wigs by Vanity' with Courtney Act. Their wigs are donned by queens around the globe including RuPaul and Conchita Wurst.
Courtney and Vanity met at infamous Sydney gay and drag nightclub Stonewall, with 18-year-old Shane describing Vanity as "the supermodel of Sydney drag". Vanity took Shane under her wing saying, "I didn't have the heart to tell her to f* off, I was like "come on, let me show you the way child." So was the beginning of a beautiful friendship spanning over 20 years.
The Nova Podcast Brenda, Call Me! launched on 19 May, and a new episode will be released each Thursday. Episodes are available on the Nova Player or wherever you access your podcasts.