The luxury leather accessories brand, Maison de Sabré, has joined forces with our childhood favourite, Disney, to bring a range of colourful and fun personalised iPhone cases. Best of all they have nailed the framing the most iconic characters!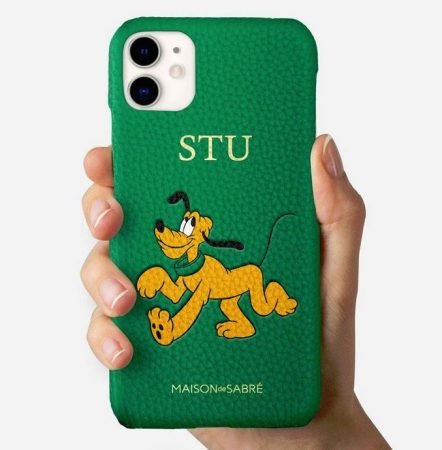 This latest collaboration sees their signature monogrammed phone cases head down a different, goofier path (if you pardon the pun). With Christmas just around the corner, fellow Disney lovers can take their pick from some of their all-time favourite Disney characters including:
Mickey Mouse: The most iconic Disney character of all, the Mickey Phone Case is available in Pomegranate Red leather, the colour of Mickey's signature shorts.
Minnie Mouse: Sweet, caring and Mickey's true love, the Minnie Phone Case comes in a Pink Lily leather colour to highlight her iconic dress.
Donald Duck: Stubborn and ambitious, the Donald Phone Case is available in Sky Blue leather, just like his classic sailor outfit.
Daisy Duck: Donald's love and feisty diva, the Daisy Phone Case comes in a stunning Lavender Purple leather to match her sassy attire.
Goofy: Clumsy and loveable, the Goofy Phone Case is available in Manhattan Orange leather for Goofy's funky shirt.
Pluto: Mickey's right-hand man and loyal best friend, the Pluto case comes in Emerald Green to match his cute collar.
"We're incredibly excited to be partnering with an iconic brand like Disney to bring some childhood nostalgia to our accessories." – Co-Founder and CEO of MAISON de SABRÉ, Omar Sabré
Drawing on nature's most vibrant hues, colour is a big part of every MAISON de SABRÉ collection and the Disney collaboration is no exception. Brimming with a spectrum of rich shades, MAISON de SABRÉ's signature palette has been specially chosen to uplift and inspire as you carry your accessories throughout your day. From the passion-driven Pomegranate Red to the soothing qualities of Lavender Purple, there's a hue for every moment, mood and outfit.
As with all MAISON de SABRÉ's accessories, the new Disney collection comes with complimentary personalisation or monogram, so you can make this item even more special for yourself or for your loved one.
The brand-new Disney collection by MAISON de SABRÉ is available exclusively from 21st of October online at www.maisondesabre.com. The iPhone 13 cases are made from sustainable DriTan leather and retail for $99, while the iPhone 12 and 11 cases are made from top-grain pebbled leather and retail for $89.
For more from Women Love Tech on mobile phones, visit here.