You know what it's like. You look at your windows and you know it's time they were cleaned. But there's no way you can get to them – they're too high and the outside would be too hard to get to. So, if you're not going to hire a window cleaner, they're going to stay dirty. But now the Ecovacs WINBOT W1 PRO could be about to change all of this.
The WINBOT W1 PRO is a robot window cleaner from Ecovacs. Once set up, this little beauty can give your glass windows and doors a thorough clean without the streaks. Here at Women Love Tech, we tried out the WINBOT W1 PRO and we went from sceptical to won over – in a short space of time.
You can feel a bit concerned when you first see the WINBOT W1 PRO because it has some weight to it and your first thought can be – how is this robot cleaner going to stay on my window? But that's the thing – the WINBOT W1 PRO has incredibly strong suction power and it's enough to make sure it's never going to fall off your glass windows or doors.
As well, the WINBOT has a battery so the first thing you do is charge this. Then, once the WINBOT is on your windows, it will still be plugged in to the power supply but it gets disconnected, that's when the battery kicks in. To get started, you only have to place the WINBOT on your window and press the start button. The robot will then begin to clean your windows automatically. Once it's finished cleaning, it simply comes back to where it started and stops.
You might think the WINBOT is mainly for those hard-to-reach, tall windows, but it's fairly flexible and can clean smaller windows, shower screens and even things like pool fences as well. As long as the surface is flat, this little robot cleaner can work its magic. As we said, we were won over with how competent the WINBOT is.
The technology built in to the WINBOT is impressive. It uses dual direction auto-spray technology, systematic path planning (as the Ecovacs vacuums do) and it has a steady-climbing system plus edge detection technology so it ensures it won't fall off your window.
The fact the WINBOT has these sensors which detect the edges of windows and any obstacles, making sure it doesn't fall off or crash into anything, is impressive. We have large glass doors and the WINBOT was able to clean them really well in a short space of time. As well, the WINBOT didn't need a refill or a cloth change. The cleaning pads on the WINBOT are made from a microfiber material and this is how it ensures there are no streaks and all the dirt disappears.
Overall, we liked the way the WINBOT cleaned our windows. It made what is usually one of those jobs you just don't get around to – much easier and something you look forward to doing more regularly.
Ecovacs has reported they conducted some research in late 2022 which showed that 53% of Australians spend more time on household chores than they would like, while 81% of Australians are now open to using robots in the home if they're effective and save time.
The WINBOT has an ECOVACS App which allows you to adjust its cleaning settings. This means you can choose your cleaning mode – ranging from deep cleaning to quick cleaning, depending on what you need.
Ecovacs has a fair bit of experience with robot window cleaners
Ecovacs has been producing robot vacuum cleaners for 25 years and robot window cleaners for 12 years. So, the WINBOT W1 PRO is the end product of quite a bit of experience in robot window cleaners.  
Karen Powell, Regional Director of Ecovacs Robotics in Australia and New Zealand says: "As ECOVACS ROBOTICS celebrates its 25th anniversary in 2023, the desire from Australians to embrace time-saving home cleaning robotics has never been greater. We are delighted to expand our product portfolio with the WINBOT W1 PRO and believe its advanced window cleaning technology means that Australians can instead 'sit back, relax and enjoy the view'  whilst we continue to deliver the future of home cleaning."
More about WINBOT's dual direction cross auto-spray
The WINBOT W1 PRO has a cross spraying technology which allows stains to be dissolved and then wiped off the window. It has a 60mL reservoir and wide range spray angle which together, reduce the frequency of cloth changes needed and allows cleaning areas to be kept wet, ensuring a more efficient window cleaning experience.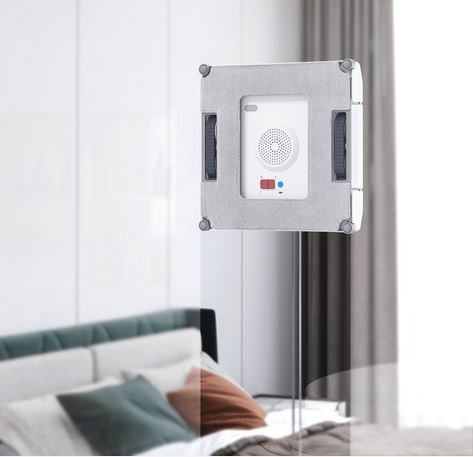 The steady climbing system and strong suction power combine to deliver a stable and firm cleaning experience
Because the WINBOT is built with high-quality materials and strong driving treads, this means it has a smooth and stable window cleaning experience. Combined with its strong suction power of 2800Pa, this technology strengthens the grip of the WINBOT on windows and also delivers a firmer wipe.
WIN-SLAM 3.0 technology for a systematic cleaning path
With the WIN-SLAM 3.0 technology, the WINBOT delivers a comprehensive clean – automatically cleaning in a back-and-forth motion. It has three adaptive modes including fast clean, deep clean and spot clean.
Anti-flare edge detection allows for cleaning route adjustments
The WINBOT's sensors can detect edges such as frameless windows and this technology means it's able to adjust its cleaning route in 0.02 seconds.
The WINBOT app
The robot window cleaner has an app which means you can easily control it remotely. This way you can achieve a hands-free window cleaning experience.
Ecovacs Robotics: This company says they're committed to advancing robotic technologies to serve the world, to create a holistic ecosystem between human and robotics in lifestyle and production. For more information, visit here.
For more from Women Love Tech on the latest products to help you in the home, visit here.