Just as Uber changed our mode of transport forever and Airbnb changed the way we book our holidays, an Aussie-based personal safety app called Sonder is changing the way women feel about their personal security. If they find themselves in a situation where their safety could be threatened, now they can log on to Sonder and get advice, have their journey tracked or get assistance – whichever they prefer.
According to Sonder's CEO and co-founder, Craig Cowdrey, this personal safety app provides on-the-ground assistance across 90 percent of Australia's population within 20 minutes.
"We can be at someone's side within 20 minutes here," says Cowdrey. "Our members come from over 90 countries and if they are traveling outside of Australia we will assist them as well, but we certainly plan to expand our responder network to as many countries as soon as possible."
To provide this high level of response, Sonder employs services personnel – made up of ex and off-duty emergency services staff – available around the clock to help with a variety of issues. Members of the Sonder app call for safety issues but they can also call for medical or mental health issues.
"The customer could be a young person – a young female, for instance – walking home late at night or working away from the office and she wants assistance because she doesn't feel safe. That's where Sonder comes in," he adds.
Cowdrey adds people also call when they're just feeling anxious: "We've seen a 40% increase in mental health call-outs to our service since COVID-19 hit in March and we expect this to increase further," he adds. "This is the second wave health crisis that is coming behind the COVID health crisis. I think the rest of the country is seeing this as well – there's been a lot of coverage about this in the media recently."
Achieving global coverage with cutting-edge technology
Launched in 2017, the Sonder app has 150,000 members from around 90 countries. The app is used by blue chip corporates and education providers because it's able to safeguard their workers and students.
"We work primarily with universities, as well as corporates, to look after their students and staff respectively," says Cowdrey.
He adds the company has always had a vision to build a global network which can be by a person's side anywhere in the world. It does seem a tall order to be able to render assistance to someone, no matter where they are, but Cowdrey says they achieve this by using cutting-edge technology to mobilise the company's personnel.
Sonder has over 85 full-time staff and their services personnel who work on location are often retired police officers: "That's right," says Cowdrey. "Police officers often retire quite young these days – usually in their mid-50s. They're a highly altruistic, really inspiring group of people. They're motivated to go towards a problem and not away from it."
"We've tapped into this really amazing group of people and made them available around the clock to respond to and help those who need it across those safety, medical and mental health challenges they might face," he says.
Is there really a need for a personal safety app?
Sonder has conducted research into the area and they've found that feelings of anxiety and discomfort in the workplace are experienced by thousands of Australian professionals every day.
Sonder's research backs up the need for a personal safety app as shown by these statistics:
40% of female professional consultants have often been exposed to situations in their workplace which have made them feel unsafe.
Almost 1 in 3 women reported feeling uncomfortable while working offsite at a client's office.
1 in 4 women frequently leave work after dark.
Research shows there could be an underlying mental health timebomb in professional services if no action is taken.
Sonder Personal Safety App Services
The Sonder on-demand personal safety app offers its members three different services:
Urgent assistance: A member can swipe to automatically send a help alert to Sonder's support centre and this notifies Sonder of the user's exact location and initiates remote or in-person assistance.
Check on me: If a member is meeting someone new or going to an unfamiliar destination, Sonder's 'Check on me' feature allows the team to contact the member regularly to make sure they're OK and to send help if you cannot be contacted.
Track my journey: Members can choose to have their journey monitored 24/7. This covers walking, taxi rides, Uber rides, private car or public transport.
New stats show women experience a higher rate of harassment
According to the Australian Bureau of Statistics' most recent Personal Safety Survey, approximately 38% of women (421,400) as opposed to 16% of men (185,200) aged 18-24 years, had experienced sexual harassment in the last 12 months.
One in six women (17% or 1.6 million), as opposed to one in fifteen men (6.5% or 587,000), had experienced an episode of stalking since the age of 15. This research makes Sonder's service even more compelling.
COVID-19 has brought about new and stressful situations
As Cowdrey adds: "With COVID-19, the advice around work commuting is creating even more uncertainty and stress. We're seeing a new raft of personal safety and wellbeing concerns. People are at times being urged to commute in off peak hours, to avoid using public transport; to walk where possible, and to travel in office tower lifts with just one other person."
"These situations can all lead to other stressful events for women especially. As well, there's always been a barrier to reporting instances of harassment and/or abuse in the workplace and Sonder is addressing this. Our members can alert us to the fact they feel they're being harassed and if this is a serious breach, it can go on to be reported. Our personnel are all ex and off-duty services personnel, so they can help with this part of it," he says.
Mental health concerns have increased with COVID-19
Cowdrey says COVID-19 has brought with it a range of new mental health concerns and he says people can call Sonder if they're feeling anxious as well.
At Sonder, Cowdrey says unfortunately they have seen the stress of COVID-19 manifest in a range of ways from the worst-case scenario of suicide, or harm to others right through to the other end of the spectrum with productivity issues at work and so on.
He says they get call outs because people are feeling anxious and don't know what to do: "Often somebody will contact us when they don't necessarily understand themselves, what they're going through. Particularly because they might not have experienced this before – these are new times we're all living in," Cowdrey adds.
"If somebody is at that worst case – and we've had this a number of times – where they're at the later stages of suicide ideation, we are an ambulance for mental health. Instead of medical assistance, we're providing on-the-ground, mental health-trained responders to be by that person's side, triage them, assess them, help them in the moment and then get them on to more professionals who can help them.
"Whether that's a hospital or doctors, psychologists and psychiatrists. Whoever they need to see, we'll help them move forward," he says.
The current focus is on the situation in Victoria
Sonder's in-house and field personnel are all trained in mental health and Cowdrey says at the moment, they are focused on the situation in Victoria: "We aiming to try and stop the worst outcomes occurring. We've had a number of case studies where we've done that and gotten by someone's side and stopped them from self-harming. Then we've got them some help so they can start the journey to get better."
"Part of our strength is that the support we provide is quite broad. This allows us to dive into areas that might surge up. We've been helping with mental health recently and it's a growing trend as a problem in our society. It's always been there, of course, but COVID has just accelerated it. So, we've switched more of our resources into it so we can help people experiencing those issues."
Background Behind Sonder App
It's easy to see the need for Sonder but how did it all come about? We asked CEO, Craig Cowdrey, to give us some background on the app and how it works.
When did you first have the idea that an app like Sonder was needed and why?
Cowdrey: Well, in 2016 my two co-founders and I, came together to develop a vision for Sonder. We both had previous careers – I was a corporate lawyer, a diplomat and an army officer. My two co-founders were both Special Forces officers in the army for nearly 20 years. We really looked at what was happening in the world and the problems we could help people with. So, we developed the concept of Sonder, which is what we call a global support network.
If you look at issues on a scale of 1 to 10, ten is when you call the police, one is when you might call a friend or family. But really, two to nine is when you should call Sonder. That's what we help with – those areas that are in between. We thought there was a need for this assistance in the world because everything is getting busier, people were travelling more but that's not happening overseas so much right now. But we thought we could potentially be a part of a solution for these situations.
With COVID 19 are you finding there's even more of a need now because there are so many different situations?
Cowdrey: Yes. First of all, there's just a lack of understanding of the best approach people can take to move around the city to go to the office safely. Should they be taking public transport? Is a taxi or an Uber safe? So we can help answer those questions for their particular location as we know the areas well.
Then secondly, because there are so much fewer people moving around at the moment going into and out of offices, there's a requirement for people to feel more safe when they're walking from a train station to the office in the city or to the ferry or even getting into a taxi or an Uber on their own.
Through our technology, particularly Track My Journey which is one of the services you can get through our app, we'll monitor their progress, and if we detect any problems, like the user seems to be going off course or stopping for too long, we receive an alert in our 24/7 operation center here in Sydney, and then we'll act appropriately to ensure their safety and wellbeing.
Is everything based in Sydney so you can track them from there, no matter where they are?
Cowdrey: Yes, we're currently operational across Australia and New Zealand, and we can get help. Now, our members come from over 90 countries. So, we have a very international mix within our membership base of over 150,000 members and growing fast.
Outside of Australia, we can assist our users as well, but we won't be able to provide as high a level of assistance as we can in Australia. But we certainly plan to expand our responder network of excellent duty police and other emergency services to overseas countries. We're continually doing this.
We also have a range of Lower Grade Help Mechanism where a customer can just chat with one of our team on their way home – or make a phone call if they're feeling unsure – say somebody might be nearby them and that's making them uncomfortable. We just talk to them and be there by their side until they get to where they're going to and make sure that they get there safely.
Why can't people just call a spouse or a friend?
Often people in the same situation might talk to a spouse or to a friend. But really the problem with that is the spouse or friend is not going to be in a position to do anything if something goes wrong. Whereas, we know their location – we have the live location from their phone and we provide really professional advice and support. So, if something should then escalate, we can take immediate action.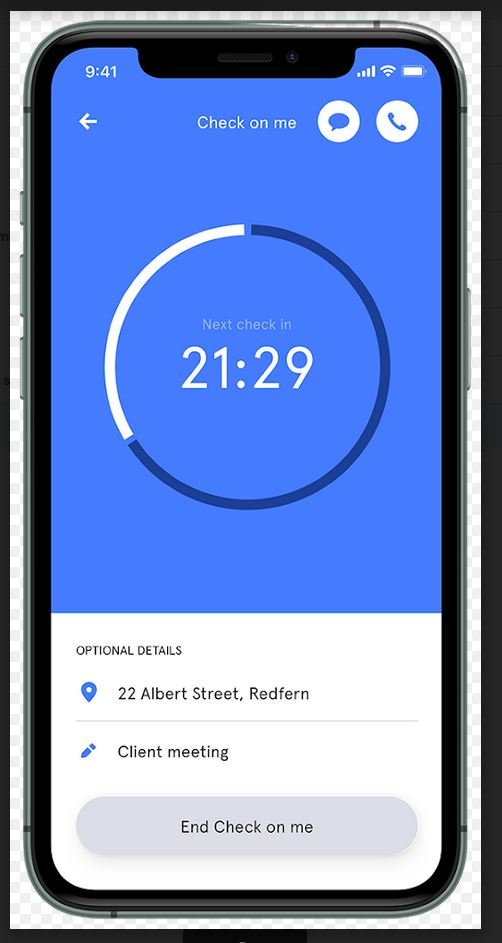 One other feature we have is what we call Safety Notices. We monitor the environment at all times, looking for anything that could impact our members' journey, their safety or wellbeing, and if we detect something nearby them, such as a police operation, a criminal incident, a heist or a terrorist incident, we'll send them a Safety Notice immediately to tell them that what's occurring.
That's happened in Flinders Street and Bourke Street in Melbourne recently. We had a Sydney stabbing more recently, here in the city. We were able to immediately alert members that were nearby and tell them to move away from that location for their own safety. So, there's a range of features and measures we take to make sure that people, particularly women, can move around safely and get to where they need to go with peace of mind. And it's really about empowering them as well, just to feel like they can take charge of their own safety and wellbeing.
Are you getting feedback from women that the app does make them feel quite a bit safer?
Cowdrey: There's a couple of key pieces of feedback. Somebody comes to mind – there was a young lady named Lucy who came to us, unsolicited, and said: "Using the app just makes me feel incredibly safe and comfortable and confident in the city, not being from the city originally, especially."
She also said she liked not feeling like she had to rely on her boyfriend or her mum or her dad. Because, one, she didn't want to burden them with calling them regularly, and secondly, it was quite disempowering, she felt, to do that as opposed to using our tools and measures at Sonder. Because, then she can take charge of it herself and feel confident and capable. So, it's really about empowering people to take charge of their own safety and well-being.
You're giving them the tools rather than them having to go to someone else for help aren't you?
Cowdrey: Yes, we give them some tools to help them and then if something does go wrong, we're there rapidly, professionally, at any time of the day or night, around the country to get by their side and help them as well.
The last thing we're here to do is to get in the way of the incredible emergency services, but the reality is a lot of things happen that are below what they should be dealing with. Things like mental health, and we see this around the world. If someone's having a mental health crisis, then we're positioned to go there and de-escalate the situation really well and take the load off the police from dealing with these sorts of things.
There could be situations sometimes where a female might have an issue – she might have someone who's been emailing her or following her for some reason. In these circumstances, she may feel safer if she can use Sonder?
Cowdrey: That is what we're seeing – that's the gap that we are filling. I think previously there were a lot of cases which would otherwise fall through the cracks. For example, where a woman wouldn't feel comfortable reporting something to an employer or wouldn't feel comfortable going to the police or even just a family member for a variety of reasons.
But with us, we are a trusted, confidential third party who can provide the advice in a really appropriate manner. And if that person chooses not to escalate the situation, then at least they've spoken to someone and at least we can help them from a mental health perspective to deal with whatever might have occurred. And that's happened a number of times, and it's a sad state of affairs of course in society. But we're really proud of being there to help with these issues.
When we did our research, we found that 40% of female professional consultants have often been exposed to situations in their workplace which made them feel unsafe. So we are there to provide peace of mind and respond if required when women are working off-site at a client's office or moving around the city, on public transport after dark etc.
You've mentioned Sonder covers around 90% of Australia and can be by your user's side within 20 minutes. I guess the 10% that it is difficult to get to would be the more remote areas of Australia?
Cowdrey: That's correct. The 90% is because we are within major cities mostly, and the 10% is those areas which are a bit more remote. The way we help people in those situations is to access local resources. And of course, if something is at a level of seriousness where we need to get the police involved, that the police go, then we're never going to be in place of them – that's their job. The Ambulance, fire fighters and the police – that's their job. We will never get in the way of critical support being provided when it's outside of our network. But our objective is to close that gap between 90% and 100% of the time. We can do it because the people that we use as respondents – they're in every community.
It's about a complete ecosystem of support that we provide to people – through our responder network, through our support centre, through our technology. But ultimately, we're also engaging with third-party providers, whether they be mental health professionals, whether they be medical staff or of course, law enforcement. The member comes to us first and then we sort of triage, assess and coordinate the support they need. Then we help them get it really quickly.
For more information about Sonder visit their website: www.sondersafe.com
About Sonder
24-7 virtual and in-person support for times when you feel unsafe, unsure or when you're facing a complex or confronting situation. Download our dedicated app and get started from $1 per day.