Tory Archbold is building a network of powerful women through her Powerful Steps programme. Here, we talk to one of those women – Vanessa Bell – about her inspiring and diverse career – from working in fashion to agriculture, and how she found her purpose in the process.
Vanessa, you have certainly lived many iterations. From model to one of Australia's biggest landholders to global business innovator and a strong voice for women. Take us back to where it all began.
My career began with a test shoot in the back streets of Kings Cross in Sydney. A photographer, make-up artist and stylist transformed me from a 15-year-old schoolgirl, into a model. I still have the original polaroid on my desk which launched my career with Harper's BAZAAR Australia. My agent Jane Cameron and Manager Jenny Hayes were very supportive. I embraced the joy and creativity of the fashion business working with clients such as Chanel, Dior, Armani, Valentino and closer to home Country Road and Carla Zampatti. It was a special moment to shoot for Australian Vogue.
How did you transform your career and find your purpose?
The transformation process was a synergy of experience and knowledge acquired from different industries. I enjoyed a diverse career in Fashion, Finance, Media and now Agriculture. To be fair, I never imagined I'd end up in Agriculture however the serendipity of life and connections made this a reality. In terms of finding my purpose, this was planted back in my days of high fashion. I fell in love with Merino wool on the runways as I modelled for clients such as Giorgio Armani. It wasn't until I fell in love with a farmer and moved to the country, I realised my passion for wool extended to animal husbandry and wool growing. As I developed my collection of hand-crafted baby blankets and came to understand the remarkable benefits of the fibre, my purpose became crystal clear. This has further evolved to educating people to choose wool over synthetics. In doing so they are making a conscious decision to reduce micro plastic pollution in our lands and water ways. My purpose sits in creating pieces built on love and longevity. In terms of my new women's knitwear collection, it will be fashion forward but not at the cost of the planet.
How did you really step into your power and find your voice? What did you need to overcome to start speaking up and telling your story?
This didn't just happen overnight! I've been through a process to unlock barriers to allow me to embrace my true self. I needed to overcome my fear of judgment; it's not easy being a city girl in the bush as you question your value, skills, and relevance.
I feel where I have thrived and found my own voice is through seeing untapped opportunities in rural and regional Australia. I understand the nuances of both worlds (city and country), there is a great deal of influence in owning the space. 'Fashion To Farmer' represents stepping into my power and owning every aspect of my story. I'm especially grateful to my mentor Tory Archbold for unlocking this door for me.
My story is unusual, and I know it can make people feel uncomfortable however I've learnt what other people think of me isn't my business. My community sits behind me either digitally or in person. I'm direct, determined, and focused. I'm fluid in business across a large-scale mixed farming enterprise and fashion wool business. My intention and purpose are anchored by my values of courage, innovation, and integrity.
I'm keen to change the narrative of what it means to be a woman in Agriculture. I find the more you embrace your own story the more people are likely to lean in, learn and accept. It's an energy exchange – hopefully by confidently sharing my story others will find their feet in telling their own. I'm also a medium. Try coming out in the bush as a medium!! You need to back yourself and stand in your truth. I'm proud of who I am, my husband and children. There is tremendous power in the tipping point of caring but not caring.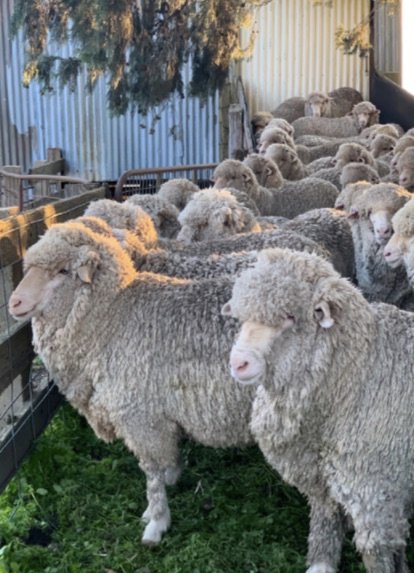 Tell us about your love of Merino wool and your range of products.
My love of Merino wool stems from years in fashion working with designers such as COMME des GARÇONS. They integrated Merino into their designs. I loved (and still do) the way Merino is adaptable in terms of construction and design. As a fabric it drapes beautifully and is a reliable source for timeless and elegant fashion. It wasn't until I moved to the land and came to know Merino as a breed, that I fully came to appreciate the beauty of the animal, fleece, and remarkable attributes of nature's miracle fibre.
Growing up in the city (like most), I didn't know Merino wool is naturally occurring, renewable, sustainable and 100% biodegradable. I didn't recognise Merino as nature's original eco and performance fibre. It is as directional and desirable as other textiles and outperforms every other fibre (natural or manmade). It is especially beneficial for babies aiding in sleep and relaxation.
The Vanessa Bell collection commenced with our hand-crafted baby blankets. The blanket collection consists of 14 core designs with some designs taking up to 4 months to make. We occasionally mix up the designs to keep the offering fresh.
When I had my son, I was looking for a cot size blanket to keep him warm. My mother handed me a family heirloom, a pure Merino baby blanket knitted back in 1940 by my great grandmother Sarah. This blanket had a wonderful weight to it, was slightly felted by wear but still going strong 74 years later! It was Sarah's beautiful knitting and blanket the inspiration and genesis for my business.
I put an ad in the local Gunning newsletter and by the afternoon I had a team of expert knitters all over the age of 50 working on prototypes and discussing vintage patterns. I'm extremely pleased to say our eldest knitter is almost 90. In the 1960's Patty Stone (knitter) would send her Merino wool to the mills in Italy – she has been a huge inspiration to me, an expert knitter and makes the best scones in Dalton. It's wonderful to have a business built encompassing older women. The importance of empowering women and to retain their expert skill and knowledge is a privilege. Our blankets are now sold from Bondi to Los Angeles.
This year I'm expanding the blanket collection to my first range of 100% Australian Merino ladies' knitwear (designed and produced in Italy). This capsule will draw on some of the textures and designs of the blankets. The range will launch in Sydney and will be certified by The Woolmark Company for traceability, performance, eco credentials from non-mulesed sheep.
On a personal level I'm excited to go full circle returning to my fashion roots.
Can you paint a picture of your holding? How did you find it, where is it and what makes it special to you?
My husband and I have four properties totalling 48,603 hectares.
Cooplacurripa Station (home) is located on the mid north coast of NSW. It's the largest cattle station on the Eastern Seaboard. We found it back in 2012 and finally bought it last year. I love its scale and vaulted mountains. It is epic and a challenge to one's senses. The pristine rivers are a sanctuary for our platypus. As a family we spend our time mustering cattle and swimming in the river, it is an ancient gift of majestic beauty, mountains disappearing into clouds, sheer cliffs and out crops of grass trees. It's over twice the size of Paris, it's a LOT!
Wirchilleba (located at Gilgunnia NSW) – Philip previously owned this property and then we bought it back together. It's our Outback organic wheat cropping country. Wirchilleba was one of the oldest Stations in NSW with the first settlement owner grazier Arthur Bryant Triggs. It's steeped in history, is a Western Lands Lease (you need permission from the Minster to own and farm on the land). Red-dirt country, 108kms south of Cobar. It's alive with stories coming to the surface from the days of gold mining and bullock trains. I'm forever picking up old Chinese axes or hand fashioned horse bits. I love our sandy creek with the goannas the size of small crocodiles, when it runs it turns into a fast river taking everything in its wake. My most special memory is standing in total silence on the bank to hear a roar I'd never heard before. It was the sound of about 50 kangaroos in full flight racing down the dry riverbed. I suspect very few people have witnessed this sight or sound. Wirchilleba is surrounded by sacred Aboriginal sites and graves of the first boundary rider and his family, it is a place so harsh and beautiful it's difficult to articulate with desert flowers and dust storms that penetrate every fibre of your being.
Moothumbil is very similar located at Nymagee, more Mallee and water holes – we found this via word of mouth
Greendale is Philip's family block located in Breadalbane in The Southern Tablelands and is cold climate. We are in the Goulburn district which grows some of the finest wool anywhere in the world.
You are engaging in different biodiversity and carbon farming. How is sustainability so key to your business and how are you innovating here?
Carbon Farming is relatively new in Australia. The traditional carbon models are restrictive. Our team are working towards a carbon and biodiversity solution which would allow numerous projects to flourish at Cooplacurripa Station without impacting our long-term farming vision. Ultimately, we aim to be one of Australia's most recognised carbon neutral cattle companies. The innovation sits in having 'on site' measurable carbon sequestration to offset our emissions such as methane, electricity, or diesel. We are excited by the recent developments in market and are confident our agile approach will result in complementary projects. A work in progress!
In terms of Vanessa Bell, sustainability underpins the entire business. Our guiding belief is to create sustainable, generational pieces. The collection stands the test of time.
As a connector from city to country I'm driven to inspire a new generation to choose wool. We don't need more of the same, we know disposable fashion is harming us. Landfill, incinerators, and plastic clothing are at the expense of our environment. I firmly believe Merino wool is the future of sustainable, slow fashion. None of us want to harm the environment and yet we still want to enjoy beautiful pieces without sacrificing design or style. At the end of its very long shelf life, Merino wool fully biodegrades returning valuable nutrients back to the soil.
The innovation sits both in the messaging of the brand and my desire to be on the forefront of Ag Technology. I'm and advisor to the board of Zondii – patented technology providing "real-time" smartphone verification to transform supply chain traceability and product verification for food and fibre.
How hands on are you on the farm? Do you work the land alongside your husband?
Yes, I'm hands on. It depends what's going on. In terms or crutching, shearing or calf marking I leave that to our team however Philip and I move stock together quite often. I think every woman on the land shares the same issues – communication is always challenging, radios are essential.
We might pen up sheep together or work the race, muster weaners, or pull a calf. I draw a line in the sand when it comes to the bulls. We have over 100 bulls and they are terrifying. I always sense what my horse is feeling, it's a great feeling being on horseback behind a big mob of cattle.
I think my moment of feeling like I could cope alone was putting a chicken in the oven, going out to check the heifers on a super cold night and having to pull a huge bull calf by myself with nothing but a rope and torch for company. You don't think about yourself, your whole focus becomes about saving the animals. Sadly, the calf didn't survive however I was able to save the cow's life.
I love animals and have assisted deliveries with horses, pigs, and sheep. I'd rather pull a calf than change a tyre! Philip and I work alongside each other in every aspect of the business. We rely heavily on each other; we aren't a corporation rather best friends drawing on our different business skills and abilities. He is my greatest support, and he knows I'm 100% behind him.
What makes your product range stand out against others in your space?
Our products are unique in that they are 100% Merino wool and hand crafted. All other luxury baby blankets are machine made and are either a mix of wool/polyester, cotton, or cashmere.
In terms of the new ladies' knitwear range, our product will lead the charge in terms of outstanding quality, traceability, spinning, and production designed and produced in Italy from Australia's finest Merino wool. Most other competitors while utilising Australian Merino wool, have their garments produced in China.
How do you benefit from technology in your business?
Technology has enabled me to take my business from the top paddock to a global marketplace.
I utilise various platforms as plugins to conduct my business, focusing on connection, gravity, and flow. Satellite internet is essential if you live remotely. Interacting via social platforms such as Instagram and LinkedIn have provided me with access to a close community which would have been out of my realm otherwise.
You appeared on Tory Archbold's Powerful Steps podcast. How has Tory helped your business? What have you learned about the power of networking?
Tory has been instrumental in completely changing my mindset both personally and professionally.
Tory has driven the rebranding of my business. I'm now able to engage at a global level, expand my product offering, engage in partnerships and scale.
I see Tory as my strategic compass, I love her no nonsense practical approach and sense of humour. She gets me, she's the real deal and her positivity is extraordinary. I've never been more confident – new branding, clear on point messaging and an engaged audience.
The power of networking sits in finding your own community. The Powerful Steps community has given me a sisterhood of women who are uniquely gifted and driven from all walks of life. Their lived experience and positive mindset a genuine fuel to elevate, learn and grow.
My greatest challenge is not having a physical team on hand to laugh and connect with. Rural women living remotely rely heavily on connection hubs and other networking groups to learn and grow. Zoom has been a welcome addition to the tool kit however nothing compares to meeting face to face as we did recently at the Power of Connection dinner held at the Kimpton Margot, Sydney.
You had a goal to try and reach Victoria Beckham and collaborate with her brand. How did that turn out for you and what was the unexpected gift of reaching out?
Yes, in 2021 Victoria Beckham launched a stunning collection of knitwear with the support of Woolmark. It was Tory's inspiration to coffee date with someone out of my comfort zone that saw me send a message to Natasha Lenart (Victoria's lead knitwear designer). I offered my congratulations on her team producing an outstanding collection and offered support in terms of a possible collaboration or guidance with respect to sourcing Merino wool from Australia. The result was truly astounding. Natasha announced she had resigned from working with Victoria and while she had enjoyed a tremendous ten-year tenure working for Victoria, she was seeking opportunities with purpose-driven brands in the sustainability space. A previous spokeswoman for Woolmark London, Natasha shared my passion for high fashion, fibre and provenance and the idea sparked to create my own purpose driven range inspiring consumers to choose "beautifully designed" woolen jumpers.
In October of 2022, I signed off on Phase One of my first knitwear capsule engaging Natasha as my official designer.
Tell us about the capsule range and your plans for it?
The collection is chic and sophisticated yet practical and easy to wear. The design process and merchant planning are all underway. The first capsule will focus on an eight jumpers and accessories.
Natasha's relationships with the Italian Mills have opened doors usually reserved for uber exclusive brands. It's my goal to expand on these relationships to encompass small batch processing to produce a collection using my own wool.
We are now well into Phase Two with the range due to launch in November of this year.
I underestimated the joy the design process would deliver. It's a maze of drawings, technical packs, textures, yarn weights all interwoven and inspired by my life on the land and baby blanket range.
What is your selfcare practice? From where do you gather your personal power?
I gather my personal power from being very present first thing in the morning with gratitude practice and setting clear intentions. This ritual is a discipline (as is self-care). My self-care practice is knitting and lawn mowing.
If I were to speak to you in 12 months, what would you want to tell me that you had achieved?
I launched the 23/24 Vanessa Bell ladies' knitwear range, and secured a carbon and biodiversity deal with a five-year forecast. I also developed my mediumship business@clarityforqueens to deliver clarity through spirit for high vibrational C-Suite clients.