Vida Glow recently won Best Buy For Inner Health at the 2019 David Jones Beauty Awards and is consistently in the top 10 for Bed, Bath and Beauty products at Myer. Here, we exclusively talk to Vida Glow founder Anna Lahey about the secret behind her brand's success.
Entrepreneur Anna Lahey has taken the beauty industry by storm with her incredible "Vida Glow" range which boosts your skin healthy with the use of all powerful marine collagen powders.
It was during a trip to Japan that Anna first discovered marine supplements. She quickly discovered that they helped her overcome chronic hair loss, she explains to Game Changers host Sarah Harris. In Japan, she says, collagen and collagen-based supplements are hugely popular. You see them "everywhere – from broths in restaurants to the waters they offered you at the gym."
A pharmacist told Anna: "Collagen had been a crucial ingredient for Japanese women for 300 years." Anna also recognised the enormous benefits collagen had on her own skin, hair and nails.
Back home in Sydney, Anna continued using collagen supplements: "Within three weeks, I had noticed a dramatic reduction in my hair loss, and within four weeks, my skin was glowing – I was blown away." The mother of two didn't just look better; she felt better, and she enjoyed improved sleep, decreased appetite, and better muscle tone.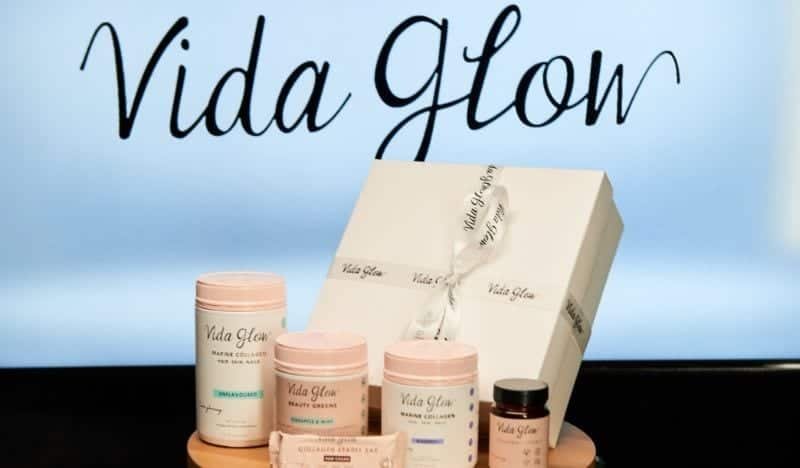 When Anna couldn't find the secret beauty ingredient in Australia, she was determined to bring the miracle product to market and she hasn't looked back since given the growing success of the brand.
Within two years, Anna and her husband were wholesaling Vida Glowto health food stores, and the company went global when they won the love of notoriously skin-conscious and exacting Chinese consumers in 2017.
The name "Vida Glow" was inspired by her Brazilian heritage, she explains: "In Portuguese, 'Vida' means 'life.' That's what I felt the product gave me, so it seemed perfect."
"People see results quickly with Vida Glow – it's something tangible," Anna says. "Consumer reviews note a rapid improvement in the appearance of hair, skin, and nails – and even a decrease in common problems like joint pains." Anna also praises much of her success to her dedicated team. "I am so fortunate to have a team who work incredibly hard to make sure our message gets across," she adds. "They are as committed as I am to our mission: creating products of exceptional quality that deliver visible results." Vida Glow has recently brought this philosophy to topical skincare products." Anna approaches the Vida Glow Cosmetics range with the same integrity, passion, and purpose as she does with her ingestible supplements. Vida Glow Cosmetics specialise in natural, efficacious formulations made in Australia.
"All of the Vida Glow products I believe in and am taking or using on a daily basis." Anna is similarly holistic about her approach to running a business: "I am proud to be involved in every process at Vida Glow, from concept to production, product development, and customer service."
Anna passionately believes that ingestible, inner beauty is the way of the future. Ingestible ingredients are more bio-available than topical creams, and increasingly, research has shown the link between digestion, gut health, and skin health. We think she's onto something.
Is she a Game Changer? Find out by watching her interview with Sarah Harris.
About Vida Glow:
Vida Glow products are made in Australia, 100% natural, GMO, Soy and filler free.