Young people are increasingly concerned about social and environmental issues and are looking to make a difference. Research shows that 63% of Gen Z say they feel a personal responsibility to make the world a better place and believe Augmented Reality (AR) can help with this.
AR is a powerful tool that visually enhances the real world. Aside from playful experiences, it can also be used to successfully affect change at a community level. Platforms like Snapchat are paving the way with their industry-leading AR technology moving from entertainment to utility to inspire real social change.
Here, we spoke to Gareth Leeding, Snap's Head of Creative Strategy, APAC, to find out more about how AR can have a positive impact on the community!
As users of Snapchat, we have always loved how fun and entertaining the app is! Aside from being an entertaining platform, how is Snapchat now driving social change as well?
"With the help of AR, Snapchat has been able to create real change at a community level. We are immensely proud of the work that we have done to effect change and raise awareness of causes like climate change and social equality through our AR technology."
Can you tell us more about your AR lens that teaches American Sign Language?
"We developed lenses with the assistance of Snap's own hearing-impaired employees, with the aim to elevate awareness of sign language, while also providing a more inclusive environment – and ideally, getting more creators to consider hearing-impaired users when they create their content. The AR lenses inspire Snapchatters to sign their name, and other common words like 'love,' 'hug,' and 'smile.'"
What was Snap's role in this year's Australian Election?
"This election, Snap Australia and the Australian Electoral Commission (AEC) launched a series of in-app tools on Snapchat which leveraged the power of AR and premium, made-for-mobile video. The objective was to drive enrolments, educate on voter services and share key information around polling day.
We built an educational Quiz Lens that enabled Snapchatters to find out how old they need to be to vote and if they know how to make their vote count, and drives young Aussies to check their enrolment status.
We also rolled out a national filter that stated, "My vote will help shape Australia," as well as a sticker pack and a mass Snap, reminding Snapchatters about polling day and encouraging them to vote. The stickers and Lenses were designed to share with close friends and generate discussion about the upcoming election.
Finally, an in-app video series helped drive voter education and enrollment. The series was split into three short episodes that explained how to enrol, why voting is important, and how to correctly fill in ballot papers."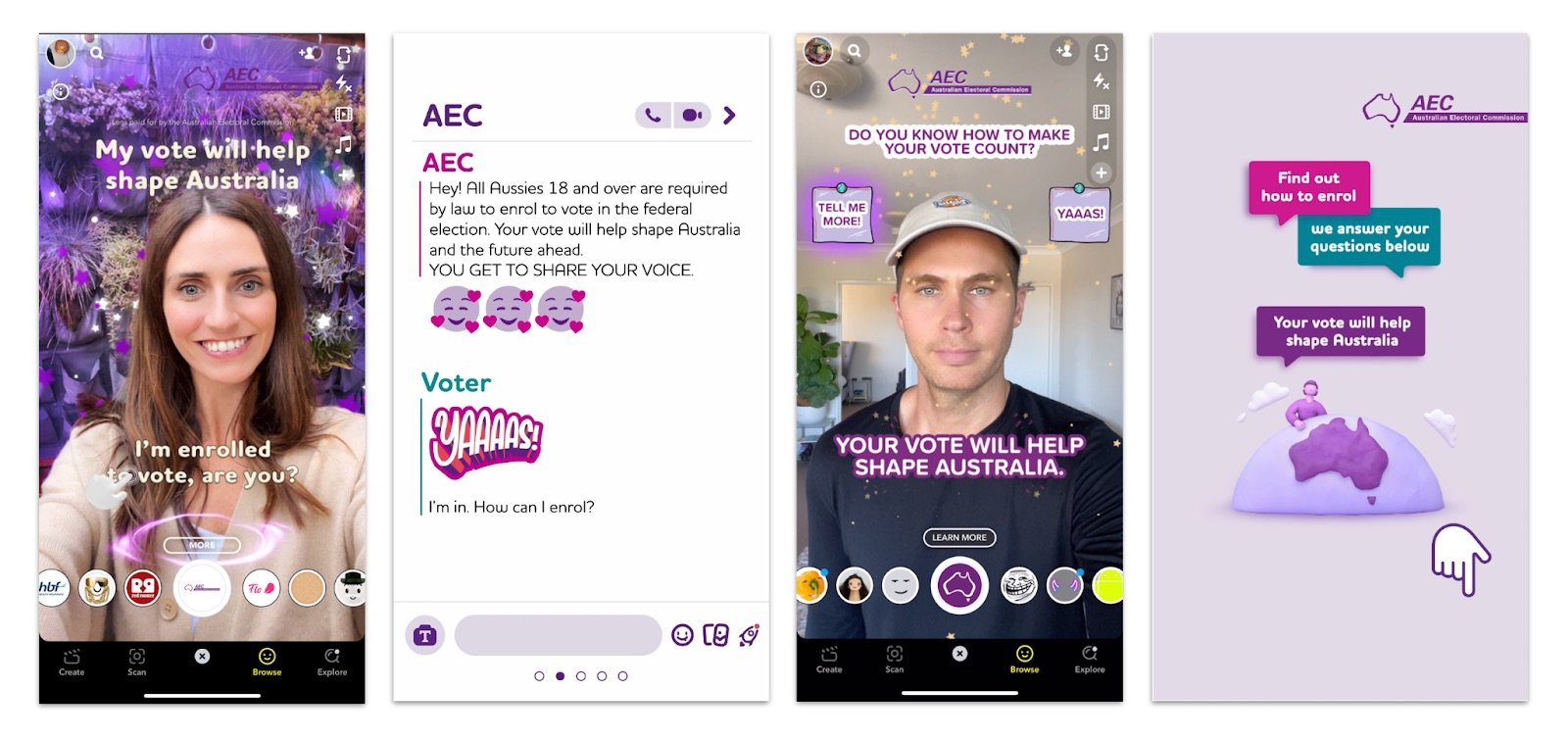 In February this year, Snapchat launched a partnership with First Languages Australia. Can you tell us more about this?
"In February 2022, in celebration of International Mother Language Day, Snapchat launched a partnership with First Languages Australia to launch a series of language learning Lenses that help raise awareness and educate young Aussies on Australia's first languages and Indigenous culture. Using the power of AR, Snapchatters could scan everyday objects to view the English language word and Indigenous language word in real-time.
Each Lens uses AR and machine learning to identify different objects and display their name in four Indigenous languages: Wiradjuri (central New South Wales), Yugambeh (south-east Queensland), Wakka Wakka (central Queensland) and Yawuru (Broome in Western Australia).
We're excited to continue this partnership this year."
What do you think the future holds for AR?
"Augmented Reality is a powerful technology with real-world implications, and Snap is leading the way, utilising AR to inspire real social change. We believe the future of AR is limitless and we're always working to develop its capabilities to drive further innovation and change."
Are there any exciting up-and-coming initiatives for Snap?
"We are steadfast in our commitment to creating social change into the future. We look forward to continuing to raise awareness of and support causes like climate change and social equality. There are always exciting initiatives in the works at Snap – stay tuned!"