Sophie Koh is a professional musician – and an optometrist as well! During COVID-19 lockdown, she was inspired to put a video together which united her team at Optometry Australia. Based in Melbourne, Koh is now experiencing strict lockdown again and her video and song is still connecting the members of her team and boosting morale in general.
Koh used her musical knowledge and vocal talents – and by partnering with industry veteran and prominent music producer Robin Waters (known for his work with Ella Hooper of Killing Heidi fame) – they created the song and musical video called We Are Here. They posted it on YouTube – and it's still receiving lots of hits. You can take a listen to it here…
Koh was inspired by stories and poems shared by over 60 optometrists, capturing their reflections and experiences during lockdown. Koh and Waters came up with the song and it's an uplifting track. It reminds us that even when we were the most isolated and everything was uncertain – the others in our industry and our community are all backing us and there to help when we need them.
After 15 years as an optometrist, Koh had been waiting for the opportunity to form something musical her colleagues – either a choir or a band. When you listen to We Are Here, you'll see this song is that moment.
Many of us are out of lockdown again
While many of us in Australia are now out of lockdown, some of our fellow compatriots in Victoria are now back in full lockdown. At the same time, many people in other countries are still experiencing restrictions, so this song comes at a timely moment.
If you need to boost your spirits, take a listen to We Are Hear. It just shows you how we can use technology to unite and inspire us. The song features over 60 of Koh's optometry peers and they join in, adding their reflections and experiences during lockdown.
We asked Sophie Koh how she's going with the current lockdown restrictions?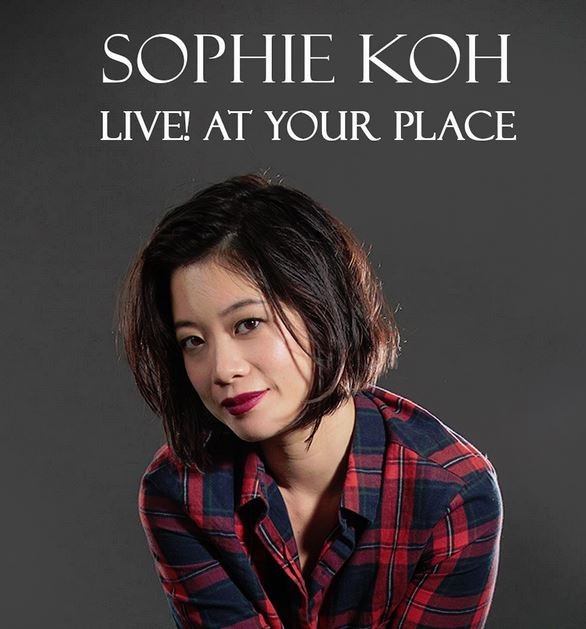 I live in metro Melbourne and we're currently on Stage 3 restrictions. Unlike many of my optometrist colleagues who provide face-to-face care, I am lucky to have a desk job as an advisor and can work from home. I'm also lucky that my child is below school age and our day-care is open. Round 2 of lockdown has been the same as round 1. Lots of walks by the creek, kicking the soccer ball, online yoga classes, extreme cooking and baking and lots of virtual song-writing sessions!
With many people who live in Victoria still in lockdown, the message in your song is still important now. Why is music so important when we're in COVID-19 lockdown?
Music is a language of emotion and inclusion. It unifies because it transcends cultures and differences. Often when people feel 'no one understands me', it is music and song that can cross that barrier, better than plain words can. The personal and public health benefits of music are now well researched and understood. Whether it is with community singing, music therapy of sick patients, or the deep connection between music and mental health, music and singing are good for all of us, and even better when you do it with other people!
Can you tell us a bit about why you were originally inspired to get the song and video together?
As with most industries, the COVID-19 pandemic impacted the optometry sector in a number of ways – be it small business owners who were concerned about keeping their practice running during the strict lockdown phase – or graduates unable to get their clinical experience in or losing their jobs.
To help unite the industry, the team at Optometry Australia decided we needed to give our members something positive to think about and engage in something fun. That's when my colleagues tapped me on the shoulder, asking me if this was something I would be interested in leading. Safe to say, it certainly was!
I have also known for many years that being a singing optometrist is not unique to me. There are so many musical and creative people in our profession. This was the perfect opportunity to showcase all the singing, dancing, creative Optometrists I knew.
It was a big project to bring all of those people from Optometry Australia together for the musical video. How long did it take you to get it all together and were there any funny stories along the way?
I cannot believe you can write a song, record it, produce it, gather the troupes around Australia, made them learn the song, own it, film themselves, edit, edit, edit, all in seven weeks. I guess a pandemic breaks all the rules and challenges the status quo!
The thing that put a smile on my face was seeing all the raw footage the optometrists submitted. Optoms on a surfboard, playing electric blue violins beside their microscopes, moonwalking and flossing moves at home. I asked people to ' Not be perfect, make mistakes and be yourself '. It's not often you see health practitioners 'dropping their guard'.
They all came through with something honest, and true to themselves. Really proud of those who took part. We showcased that optometrists are not one-dimensional – they are real people with unique personalities and other talents.
They are two diverse careers – that of optometrist and musician. Which of these careers do you like the best and do you find they can work in together somehow?
Embracing creativity and music together with the clinical nature of optometry is what I've always known. Since high school, I've always taken science subjects alongside art, painting, and music. My high school in New Zealand was very supportive.
I dropped out of a Bachelor of Music (classical piano performance) at the University of Melbourne and entered Optometry in my third year of university.
I studied a health course at uni because I was keen to work among the underprivileged. And that came true early in my career with my graduate move to Darwin, where I got my first experience as an optometrist working in remote communities, as well as Asia Pacific neighbours such as East Timor and PNG. This coincided with the time I won Triple J's UnEarthed competition in Darwin.
I'm really lucky that I have two professional hustles that continue to travel in parallel. I think one feeds and tickles the other. I recall scenarios where I had to bring my guitar into the clinic to sing to a teenager who has severe Asperger's. Singing to him was the most effective way to calm him and for him to let me look at this eye.
I also recall my first optometry trip to Timor where we sang and played guitar with a group of local children while they were waiting to have their eyes examined.
Are there any quirky similarities between the music and optometry industries?
I often view optometry as not purely science, but a continuum of science and art. The art in eye care can span from the purest form when looking through a microscope at a single cell structure, to finding creative ways to communicate a scientific/clinical case to our patients.
For more information on Sophie Koh, you can visit HERE.