Bestselling author Jordanna Levin reports on how to use dating apps safely.
You've heard the horror stories, seen cat fishing documentaries and likely feel it's in your highest interest to be overly cautious when meeting strangers through your device.
And while there are definitely cautionary measures that you should take in all forms of dating (the guy at the bar isn't any less of a stranger) there are some really easy ways to ensure your safety while still enjoying the experience (sans bodyguard or Bridgerton style chaperone).
Start with your profile: While there is merit to being honest about yourself and your intentions on dating apps this doesn't mean divulging a bunch of information that will put you in harm's way. For example you can share the suburb that you live in, but never details like the street or a close by landmark. If you have kids by all means be up front about it, but I recommend never posting their faces in your profile (this goes for kids that aren't yours too – fun Aunty anyone?). It's also worth thinking about how Googleable you are. Once someone knows my first name and that I'm an author they can tap it into Google and I'm one of the first results. For this reason I'm a little ambiguous about my profession (preferring to say writer or journalist) on the apps, and I never give my last name. You might be called Jane Doe and will get lost in a sea of a million other Jane Does (no offence JD) but just be conscious of how much information is too much information in the early stages.
Know that people will lie in their profile: This doesn't mean you have to question everything someone says, but it is worth having your wits about you when it comes to online dating profiles. It could be as small as lying about the suburb they live in or as big as omitting a child or open relationship, but it's important that you get to know someone before believing everything they do or don't write about themselves.
'Something casual' means just that! If somebody actively writes 'looking for something casual' in their profile please believe them. Don't think you're going to be the one to change them or convince them of monogamy. They are looking for a hookup so don't be surprised if that's all they're after if you meet up with them.
Use your chat time wisely: This is your opportunity to learn more about your match. Do not skip over this part of the app dating experience. The chat on apps is secure and it's the perfect time to work out if a) you have any chemistry whatsoever b) you have things to talk about but more importantly c) that they're a real person not a creepy cat fisher (FYI this isn't as common as midday movies would have you believe).
Use the video chat or voice chat features within the app: Speaking of chat, most dating apps now have the option to speak through either a voice or video call without having to reveal your phone number. This is a really safe option to get to know someone beyond their text banter but without having to give your private details or risk rocking up to a date and meeting someone completely different to their profile pictures. I personally like to use this feature because communication is top priority for me in a relationship. I want to make sure we are able to converse with relative ease before being forced into conversation over a coffee or cocktail.
Meet responsibly: This goes for any first date whether you've met them online or not. Meet in a public place, tell someone where you are, drink conservatively (you're an adult so do what you want, but my advice is to always be able to drive home if you need to). The offer to pick you up from home sounds super chivalrous but revealing your home address to a stranger is definitely not advised.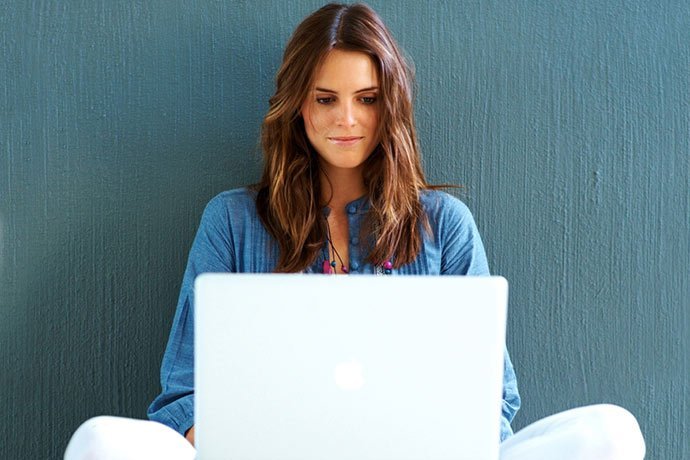 I feel like it goes without saying but also never give anyone money, credit card details or the keys to your safety deposit box containing all the family jewels. I always advise women to act in the same way you'd want your 16 year old daughter or niece to if she was meeting a stranger on the internet.
HIGHER LOVE BY JORDANNA LEVIN
Higher Love takes dating and flips it on its head, inviting you to get curious about the role you play in your own love story and helping you strengthen your personal vibration to attract the love that you deserve. This is a book about dating, and figuring out who you are, what lights you up and how you want to feel in love.