In the modern world, business dress code in different countries can vary from formal suits to jeans and a t-shirt. Company dress codes and cultural fashions have a strong influence on the way people dress for work.
In the United States, for example, the business dress codes are usually far more casual than those in many other countries, and not just in the tech start-ups. That is of course with the exception of Nicole Kidman, who stars as 'Gretchen Carlson' in the upcoming film BOMBSHELL, opposite Charlize Theron which is released in Australian cinemas on January 16, 2020.
What women wear to work around the world may be quite different from what you imagine. If you travel for work, it will help if you're aware that not everyone dresses in the same way as you do. Here is a look at what women wear to work in seven different countries.
Sweden
Sweden, like the other Nordic countries, promotes gender diversity goals, and this is reflected in the business attire. For instance, women who live in hip, laid-back Södermalm have developed an idiosyncratic work style with sacklike dresses and chunky heels. You won't see any stiletto and pencil skirts there.
In Sweden, women don't have to restrict themselves to a blouse, calf-length skirt, string of pearls and high heels to go to work. That said, there are still women who enjoy wearing more formal dresses or crisp white shirts. Many women take the middle road between formal and informal, especially in the summer months, when they wear chic shift dresses or sleeveless shirt dresses.
France
In France, it's all about elegance. Most French companies have a formal office atmosphere. Quality, classic business suits are seen everywhere and moderately slim-fitting shirts and suits are most popular. 'Casual Friday' is not a thing in France and showing up in shorts to the office would be extremely inappropriate.
Glenda Finnigan, an HR specialist for AssignmentMasters, says that wearing a brightly colored shirt with your business suit would probably make you stand out like a sore thumb in France. French women have a way of putting simple yet classy outfits together, and they usually opt for neutral colours and tones.
Japan
Japanese women are conservative in their approach to office wear. Casual clothing simply does not exist when it comes to Japanese business attire. Women usually avoid showing their shoulders or wearing form-fitting clothing and skirts or dresses are knee-length.
Women wear little to no jewellery, usually limiting it to a dress watch, a wedding band, a simple necklace or small stud earrings. Women with hair that's longer than shoulder length will usually wear it up in a bun, chignon or ponytail. When it comes to makeup, they will wear some but not too much.
Wearing high heels to work is often expected and Japanese women have started a campaign against this, using the hashtag #KuToo, a play on the words for shoe and pain.
Australia
Anthony Mitchell, co-founder and chairman of Bendelta in Sydney, Australia, believes that telling adults what to wear for work is out of step with a 21st-century economy. Australia has a more relaxed attitude to work attire than many other countries. Lydia Waters, a writer for Assignment Geek, says that this offers women more choice, but it can make it more difficult to decide what to wear.
The DevelopHer program in Australia is a paid internship offered by MYOB, devoted to reskilling women who want to re-enter the workforce as software developers. This initiative and others like it are helping to change the fact that women make up less than a third of university graduates in STEM.
More female STEM leaders are entering the workplace. Women in STEM in the past often felt that they had to abandon their female identity but they are gradually becoming unafraid to express their femininity in what they choose to wear in male-dominated environments.
Germany
Businesswomen in Germany usually dress conservatively in understated attire to be taken seriously. They typically wear dark dresses or suits and avoid bold, bright colors. Some German companies are now adopting 'Casual Friday' when women can dress down a little. However, sloppy clothing is frowned upon.
For formal occasions, like an interview, the most appropriate outfit is a suit, such as a pantsuit or a jacket and skirt combination.
The rule of thumb when it comes to shoes is that that they should be smart, match the color of the outfit and the heel should not be too high.
German businesswomen do not wear low-cut blouses and tops and will cover their shoulders. They often wear tights with skirts and jackets or skirts and tops.
The 'right' style of clothing does vary from sector to sector, of course, and women in the creative sector may dress a little differently to those in the financial sector.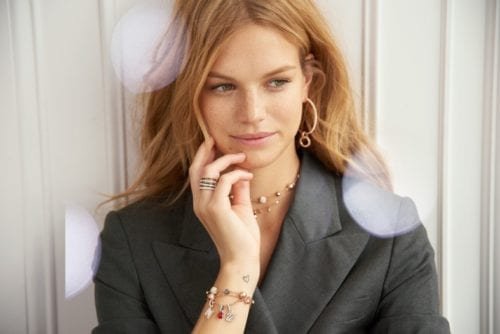 Spain
Spanish women dress to impress at work, often wearing top quality materials in muted colors. They perceive appearance as an indication of professional achievement. It is important to dress in a way that demonstrates professionalism and style. Their clothing is immaculate and highlights their personal style.
They will wear linen jackets and matching pants, a beautiful skirt and top combinations, and accentuate them with a scarf here, a bracelet there and a pair of pretty shoes. In general, they avoid drawing attention to their sexuality and express themselves by paying attention to their hairstyles and makeup.
If you are a female student in Spain who is also working part-time, it may be difficult to keep up with the high standard expected when it comes to business attire. It may be worth using an assignment service to help you with your papers. In some reasons the best assignment help website could assist you and save you time that you could spend on making sure you're well turned out for work.
India
When it comes to getting dressed for work in India, women have many options to choose from. It is probably the only country where the use of bright colors is not avoided in the business environment.
A Saree is a perfectly acceptable outfit to wear to work and a formal sandal and bun hairstyle completes the look. Women usually wear a minimum of makeup and jewellery to keep the look more professional.
A Salwar suit is a traditional, formal alternative to wearing a Saree and one with a simple pattern is probably more fitting. A Kurta style top is ideal for office wear. In general, both knees and shoulders are covered.
Conclusion
With the current trend of globalisation, it would be easy to think that dress codes for women around the world are more or less the same, but this isn't true. Cultural differences still have an influence on what is appropriate at work.
What is acceptable in one work environment may be unacceptable in another. If you travel for work, you need to be aware of the dress codes for business in different countries. In general, it's best to keep it more formal and classy if you're unsure about what to wear.