Women Love Tech's mission is to celebrate women's incredible achievements, help raise awareness against gender bias, and encourage women to step forward in taking action for equality.
To do this, we have created a list of inspirational women who have inspired us through their leadership, and by making waves in the technology sector. Please let us know who else we should add to our list. Here are our suggestions in no particular order:
Kate Burleigh – Amazon Alexa
Kate Burleigh is the Country Manager at Amazon Alexa Australia and New Zealand. The former Intel Managing Director is passionate about IT and the impact that developments such as AI and IoT have on how we all live, work and play.
Melanie Perkins – Canva
Melanie Perkins is the co-founder and CEO of Canva – the multimedia design platform that allows users to create social media graphics, presentations, posters and other visual content.
Cyan Ta'eed – Envato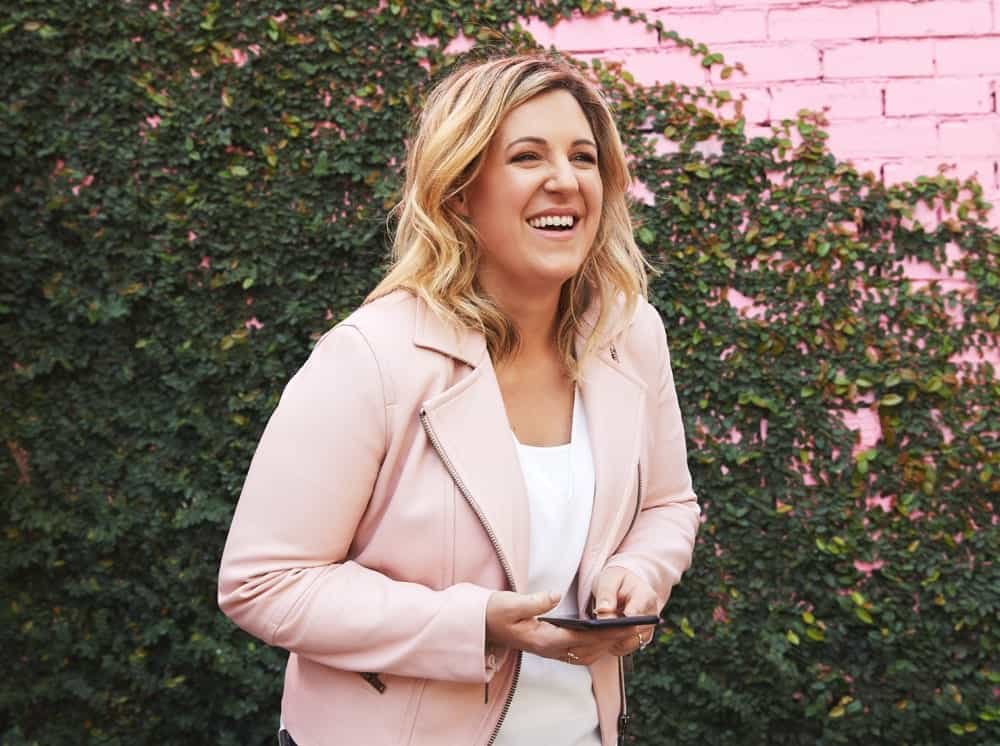 Cyan Ta'eed is an Australian entrepreneur who founded Envato – the world's leading marketplace and community for creative assets and creative people. Envato is a digital marketplace where people buy and sell creative digital goods like music, graphics, video, photos, website themes and basically anything you might need for a creative project. "We have over 7 million members and a team of 300, and most of them work out of our Melbourne office," said Cyan. Cyan is also the founder and owner of Milkshake where you can make a free insta website on your phone in minutes.
Debbie Taylor – NBN
Debbie Taylor is the CIO of NBN – the giants in the wholesale broadband industry that is also focusing on investing in gender equality.
Marita Cheng – aubot
Marita Cheng was named by Forbes as one of the World's Top 50 Women In Tech 2018, Forbes 30 Under 30 2016, and 2012 Young Australian of the Year, and is the founder and CEO of aubot – the company bringing robots to the world that help people in their everyday lives. She is a role model to many looking to go into STEM.
Naomi Simson – Red Balloon
Naomi Simson is an award-winning entrepreneur, the CEO of the e-commerce service RedBalloon and is a huge name in the STEM industry. Watch our Game Changers interview with Naomi here.
Pip Marlow – Salesforce
Pip Marlow is the CEO of the American cloud-based software company called Salesforce that provides a customer-relationship management service.
Kate Morris – Adore Beauty
Kate Morris is the Co-Founder and Executive Director of Australia's first cosmetics retailer to sell exclusively online, Adore Beauty.
Dr Catriona Wallace  – Flamingo AI
Founder & Executive Director of Artificial Intelligence ASX Listed company Flamingo Ai, provider of Machine Learning-based technologies, Catriona Wallace has been recognised by the Australian Financial Review as the Most Influential Woman in Business & Entrepreneurship.
Melanie Silva – Google Australia and New Zealand
Melanie is the Managing Director for Google Australia and New Zealand. She has been with Google for more than eleven years.
 Karen Lawson
Karen Lawson was previously Managing Director for Australia and New Zealand of one of the biggest music-streaming platforms in the world in Spotify.
Kathryn Carter – Snap Inc ANZ MD
Kathryn Carter is General Manager for Australia and New Zealand at Snapchat.
Ally Watson – Code Like a Girl
Ally Watson is the Founder and CEO of Code Like a Girl where she empowers women and girls to drive technology forward by teaching female STEM enthusiasts for success, inspiring the confidence to take on the world of coding.
Zoe Ghani – The Iconic
In her role as CTO/CPO, Zoe Ghani is responsible for the end-to-end experience that customers have with THE ICONIC's website, mobile app and mobile commerce site.
Robyn Foyster – Women Love Tech
Robyn Foyster was responsible for building the Vivid App using geolocation and AR. She also created Sweep – a retail app which uses geo-location, messaging and augmented reality to engage users with the world around them in an innovative way. Robyn is also the publisher and owner of Women Love Tech, Game Changers and The Carousel. She was previously Editor-in-Chief of The Australian Women's Weekly.
Emma Lo Russo – CEO of Digivizer
Emma Lo Russo is CEO of Digivizer, Australia's leading digital technology and activations company, which she co-founded in 2010. She is also CEO and founder of goto.game, founded in 2017, a leading data-driven agency and destination for all things gaming and esports. Emma was awarded the Pearcey Foundation Tech Entrepreneur of the Year Award for NSW in 2016, and won the ACS CXO Disruptor of the Year Award in 2018.
Edwina McCann – Vogue Australia
Edwina McCann is the Editor-in-Chief of Vogue Australia as well as the Editorial Director of Vogue Living. She started Vogue Codes to help promote women in technology.
Caitlin Riordan – Cheetah Digital
As VP of APAC Services at Cheetah Digital, the cross-channel customer engagement solution provider, her goal is to help organisations deliver personalised communications to their customers effortlessly.
Daniella Di Santo – Accenture
Daniella Di Santo is a source of inspiration in STEM as the Senior Manager of Accenture Australia & New Zealand. As a senior manager in the Technology Senior Manager, she specialises in Quality Assurance, Business Operations, STEM, Education, Inclusion & Diversity.
Annie Parker – Microsoft
Annie Parker joined Microsoft in 2018 and is now the Global Head of their Startup Ecosystem team where she helps startups unlock their sales potential through the use of Microsoft's broad market offer, "Microsoft for Startups", by providing technical and go to market support, and providing these businesses with the opportunity to sell into Microsoft's customer and partner network.
Kirstin Ferguson – ABC
Kirstin is the Deputy Chair and Non-Executive Director for the ABC. She is also a business leader, company director, keynote speaker and author.
Prof. Lisa Harvey-Smith – UNSW
Prof. Lisa Harvey-Smith is an Astronomer, Australian Government Women in STEM Ambassador, Professor and advisor to the Australian Space Agency, as well as an author, keynote speaker and presenter of ABC television's 'Stargazing Live'. When she's not studying the life-cycle of stars, she's encouraging women to enter the STEM industry by her actions and her words.
Kylie Walker – Australian Academy of Technology and Engineering
As an expert in managing stakeholder perceptions and specialist in connecting scientists and technologists with leaders in politics, business, and the media; Kylie Walker currently holds the position of CEO of the Australian Academy of Technology and Engineering as well as Chair at Australian National Commission for UNESCO.
Sally-Ann Williams – Cicada Innovations
Previously an Executive Program Manager at Google Australia for 12 years and an experienced Non-Executive Board member, Sally-Ann Williams is the CEO of Cicada Innovations, the Non-Executive Director of World Vision Australia and Fishburners, and an Activator at SheEO.
Kylie Ahern – STEM Matters
Kylie Ahern is the Founder and CEO of STEM Matters – the company advising both private and public sector organisations on a wide range of complex topics including strategy, engagement, and outreach and leadership to name a few. Its focus is largely on science, technology, engineering, health, agriculture, innovation, research, and education.
Sonia Nazaretian – Microsoft
With experience working in the Corporate sector across IT, Media & Telecommunications, Sonia Nazeretian is Microsoft's Director of Retail and Commercial where she leads a team responsible for developing strategic partnerships with some of Australia's leading multi-national organisations.
Jodie Frew – Intel
Jodie Frew is the Retail Industry Manager at Intel where she has over 20 years of experience delivering large scale IT Transformations projects in a range of industries. As Retail Industry Manager, Jodie is helping organisations to make sure their IT systems are functioning at full capacity. She's passionate about changing the world we live in and how technology drives a connected way of thinking.
Maggie Zhou – Alibaba
Maggie Zhou is a Managing Director at the Alibaba Group where she is responsible for establishing a local presence for Alibaba in Australia and New Zealand to further develop infrastructure and help local merchants enter the vast China consumer market.
Katherine Boiciuc – Maximus Internatonal
Associate Director at Maximus International. Passionate about leadership, innovation, imagineering and problem solving.