International Vlogging Day is a reminder to celebrate the work of online creators and encourage more people to get creative. 
Earlier this year, Canon released the PowerShot V10, as a direct response to the growing creator economy. Designed with vloggers in mind, the form and features of the PowerShot V10 work in tandem to deliver an all-in-one product that creators can use to create high-quality video and still content.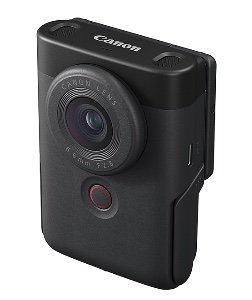 Video quality, right in the palm of your hand
The PowerShot V10 features a large 1-inch CMOS sensor capable of delivering stunning 4K video quality, while also offering stills shooting capabilities. For added cinematic atmosphere, creators can quickly switch up the ambience using any of the 14 included colour filter effects and Smooth Skin mode. 
High-quality sound to make your message clear
Perfect for any outdoor or urban environment, the PowerShot V10 is equipped with two large stereo microphones designed for narration and a third audio noise reduction microphone. 
Designed to capture all aspects of your life
Housed in a vertical body and designed with simplicity in mind, the PowerShot V10 can be operated almost completely single-handedly. Equipped with a 2.0-inch LCD touchscreen which you can flip to the front, perfect for self-vlogging or recording others, it lends itself to handheld shooting, allowing you to easily capture emotions and create that intimacy between you and your viewers. The built-in stand gives you the option to record more free-standing content like cooking tutorials, hauls or popular formats like 'Get Ready With Me' and 'Unboxing' or listicle videos. 
Connecting you to your followers – with Canon Camera Connect App
The PowerShot V10 is fully compatible with the Canon Camera Connect app, so you can transfer your videos to a smartphone or tablet over Wi-Fi with ease. Managing your video workflow has never been easier with built-in images. Canon integration for temporary cloud storage, from which you can directly transfer to your platform of choice. Take your content straight from the camera to your viewers, with simplified live streaming capabilities included in the PowerShot V10 – allowing you to go live to your followers with dedicated menu options for live streaming on YouTube and Facebook.