Sisters  Jess and Stef Dadon are doing if for themselves. Now the glamorous pair are answering the big questions of life in their podcast, How Two Live. As well as sharing their own secrets to success, the Dadon's have spoken to the likes of activist, Erin Brockovich, Meg Ryan and our very own Layne Beachley. Here, they talk to Women Love Tech about how it all unfolded.
Tell us about your Podcast and how it came about?
We launched How Two Live: The Podcast on Acast a year ago now, with a goal to empower and inspire our listeners through meaningful and fun conversations, and above all we keep it seriously real. Running a business is tough, and so is just being human, so we cover all kinds of topics from how to save up money, to why social media is giving us huge anxiety, to how to manage a team and hustle for your goals. We've learned a lot over the past 8 years running our own business, and we wanted to be able to pass on our learnings; what has worked for us, what hasn't, and also to be totally transparent about our failures and that things aren't always just sunshine and rainbows on the inside. We bring on incredible guests who have been successful in their own fields, and they teach us about their learnings but also about the things that they've found matter most in life, what's really fulfilled them, and how they've brought their values into what they do.
What are the highlights so far on the How Two live podcast?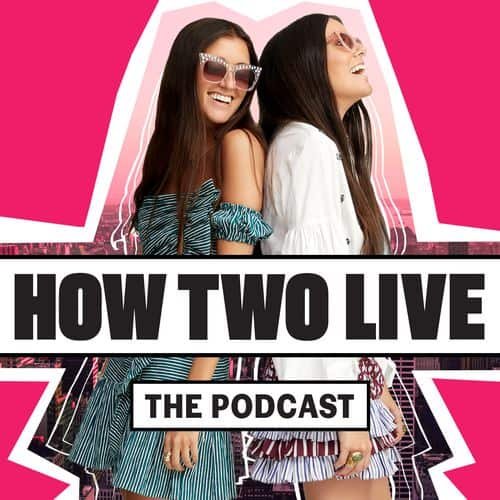 Our podcast is kind of a 360-degree how-to on life, so we've had so many varied guests on! We chatted to Laura Lynne Jackson, an amazing Psychic Medium from New York, and we've had so much amazing feedback and crazy stories from people's own lives from that episode, we've also chatted to surf champion Layne Beachley, movie star Meg Ryan, founder of NYFW Fern Mallis, and co-founder of Spell and the Gypsy Lizzy Abegg.
What's it like working together as sisters?
It's the best! We often get asked how we manage to work together as sisters, but we know that sibling relationships can be complicated, and it either works for you or it doesn't. And for us, it just really works. We work all day together and then drive home on the phone and often end up hanging out at night. We're best friends so we just have so much fun together and it doesn't really feel like work. Getting to travel together, go to events as each others' plus 1s, and having all these crazy shared experiences, has been a massive adventure that we'll treasure forever!
How did you turn your passion for fashion into a business?
We'd both always had a love of fashion, but when Stef was moving to Paris 8 years ago and Jess was going to be staying in Melbourne, we decided to start a blog. It was a daily diary to each other where we'd share what we were up to, what we were wearing and what we were eating. It quickly gained a following, and then we started to get approached by brands to promote their products and style their campaigns. It all kind of grew from there! We tell the whole story in our first podcast episode "In Conversation with Jess and Stef", and we tell the story of building our footwear label TWOOBS in "In Conversation with Jess and Stef: Creating a Shoe Brand"
What have been setbacks or hurdles you have had to overcome?
How long do you have?! Seriously we have setbacks and hurdles each and every day, which is why we're so keen on being honest about them on our podcast, because we feel like you only ever get people's highlight reels, which has only been exacerbated by Instagram. We have questioned whether we should shut down our footwear label so many times. We've had factories close and people quit and big stunts we'd planned completely fall flat, and at least once a month one of us talks the other out of a meltdown. But the difference between failed businesses and ours is that we just keep going for it and giving it our all, so "persistence is everything" would have to be one of our biggest takeaways. We talk more about this in our In Conversation episode "The Ultimate Pep Talk".
Fun media stunts! I'd love to hear about them?
We love marketing on a budget and we talk a lot about this is on our In Conversation episode "Getting Scrappy". We feel like when you're restricted by budget is when you're forced to come up with your most creative ideas. From launching our footwear label TWOOBS at New York Fashion Week with just $500, to shooting a campaign with 15 dogs around the streets of New York, and building an all-pink pop-up store in just 3 days, we have done a lot of fun things and we always aim to think outside the box and consider what's really going to grab people's attention.
What is next?
We're going to be relaunching our website howtwolive.com next month, and will be hosting a lot more live events for the podcast so people can keep an eye on the site for all the details of that! We're also heading back to the US in April and have heaps of exciting podcast interviews lined up, so we can't wait for people to listen to those.
What advice would you share with your younger self?
That you don't need to have it all and do it all right now if you slowly take step after step to get where you want to be, then you will get there eventually, but in the meantime just enjoy the journey!
Do you have any podcasts you love and why?
Yes, we are crazy about podcasts! We love Armchair Expert with Dax Shepard; we love hearing insights into the lives of Hollywood actors and he's a great interviewer. We're big fans of the GOOP Podcast, we feel like Gwyneth Paltrow gets a bad rap but we love her! And Oprah's SuperSoul Conversations… you just can't go wrong with Oprah!
About Jess & Stef Dadon
Australian sisters Jess and Stef Dadon are designers, creative directors, and entrepreneurs. They first launched their blog How Two Live as a daily diary in 2012, and it has since grown into a global platform with a tribe of loyal fans.
They're regularly invited to speak at events and guest lecture at Universities about their experiences in fashion, social media, and digital marketing, with recent talks including at Retail Global, WGSN Trend Summit, VAMFF and RMIT University.
In 2019, Jess and Stef launched How Two Live: The Podcast, airing meaningful chats with mentors on life advice, business tips, and everything in between, and having potentially illegal amounts of fun while doing it.
About Acast
Acast is the world's largest podcast company. Since 2014, Acast has been the engine powering audio for makers all over the world. At its core, Acast connects audio makers with the financial support they need to create amazing content while also delivering the audience they want. Acast works with podcasts globally including My Dad Wrote a Porno, Off Menu, David Tennant
Does A Podcast With…, The Adam Buxton Podcast, Sanspants Radio, Alice & Bianca, Watch What Crappensand Varvet as well as those of publishers such as the Times, the Economist, Guardian, VICE and Vogue. As a global business, Acast has offices around the world from Stockholm to Sydney and a team of 100 talented audio lovers working diligently to create a sustainable audio and voice ecosystem to ensure that the audio industry continues to grow and flourish. Acast was founded by Karl Rosander and Mans Ulvestam together with co-founder Johan Billgren.