Most of us know that Twitter is now officially rebranded and called 'X' since its new owner – Elon Musk – decided on this new name. But this week, the iconic blue bird logo which had still been very present on the site until Sunday night, was officially deleted and replaced by the 'X' logo.
The blue bird logo was well-known and now when you log on and only get the X logo it's quite a change. Many have lamented the loss of the little blue bird and these changes of both the name and the logo mark the end of one of the most recognisable brands in social media.
But Elon Musk has been active in his support of his new branding and early on Monday morning, he tweeted a photo of the X brand being beamed across X's headquarters. See below:
Most of the reactions online to the new X brand have been negative. Here's one person's reaction below:
And here's another: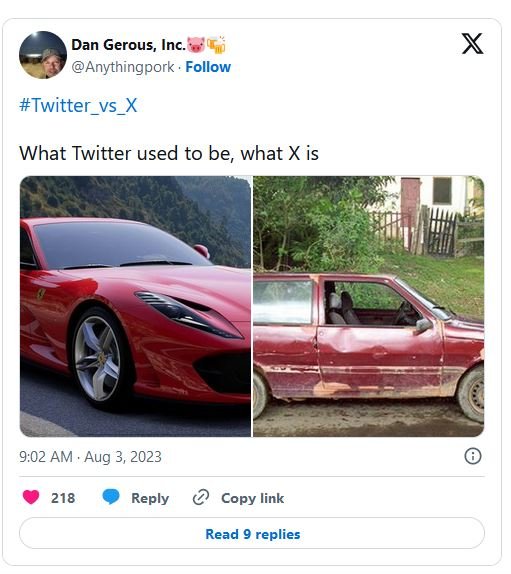 Musk himself has said he had the idea of changing the logo to X because it could "embody the imperfections in us all that make us unique."
"And soon we shall bid adieu to the twitter brand and, gradually, all the birds," he added.
Why rebrand to X?
Well, it's a fact that Elon Musk is a big fan of the letter X. He bought Twitter for $44 billion last year and he's once again shown us that letter X is one of his favourite things. Way back in 1999 he founded X.com which was the precursor to PayPal.
When he called the company X.com, many people tried to talk him out of it because they felt the name had sexual connotations. But he said he liked it and wasn't going to change it. Apparently, he still feels the same way about the letter X – something you can see from this photo he tweeted recently below.
And this isn't the first time Musk has used the letter X. The Model X is one of the most popular Tesla vehicles and one of his sons was named X Æ A-Xii . Musk has already named Twitter's parent company, the X Corporation as well.
So, it's obvious Musk has a strong liking for the letter X and this is doubly noticeable because the letter X isn't used that often. In fact it's used in only about 0.15% of words.
More changes are coming
Not only is the branding of Twitter changing. The social media company has also announced some changes to its regulations stating recently it will be limiting the number of daily direct messages unverified users can send in, explaining that this is in an effort to reduce spam.
That change went into effect last Friday and now if users want to increase the number of daily messages allowed, they will have to join the subscription service launched last year.
These changes come as X now faces competition from Meta's new app, Threads, which launched in early July. But this app is a whole other story – will it threaten X or not? That's the question. Stay tuned for more on X and how it fares.
For more from Women Love Tech on social media, visit here.