It's time for the matters of the criminal case of Australian citizen Julian Assange to conclude. His wife Stella believes his treatment is "inhuman and cruel".
Who is Julian Assange?
Julian Assange is a publisher and journalist who founded the WikiLeaks website. He is being charged by the United States with espionage. He is being charged with exposing the truth and whistleblowing on unethical behaviour and war crimes.
Many supporters believe that Julian is suffering political persecution. He has not received fair treatment or trial, and these matters need to be resolved swiftly.
What happened?
Some classified information was published on the WikiLeaks website, that included:
Evidence of war crimes in Iraq and Afghanistan
US National Security Agency spying on world leaders and UN representatives
Abuse and torture at Guantanamo Bay and other sites
The United States and its allies committed war crimes. But the people who committed these war crimes were not investigated.
What is the Charge?
In 2019, The US Department of Justice's federal grand jury charged Julian Assange with 18 counts of superseding indictment. These relate to his alleged role in one of the "largest compromises of classified information in the history of the United States".
The charge is based on "unlawfully obtaining and disclosing classified documents related to the national defense". These are classified as espionage charges under the Espionage Act.
The questions are:
Where is the evidence that any person was harmed with the release of this information?
Where is the evidence that the leak caused damage to the United States or their allies' national security?
Why was the classified material easy to access by Chelsea Manning who leaked the information?
Have there been any legal repercussions to hold the perpetrators of war crimes accountable for their unlawful actions?
The United States needs to take responsibility for ensuring confidential material is handled using adequate security protocols and cybersecurity data protection measures. The United States personnel who committed these war crimes damaged their own reputations.
Free Julian Assange Campaign Timeline
Julian is currently in Belmarsh Prison in the United Kingdom. He has spent the last four years in a maximum-security prison cell.
He is awaiting an application to appeal the extradition to the United States. If he is found guilty of these crimes, he faces a 175-year prison sentence.
In 2021, a UK Court decided to quash the decision to extradite Julian Assange to the United States. It was made on the grounds of his mental health and high suicide risk.
Last year, he suffered a mini-stroke and his health has continued to deteriorate. He has received limited consular help or diplomatic protection.
Recently, the press freedom organisation Reporters Without Borders (RSF) was denied access to Julian Assange. He is entitled to visitors who can check on his health.
Importance of Julian Assange's case
The legal case touches on the topics of democracy, free speech, truth, transparency, and open justice.
Journalists have an important role in documenting history and reporting on the news independently. In a democracy with free speech, they are responsible for creating content that is:
Factually accurate
Sources have been confirmed as experts or reliable
Without undue commercial bias
Based on statistical and research data that has not been manipulated
Julian Assange has received many awards for journalism including:
Walkley Award for Most Outstanding Contribution to Journalism
Sydney Peace Prize Medal
Martha Gellhorn Prize for Journalism
Index on Censorship prize
Economist's New Media Award
Amnesty International New Media Award
Gavin MacFadyen Award and many others.
The outcome of this court case poses a real threat to press freedom for journalists and media outlets around the world.
History of National Security Legislation
After the 9/11 terrorist attacks, national security legislation has become stricter and threatens basic human rights.
For example, the Australian Government has passed over 100 pieces of legislation under the guise of 'national security'. ASIS and ASIO can commit offenses or harm to others under these laws. These powers allow:
offices, houses, and cars of journalists and citizens to be raided.
anyone's internet and mobile phone data to be downloaded.
This intimidating behaviour is a threat that will lead to journalists watering down factual stories and self-censoring the news. As a result, journalists feel that they can no longer go undercover to report.
Besides, some news outlets are constantly being threatened with defamation lawsuits. These are an attempt to silence the journalists and shut down public interest stories. These are common strategies used to control the narrative.
Issues about a Fair Court Case
Under the National Security Act, the courts can enforce many measures to keep court cases under secrecy.
Julian Assange and similar whistle-blowers face some unusual legal issues. His court case could be:
Overseen by the US Attorney General
Held in a closed court – where the public and media are banned
Unable to have a special advocate
Witness statements can be blocked due to the "risks to national security"
A non-disclosure agreement may be enforced
Restricted access to a private consultation with his legal team
There is a tendency for intelligence agencies to overclassify documents. These are examples of measures that allow court cases to infringe on human rights and facilitate untransparent processes.
Australian Whistle-blower Laws
There are many different reasons Australia's whistle-blowers' laws need updating. These legislative reforms are required to protect free speech, democracy, open justice, and the human rights of its citizens.
Whistle-blowers need protection when they go to an internal, independent regulator, media, self-publish, or an official lawmaker like the police or federal police.
There needs to be clarification about whistle-blowing:
When do these rules apply?
How do we enforce them?
Australia needs a dedicated and independent whistle-blower protection agency.
In addition, Australia's current human rights laws are considered not as good as in America or the United States. Australia needs a Bill of Rights that includes freedom of speech. Many of these laws are considered out of date when compared with other countries.
Free Julian Assange Campaign goals
Many Australians support the return of Julian Assange to his home country.
"There is a widespread feeling that enough is enough," says John Shipton, father of Julian Assange. "Julian's physical health is in decline, he needs to be freed before it's too late," says Shipton, "I am doing what any parent would do when you have a child who needs your help."
Under the Human Rights Act, Julian needs access to proper medical care and access to his legal team. He is entitled to due process, humane and fair treatment.
Julian Assange's family and supporters believe his mental health will suffer in an American prison, and he is at risk of committing suicide.
There are ongoing demands for the Biden administration to drop the charges against the WikiLeaks founder.
Who will hold governments accountable for their actions and ensure any misconduct and wrongdoing is dealt with in a just and fair way?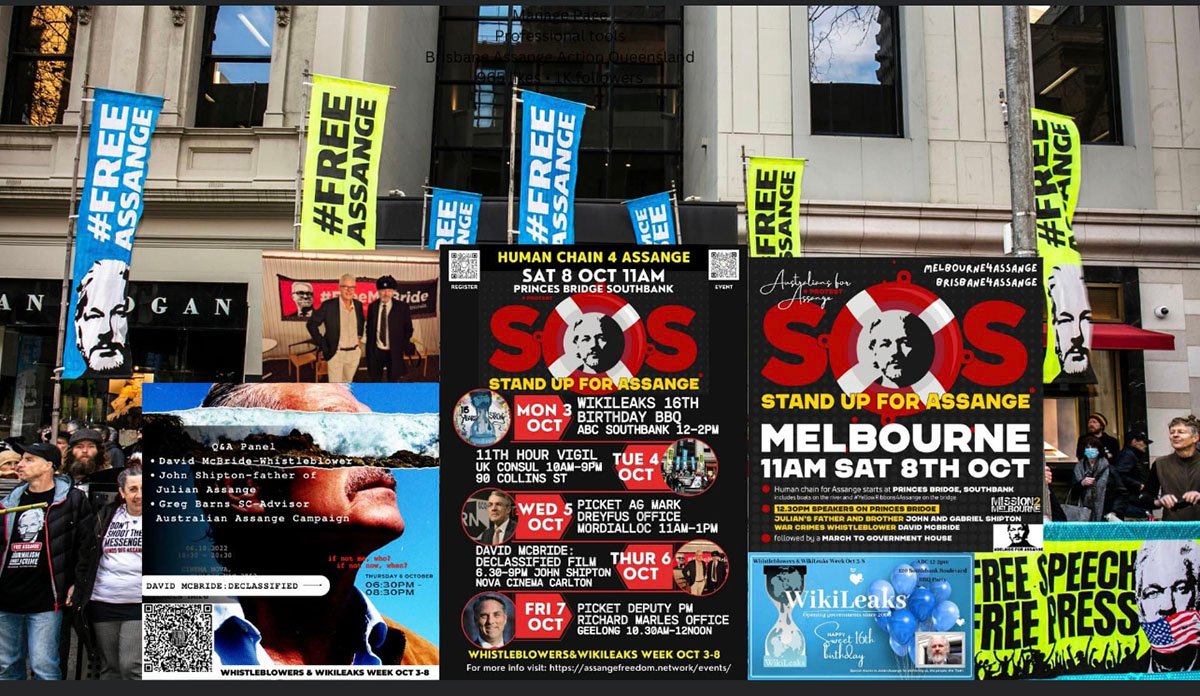 How to Help Free Julian Assange Campaign
You might like to watch the documentary 'Ithaka'. It follows John Shipton, the father of Julian Assange, and the fight for his son's freedom.
View the current status at the Official Australian Website in Support of Julian Assange.
Sign the Amnesty International petition to "USA must drop charges against Julian Assange"
International journalists can add their names to the Speak Up for Assange campaign website.
#JulianAssange #JournalistsSpeakUpForAssange