Did you know that looking after aqua dragons was one activity that has been trending? They are a low-maintenance pet for kids and perfect for anyone with a small space. Aqua Dragons are a type of brine shrimp. You can buy a kit in the science section of a toy shop or online and hatch your own living aquatic creatures. They have a long tail, three eyes and a hairy head. They can grow up to 1 cm long.
The Aqua Dragons box contains everything you need to get started. There is a small plastic aquarium with a removable lid, a pipette, a spoon, a packet of eggs, a packet of food, instructions and an information booklet.
We followed the instructions and added the correct amount of bottled water to the aquarium. There is a line on the aquarium to indicate the ideal water level. Then we added the eggs and waited for them to hatch. The egg packet contains the water purifier. There's a handy diagram of the brine shrimp lifecycle in the booklet.
Managing director of World Alive, Amy Holden, said: "During the pandemic, sales rocketed and kids started posting videos of their Aqua Dragons on social media channels, especially TikTok. Last year, the company launched an #aquadragonschallenge that was trending on YouTube, Instagram and TikTok. The #AquaDragonsChallenge winning videos are available here on their website: https://www.aquadragons.net/pages/challenge Did you know that Aqua Dragon's head office is in Spain, but the company is Australian owned, majority women-owned and an all-women team company?
I was a little concerned about the water we used, but it turned out to be fine. The next day I could see a couple of very tiny dots moving around in the water. I was excited to see them develop and grow into adults. If I was to purchase them again, I might purchase the one with LED lights or the one with the colour-changing aquarium so you know the temperature is right.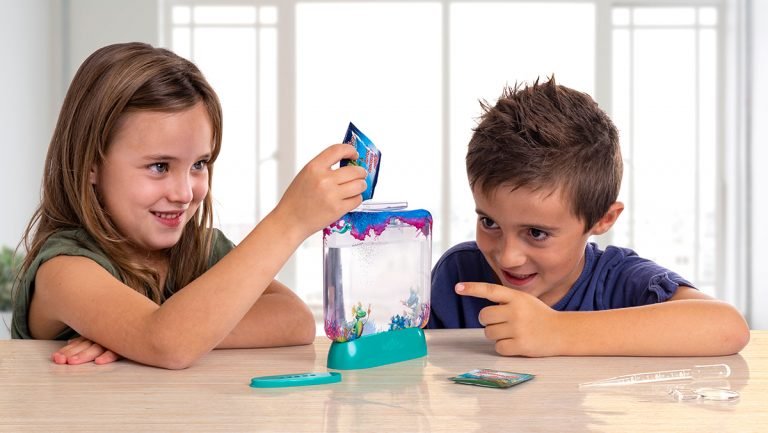 If you need assistance or have additional questions, there is a Facebook group and support email address. You can optionally download a free Aqua Dragon app. Available for Apple and Android devices. Aqua Dragons are popular with young children and suitable for school projects. You might like to consider buying a box in preparation for the next lockdown or holiday.
Purchase from the Aqua Dragons website. Suitable for 6+ age
About Aqua Dragons
The team behind Aqua Dragons are part of the successful World Alive brand which develops and distributes children's products with a focus on education and wellbeing. World Alive founder Amy Holden launched Aqua Dragons in 2012 and since then many thousands of children all around the world have enjoyed hatching and growing their own live pets while learning about their life cycle. When Amy first discovered the amazing Artemia Salina creatures, and their incredible eggs that can be preserved for decades before hatching successfully, she knew they would be the perfect way to let children learn first-hand about life cycles and experience taking responsibility for a pet. As well as selling them throughout Europe from her online store based in Spain, Amy took Aqua Dragons to trade fairs around the world. People were impressed and World Alive now supplies Aqua Dragons to distributors around the world including in the United States and Australia.