Over the past few weeks, Nokia and TCL have announced new mobile phones packed with features but in the lower price range – giving Apple and Samsung a bit more competition in this area. It's also great news for those of us who're after a smart new mobile phone but we want to avoid the high price tag. Take a look at these recent releases. 
Nokia has released  three new mobile phones – all of them below $350 in price. They are:
The Nokia 5.3: For those after a big screen and quad camera
The Nolia 5.3 is a great phone for those who are keen to capture life's best moments because it has a quad camera and AI features to help push the boundaries in any lighting situation. The 6.55" display is still big enough to watch your favourite series, sporting games and also for playing games. The phone's battery lasts up to two days and the AI Assisted Adaptative Battery also means it's unlikely you'll run out of steam halfway through your favourite show.
The Nokia 5.3 is $349 at the usual stockists and comes in Charcoal and Cyan Blue.

Nokia 2.3: Safe for work and still good for play
The Nokia 2.3 is a great device for those anting a safe, secure and future-proof smartphone – with Nokia guaranteeing two years of Android upgrades and three years of monthly security updates (for all of their devices). This means whether you're sending work emails, documents to colleagues or catching-up with loved ones, you can be sure your device won't be compromised.
This affordable mid-range smartphone also has features to keep you entertained and up-to-date, including the latest 'Recommended Shot' camera feature, facial recognition technology, Google Assistant and a 6.2" HD+ display designed for watching videos.
The Nokia 5.3 retails for $199 or $149 pre-paid from Telstra and it comes in Cyan Green, Sand and Charcoal.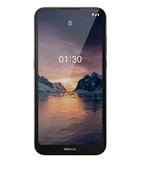 Nokia 1.3: Low cost but still secure smartphone  
The Nokia 1.3 is good for keeping in touch with everyone at an impressively low cost. The smartphone's polycarbonate shell makes it sturdy and durable so you won't need to worry as much about bumping it. It has camera apps like Camera Go and Gallery Go so you can take great photos and manage and share them without needing to worry about speed or storage.
The Nokia 1.3 is $169 and comes in Charcoal.
TCL has also released a range of phones in the sub-$500 category, still featuring great screen technology, quad cameras and larger screens.
TCL recently released a new 20 Series of Smartphones including the TCL 20 5G and SE. For more on these phones, see our story here.
Now TCL has released the budget priced 20L+ which still has a large display and the photography features the others in the range are known for, but it's priced at $399.
The TCL 20L+ smartphone has the same high definition quad camera, NXTVISION 2.0 and automatic adaptive brightness as the others in the TCL 20 series. It's also the first phone to receive Circular Polarisation Certification and Low Blue Light Certifications which allows you to see what you're looking at on the phone, while wearing sunglasses.
Included in the phone's setup is a back-light selfie cam and Super Night mode, so people in a shot with low light are shown in the best possible light. As well, it has a large HD+ screen so you can watch your favourite movies and TV shows in clear detail with NXTVISION display optimisation, while the adaptive brightness up to 500 nits automatically delivers a great viewing experience.
The TCL 20L+ has a high definition 64MP quad camera which provides clarity and life-like colour reproduction. Included in the setup is a backlight selfie cam and Super Night mode, presenting the people around the shot and its surroundings in the best possible light.
The TCL 20L+ retails for $399 from the usual stockists.