Synergie Skin founder Terri Vinson is a self-confessed "science nerd" and "beauty tragic." Her brand, Synergie Skin, has won a legion of fans since she founded it in 2005. As a scientist with a passion for cosmetic chemistry, Terri recognised the importance of skincare that combined clean ingredients with scientific innovation. 
With a degree in immunology and the microbiology of cells, Terri completed her post-graduate study in formulating chemistry. After working as a teacher, she then became an educator and formulator for a cosmetic company. She realised consumers are aware more than ever about potentially harmful ingredients, but equally says great skincare "has to have grunt, and it has to be backed by clinical data." 
Her aim was to empower consumers with a scientific understanding of the products they use. "To me, clean beauty should use the very best of both science and nature in synergy," Terri explains. "Harnessing the positive attributes from both will result in a product that produces the best results with the highest safety profile."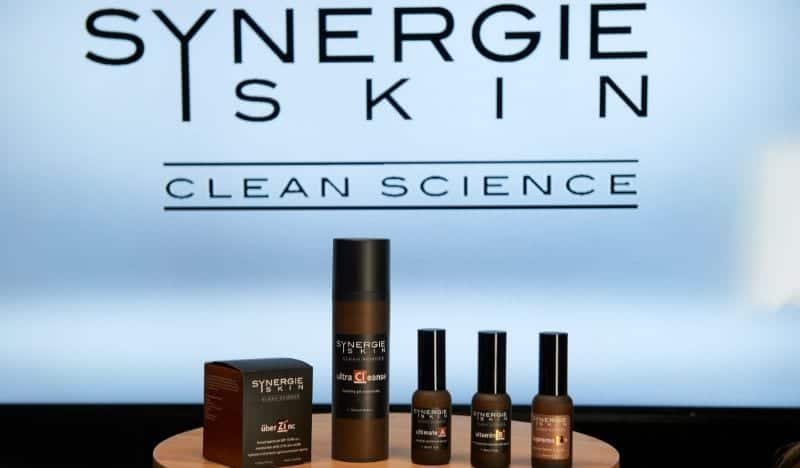 From the outset, Terri's aim was to deliver"Clean Science" to skincare consumers: something that is defined by research, intelligent formulations, and a mindful approach to beauty. From skincare to mineral makeup, Terri's Synergie Skincare range is free from parabens, phthalates, SLS, PEGs, Propylene glycol, artificial colours, synthetic fragrances, talc, and dimethicone.
Importantly, they are effective because they contain potent Vitamin A blends and high-grade Niacinamide and Vitamin C – ingredients scientifically proven to reverse and prevent the signs of ageing.
Committed to remaining Australian made and vertically integrated, she says trust in Australian made products is a huge asset, and she wants to continue to provide jobs for her local team. It also means she retains control over formulation and production.
"I formulate, develop, and test my products in my Melbourne based laboratory," Terri says. "As a mother, I have always felt that if I won't put it on my face, or my children's face, I wouldn't put it on my customer's."
What is important to her is producing cosmetic formulations that cuts through the marketing hype to deliver the safest and most effective results for consumers. 
What's next for Synergie Skincare? The skincare brand will continue to lead the market in Australian Cosmeceutical skincare while pursuing growth in Asia, Europe, and the United States. As for product development? Terri feels integrating AI is the next step "genetic profiling will allow us to create bespoke skincare for Synergie's customers." 
Watch her interview with Sarah Harris to find out why Terri Vinson is a Game Changer in the beauty industry! 
About Synergie Skin:
Synergie Skin is a "clean science" based cosmeceutical and mineral makeup range. It combines active, scientifically proven ingredients with clean technologies and delivery systems. The Synergie Skin skincare range contains Vitamin A, Vitamin C, and Vitamin B and peptide actives with calming, restorative and nourishing moisturisers, eye creams, and cleansers. They have recently released the Plabeau G4+ – a groundbreaking plasma technology based portable skincare device that is the first of its kind. Discover your tailored Synergie Skincare regime by taking their skin assessment test here.