A prequel to Mad Max: Fury Road was announced this week, directed by George Miller and starring Chris Hemsworth. Called Furiosa, it will be filmed in Australia and released in mid-2023. The film will create 850 local jobs and inject $350 million into the Australian economy.
This film will have big shoes to fill. Mad Max: Fury Road was one of the biggest movies of 2015, grossing nearly $500 million worldwide and winning a six Academy Awards.
At a recent press conference in Sydney, Director, George Miller, said: "Whereas Fury Road essentially happened over three days and two nights, this happens over many years. You try to make films that are 'uniquely familiar'. This will be familiar to those people who know Mad Max, and in particular Fury Road, but also it will be unique."
The movie will be filmed "all over NSW", including parts of Broken Hill. Miller said: "This has always been our home, Sydney and NSW, and we have shot so much here."
Chris Hemsworth, who recently moved to Sydney from Byron Bay to film the latest Thor movie, said like many Australians, he grew up watching Mad Max movies and he is keen to 'do the franchise proud.'
"It's something I'm going to put my heart and soul into," said Hemsworth, "because it really is for me, out of everything I've done, the biggest pinch-myself moment because I've grown up watching it."
Hemsworth added he couldn't give anything away anything about his character in Furiosa but said he might give Gibson a call for advice. He added the fact the film was being made here in Australia was a major factor for him signing on.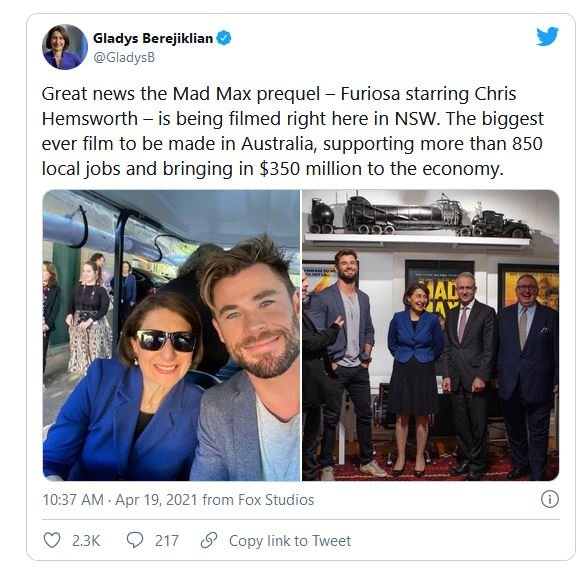 The film will be made in NSW, Australia, and Premier of this state, Gladys Berejiklian, announced on her Twitter feed it was good news for her state.
More about the Mad Max franchise…
The first three Mad Max films, released between 1979 and 1985, launched the career of actor Mel Gibson and the first film held the record for the most profitable film ever created for a decade.
A fourth Mad Max film, Fury Road, was released in 2015 and grossed around $486 million at the box office.
Australia's Federal Minister for the Arts, Paul Fletcher, said Australia was experiencing a boom in the film industry thanks to the country's virtual elimination of COVID-19.
A location incentive established by the federal government, worth $540 million over eight years, had brought 22 productions down under so far, he added. "And there's no more iconic Australian franchise than Mad Max," he said.
The post-apocalyptic action film, Furiosa, will be released in cinemas, unlike many others which have gone straight to streaming services during COVID-19.
For more from Women Love Tech, visit here.
Take a look here as Chris Hemsworth sends up his character Thor just a bit.