The latest James Bond movie, No Time to Die, was ready to be released in May of 2020 but with COVID lockdowns in place in many parts of the world, its release was delayed again and again. But now finally, the movie will be released on the 8th October in Europe and the US and in Australia and New Zealand on the 11th November.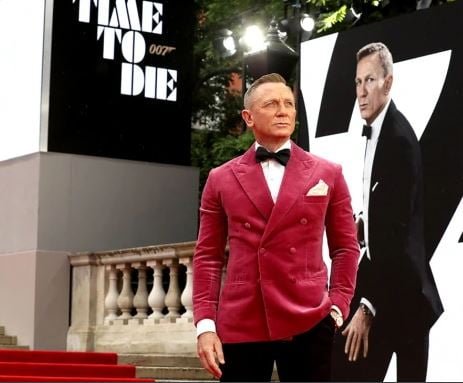 The extra delay for Australia and New Zealand is because of the current lockdowns in both of these countries but by early November, cinemas are due to be open again.
While other movies ended up being released on streaming platforms such as Disney+ and Netflix, this wasn't possible for the latest James Bond film because the movie cost over $400 million Australian dollars to make and it's reported it needs to take in US $900 million just to break even – making it the most expensive Bond movie ever made.
Daniel Craig stars again – many say this will be his last Bond movie
No Time to Die is the 25th film in the James Bond franchise, making it the largest and most well-known film series ever. Daniel Craig stars again in this latest Bond movie but it's been said this will be his last stint as the infamous 007 agent so it will be interesting to see how the film plays out.
In a nod to the changing times, No Time to Die features two tough, kick ass female agents and who knows where this is going to lead for the future of James Bond. Some have even touted the next James Bond will be female.
Blade Runner 2049 star, Ana De Armas appears alongside Daniel Craig as a 'Bond Girl' while Captain Marvel's Lashana Lynch joins the cast.
Movie starts with Bond having left active service
The story line for the film starts with Bond having left active service and he's enjoying a tranquil life in Jamaica. His peace is short-lived when his old friend Felix Leiter from the CIA turns up asking for help.
The mission to rescue a kidnapped scientist turns out to be far more treacherous than expected, leading Bond onto the trail of a mysterious villain armed with dangerous new technology.
Theme song by Billie Eilish
You may have heard the theme song for No Time to Die is performed by Billie Eilish. The 18-year-old wrote the title song with her elder brother, FINNEAS. This makes the duo the youngest artists in history to write and record a James Bond theme song.
Billie Eilish has been quoted as saying: "It feels crazy to be a part of this in every way. To be able to score the theme song to a film that is part of such a legendary series is a huge honour. James Bond is the coolest film franchise ever to exist. I'm still in shock".
Her brother FINNEAS adds: "Writing the theme song for a Bond film is something we've been dreaming about doing our entire lives. There is no more iconic pairing of music and cinema than the likes of Goldfinger and Live And Let Die. We feel so so lucky to play a small role in such a legendary franchise, long live 007."
In reference to the film's theme song, director Cary Joji Fukunaga said: "There are a chosen few who record a Bond theme. I am a huge fan of Billie and FINNEAS. Their creative integrity and talent are second to none and I cannot wait for audiences to hear what they've brought – a fresh new perspective whose vocals will echo for generations to come."
Official James Bond Podcast With Exclusive Content Available Now!