If you feel like you should be investing but you don't know where to start, the Sharesies platform could be for you because it allows you to invest across the AU, US and NZ share markets with as little as 1 cent.
Sharesies was started five years ago by six founders including Brooke Roberts and her partner, Leighton. The team started the platform with the vision to give someone with $5 the same investment opportunities as someone with $5 million. Now the Sharesies platform has over 440,000 users across New Zealand and Australia and collectively there's over $1.7 billion of investments on the platform.
Sharesies offers investors a low-cost sliding commission structure to trade companies listed both in New Zealand and Australia, as well as the US, in a bid to encourage regular investments no matter what the size. As Roberts said: "We're the first company to fractionalise the Australian stock exchange in the New Zealand one, which means that you don't have to buy one full share. You just invest the amount that you want."
Another reason Sharesies is helpful is because it's trying to make it easier for new investors – especially women as we know there's still a significant wealth gap between men and women. Did you know women in Australia retire with 47 percent less superannuation than men? And more and more Australian women are retiring in poverty?
This is why it's important for everyone to be aware of their finances and the investment opportunities available to them. If you put any spare money you have in a savings account, it's not likely to help you create the lifestyle you want for the future. At the current interest rates in Australia (as of September 2021), inflation is higher than the interest you will get in any savings account. This means your money actually gets less valuable each year. So, what should you do?
When Roberts and the other co-founders set up Sharesies, their mission was to set up a more even playing field for investors. So Sharesies allows you to invest with as little as 1 cent – no minimum buy in. Here at Women Love Tech, we talked with Roberts and asked her why it's so important for women to learn more about investing.
"I think also, it's really important that women have that financial independence and, and know what's happening with their money. No matter if you're in a relationship or not, knowing that you're building you your financial independence and feeling really empowered for the future," she said.
"That's why it's really important for women to to start building their wealth as early as they can. And it doesn't matter how much, just the amounts that can afford. Starting, you know, getting part of the system, because as we start to build our wealth and, and learn about investing and how the economy works and, and have the access to these opportunities, it really does set us up better for the future and to close that gap.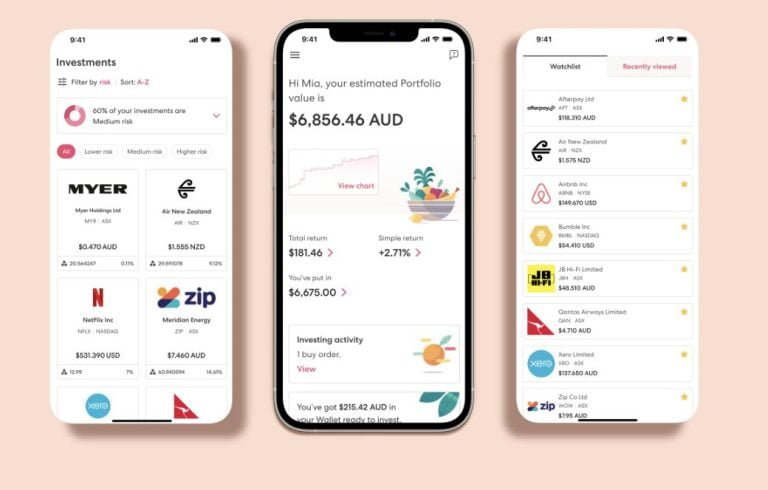 "We typically do take those caring roles in the family, traditionally, whether that be for our parents or children or what others call more community-based work. It doesn't mean that we don't, we shouldn't do that or not do that. But earlier we start investing, the more we can strengthen our, our financial future, and the financial future of those around us," she added.
Build your financial independence
Roberts said as well as making sure you're being paid the right amount for your work, you can build your financial independence and empowerment by starting to invest: "That's what we created Sharesies for – by removing the minimum buy in you can put whatever amount you want in and start learning by doing thisand getting engaged and building a portfolio over time.
"The earlier you start investing the better, I've heard it said that Einstein called the eighth wonder of the world compounding returns. Over time as you make returns, you make returns on your returns and that grows. And so that's why investing early and often as is such an important concept in terms of wealth development."
Roberts added it's important that we remove the taboo around money and investing because no longer is it about 'I'm an investor, I'm rich.'  "That's totally changed now," said Roberts, "because anyone can be an investor – it's not just for the wealthy few."
We asked Roberts what would she say to a young woman who's just starting to work?
"I don't come from a family of investors or that made investments. So when you're getting your first income you could be thinking – 'I've got this money, how do I make the most of it?'" said Roberts. She studied finance at university and naturally, she became interested in money and finance and how it all worked: "I wanted to invest. But when I looked at it, I was like, 'Whoa, I don't have money for this'. It was $30 a trade and, you know, it was quite expensive. I want people to have the opportunity to invest with amounts they can afford so they can give it a go."
The good thing about Sharesies is, if you need more information, they have a blog on Sharesies which is a good place to start. Roberts added: "We've got podcasters such as Recap, which every day recaps the financial news that's been happening in a fun and easy, digestible way in 10 minutes."
Learning how to choose stocks
Roberts said she's keen to invest in funds which have a socially responsible purpose behind them and investing in businesses that are a force for good: "I really care about that businesses take into account, not just shareholders, but stakeholders and think about their impact on the environment and communities."
She said on Sharesies you can see if stocks are at one risk level or at say seven risk level – with seven being highest. She said the one risk level is a lower risk level which means there's usually lower volatility and the price doesn't fluctuate too much and down this end of risk you'll see also see bonds. But then you've got the higher risk, which is where the prices can be quite volatile and go up and down.
"It's all based on one company's performance and what that does. Then exchange traded funds (ETFs), are a basket of companies. So it might be the Australian top 200, where you're buying the top 200 companies in Australia through this exchange traded fund. Therefore, if one performs and one doesn't, it balances out a bit," she added.
Start investing early
Roberts said starting investing with whatever you can and building on it over time with amounts you can afford is a good way to start investing: "That's my view. When you're starting early, you know, let's say 20 bucks a week, and you're starting to put that away. Then you might get a pay rise and go look, I'm going to invest a bit more now and might take it up to 50, whatever it might be. But over time, if you're consistently putting money in it's called dollar cost averaging. You're not trying to find the highs, like buy low, sell high kind of thing. You're you're just constantly investing in businesses or funds that you care about, holding it up over time. You might get some dividends paid out, or the price might be increasing."
"That's where compound returns are really important too because you get returns, whether it's dividends that you reinvest, or the price gains that you're getting through investing, and continuing to invest, you get returns on your returns, it keeps growing. I think that it's there's a really important and underlying part of investing that we're not all taught as early as not as we should be, unfortunately," said Roberts.
To finish off, we've included a survey Sharesies carried out recently, commissioned by Colmar Brunton on behalf of Sharesies, using a representative sample of 1,158 Australians.
Here are some key findings of the survey:

General
60% of people who own shares identify as male
15% of females own shares they've bought themselves, versus 24% of males
47% of Australian men said they were likely to invest in shares in the next five years, compared to only 33% of women
Of the Australians who own shares, 26% are in Sydney, 22% in Melbourne and 11% in Brisbane
Current investment behaviour of Australians
The main ways Australians are investing their money include:

Savings account – 68%
Own their own home – 43%
Superannuation scheme – 42%
Own shares they've bought themselves – 19%

The differences between men and women:

42% of men agree that they feel confident investing in shares, compared to only 22% of women
43% of men agree that they feel motivated to invest in shares, compared to only 27% of women
Women are more likely to discuss investing with friends or family (23%) compared to men (15%)
Barriers to Investing
Almost half of Aussies (48%) say they don't have enough money to invest
A quarter (26%) don't know how much they need to invest each month for it to be worthwhile
35% agree with the statement "investing in shares is only for people with lots of money"
There is also a strong sentiment amongst Australians that investing in shares is risky; 65% agree with this statement

Women are more risk averse, with 39% saying they avoid taking risks with their money versus 27% of men

61% of women agree with the statement "I find investing confusing", versus 41% of men
For more information about Sharesies, visit here.
For more from Women Love Tech on investing, visit here.