Here's how to dress up your kitchen with matching accessories from the stunning new De'Longhi Ballerina Collection to transform your home without breaking the bank.
Combining style and sophistication, the new De'Longhi Ballerina Toaster and Kettle Collection is just the thing to brighten up your kitchen.
This is the result of a creative partnership with De'Longhi and the renowned Italian visual artist Marco Lodola that lives up to its promise to enhance your kitchen and inspire creativity. It comes in a fabulous colour palette that includes Laguna Green, Furnace Black and Opaline White.
The white version works perfectly in my kitchen (see above) and helps to dress up the room and give what can be the most forgotten yet functional part of your home; when it comes to decorating, the lift it needs to make it look smart and feel special.
There is no doubt that having matching accessories such as a toaster and kettle adds to the look and feel of your kitchen, and the design of the Ballerina Collection really stands out. Better still, it's a lot cheaper than redecorating your kitchen and takes much less time. Previously, I had a boring stainless steel toaster and kettle and it looked pretty drab and unexciting. Now, with the simple addition of matching accessories, my kitchen has been given a total facelift.
The Ballerina Collection is aptly name with the shape of both the toaster and kettle replicating a ballerina's tulle tutu and Venetian glass at the same time. The kettle and four slice toaster is ideal for a family of four and for those times when you are entertaining guests. But you can also purchase a smaller two slice toaster if you live in a smaller apartment and space is an issue.
Here are some of the features of the toaster:
User friendly variable browning control for toast to your taste
Removable crumb tray for easy cleaning
Here are some of the features of the Kettle:
Anti-scale filter, swivel base
12 month warranty
Complements your other Ballerina Collection accessories
De'Longhi Ballerina Toaster and Kettle Collection
4-Slice Toaster RRP: $149
2-Slice Toaster RRP: $119
Kettle RRP: $119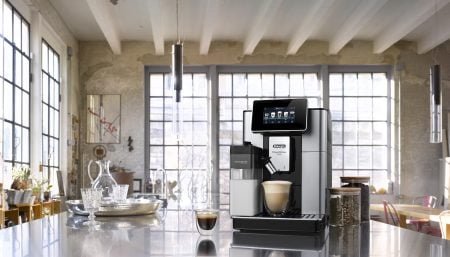 As a coffee lover, I'm also a huge fan of the De'Longhi PrimaDonna Sould which is an all in one coffee machine that has a touch display with a wide selection of customisable coffee choices. You can opt for the bean-to-cup coffee or use ground coffee. There's also wi-fi connectivity and you can tailor your perfect brew using the five user profiles available, so the entire family can personalise their own cuppa.
By making your own brew at home and buying less coffee when you are out and about, you can also save lots of money and it helps reduce the wastage from a huge number of throw away cups  that are used at coffee shops.
RRP: $2,549