You've just bought a white corner sofa and the first person who comes over accidentally pours red wine on it. You are deeply distressed as you Google all the home remedies for spot-cleaning sofas.
Up comes: Take a teaspoon of washing-up liquid, white vinegar, baking soda and warm water and mix together into a lather (the mixture should froth up as the baking soda and vinegar react with one another). Then, apply directly to any stains or smudges that you can spot on your fabric sofa. Leave to dry out for around 10 minutes.
But you find yourself in a froth instead of the mixture because the remedy is not working.
This is when you need a smart solution to wash your worries away.
Enter the Hoover CleanSlate Spot Cleaner (RRP $349) – the latest multi-purpose tool that can spot-clean your new white sofa. It can also be used on a wide variety of surfaces, including carpets, car interiors, and other types of upholstery.
Light and compact, the Hoover is easy to handle, with decent enough suction to get rid of pesky stains especially when used with the Hoover cleaning liquid. Happy days!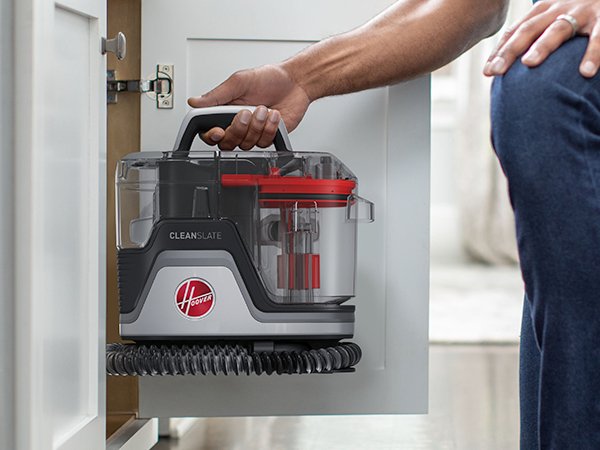 Hoover CleanSlate Spot Cleaner Features
Dual Tank System separating clean and dirty water
Portable and lightweight design perfect for every home
WidePath tool for larger areas such as stairs
TightSpot tool for hard-to-reach areas
2-in-1 tool to target spots and stains on all fabrics and surfaces
5.5m cord and a 1.37m hose for greater accessibility
Here is a YouTube video showing you how to use it:
Below, is a video showing you how to maintain the cleaning process:
The Hoover CleanSlate Spot Cleaner is available to purchase from Godfreys.