Over the last few years, Standing Desk have quietly made their way into offices around the world. And once you've tried one, you won't want to go back.
Forward-thinking workplaces are acknowledging that 'sitting is the new smoking'. It's a catchy way of saying we are spending too much of our lives sitting down and being sedentary. Regular movement is needed for maintaining healthy hips and backs over our lifespan.
With the popularity of working from home and increasing awareness of standing desks, the price of these office items has improved and they are now more affordable.
We tested out a standing desk Pro series from UpDown Desk. The company is Australian owned and the desks were created in consultation with their founder who's a qualified physiotherapist.
UpDown Desk: Standing Desk Set Up
The desk arrived in three boxes. The top and base were packaged well.
Fortunately, there is a handy installation video for setting up your standing desk. You'll just need a screwdriver or drill. You'll need to watch the videos for tips and measurements. Please note there are two videos: one for assembling the legs, and then another for attaching the legs to the tabletop.
We did make the mistake of not checking where the engraved logo was, but fortunately, we did work out the top of the desk. (Our desk has the logo at the back).
UpDown Desk: Standing Desk: Features
The table height controller has soft touch buttons which let you move the desk up or down to adjust the desk position. In addition, you can specify four height presets using the memory settings.
Pros
Water and mildew proof bamboo tabletop
Sturdy construction with ergonomic and safe round corners
An easy to access control panel to set your preferred height
The movement is smooth and silent. I'd recommend having a clutter-free desk.
Cons
Building the desk takes some time – you could place the assembling on AirTasker if you don't like doing this type of job.
The UpDown Desk Pro Series comes in three sizes: 120cm x 75cm, 150cm x 75cm and 180cm x 75cm. You can select from a black or white frame colour.
You can adjust the table height from around 61.5cm to 127cms (without the desktop).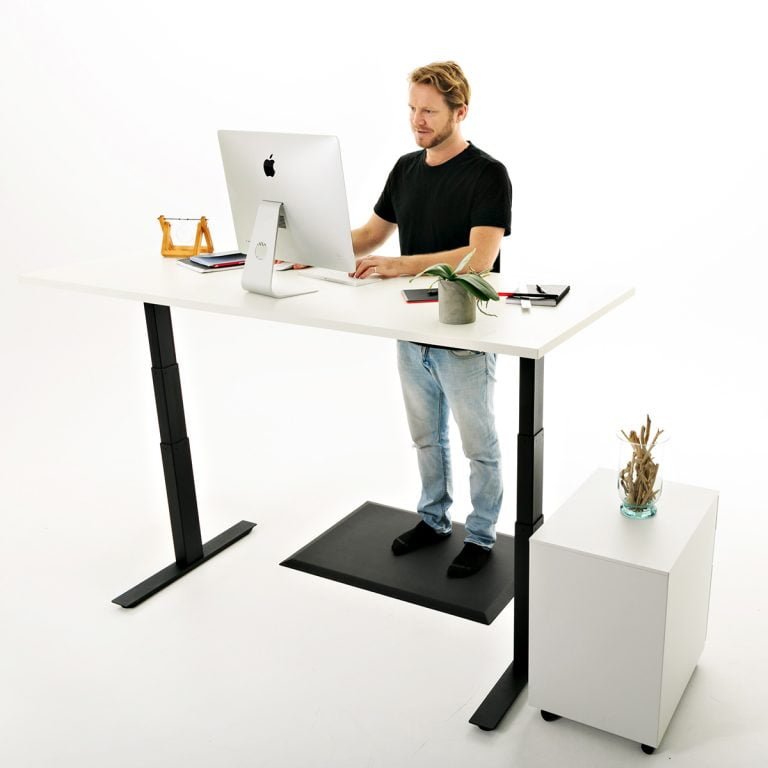 How to Use a Standing Desk
When using a standing desk make sure you do not have all of your weight on one leg. When you find, your posture is starting to slouch or tire just move back down to sitting. It's better to have a couple of short standing sessions spread out over the day than one long one when with bad posture.
It's easy to set the height – you just adjust the table to the correct height and then press one of the M buttons until you hear a beep (maybe around 5 seconds). You can adjust the setting for sitting and standing heights for two people who use the standing desk.
You might like to order a cable tray for keeping your cables clutter-free, a metal cable hole grommet or an anti-fatigue standing mat.
Don't be afraid to ask your workplace for an ergonomic desk assessment – it's part of your right to feel comfortable at work from a health and safety perspective. Some workplaces may require a doctor's certificate or physiotherapist's assessment before they will purchase a standing desk for your regular use.
I'm looking forward to continuing to use a standing desk at home and in the office.
For more information, or to order your standing desk head to the UpDown Desk website: https://updowndesk.com.au/collections/electric-height-adjustable-standing-desks/products/updown-desk-pro-series-electric-standing-desk-with-bamboo-desktop
Highly recommended.
About UpDown Desk
UpDown Desk is an Australian owned and operated supplier of adjustable sit to stand desks and associated products. Since our inception in January 2017 by our physio founder Jordan Lees, it has been our mission to improve the health and productivity of office workers all over Australia. Our business model is to sell a limited range of value-driven, top-quality products. It may be cliché to say, but customer service really is at the heart of what we do. Without our customers, we don't exist. We operate on the philosophy, 'Treat our customers as we would want to be treated'. If our service is not as good as we claim, we urge you to tell us! https://updowndesk.com.au/