Established in 2018, EarFun has become an award-winning audio brand. The EarFun Air Pro is the go-to model when it comes to design and value. It has all the features one expects from wireless earbuds, with some innovative enhancements. Its QuietSmart™ technology and signature audio performance lead to reliable and versatile use.
The Air Pro's Design
The EarFun Air Pro's have a sleek and compact design that easily fits with any style. Coming in either black or white, the earbuds fit snuggly into an extremely light charging case. The playback time of the earphones is reasonable 9 hours, with an impressive added 23 hours in the magnetic charging case. Over the past couple of weeks, I have only had to charge the case twice.
Love wearing earbuds while exercising? The Air Pro's have an IPX5 sweat and water rating, making them suitable for even the heaviest of workouts. There are three different ear tip sizes, making it easy to find the right fit for your ear. The controls are also easy enough to learn as they only require a tap on the earbud itself.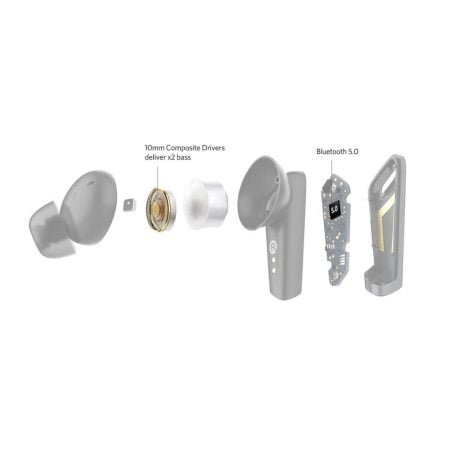 In order to get the best quality sound, EarFun collaborated with Edifier to design The Air Pro's 10mm Composite Dynamic Drivers, creating a sound profile that promotes vocal clarity while maintaining strong bass. The sound is so full that I rarely have to go above 60% volume.
The Air Pro's Features
The sound quality can be properly enjoyed thanks to the QuietSmart™ technology, an advanced hybrid active noise cancelling system that reduces outside sound by up to 38db. This is six to ten decibels higher than other earbuds available on the market. An algorithm uses two separate microphones on each earbud to monitor and adjust sound continuously at a rate of 400 times per second.
There is also a Transparency mode, particularly useful for public spaces. In most circumstances, this mode is great because it feels like you are still very present in your surroundings. The only issue I encountered was using this mode during running as the wind was picked up by the microphones and magnified.
At AUD $118, the EarFun Air Pro's are great value earbuds with a variety of uses. Their great sound and portability have made them an essential item when I leave the house. They are now available from Addicted to Audio. Click here for more information.