Upright Go S is a posture corrector device that promises to have a huge impact. The device sits at the top of your back and uses biofeedback to create cognitive awareness. This encourages you to change your behaviour.
Upright Go S Features:
ideal to use on all backs.
a single movement sensor
up to 20 hours battery life
7 days offline training
The box contains an Upright Go S, adhesive removal tool, 5 reusable silicone adhesives, a travel case, and a USB charging cable. It also has alcohol prep pads and a mini-instruction booklet.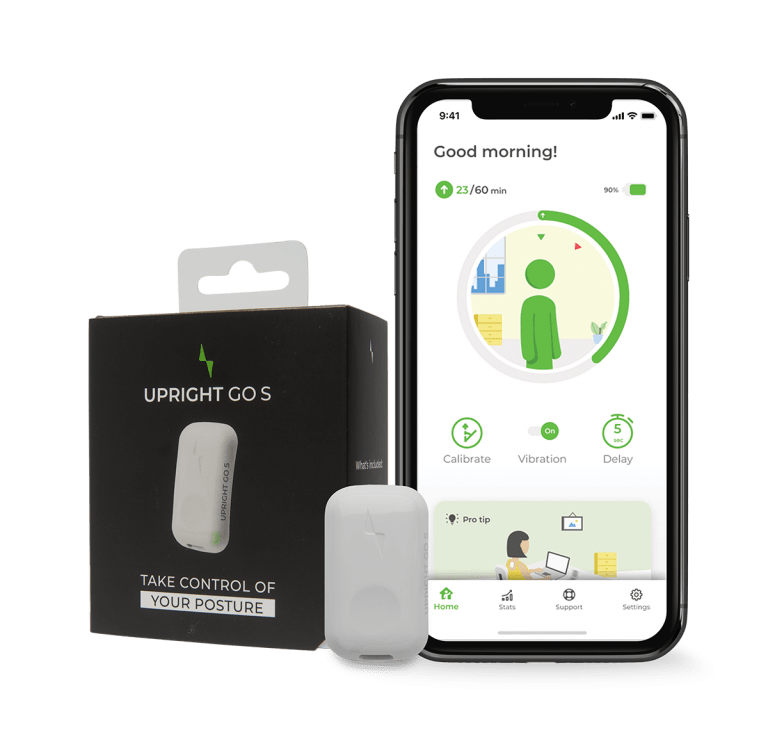 The Upright Necklace is compatible with the Upright Go 2 and Go S. The product contains magnets. The box contains a necklace and an instruction card.
You remove the adhesive from the back of your Upright device. You can use the removal tool (it looks like a guitar pick).
Attach the necklace to your device by inserting the connector as shown in the diagram
Place the necklace around your neck so the device rests on your back while the magnetic clasp faces on your front.
After you have downloaded the Upright app, you'll need to customise your training plan. Then you'll need to sync your device to your smartphone.
There are two Upright apps in the store, so make sure you select the right one.
Then you'll be prompted to peel off the back stickers and attach the go vertically to your back. You can select a spot that you can comfortably reach. I placed the lightning bolt at the top.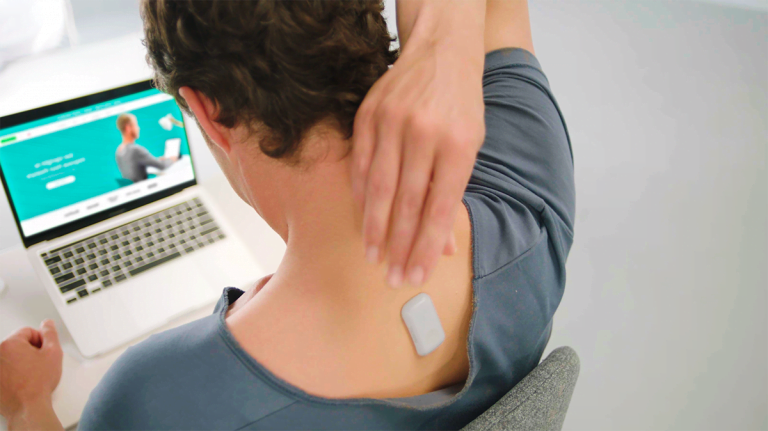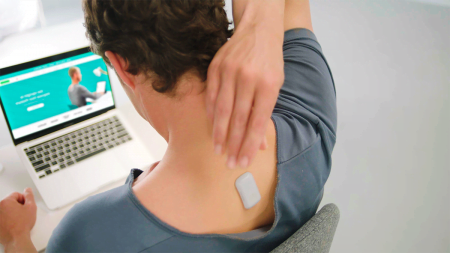 Upright Go has two modes:
While in training mode, the device will vibrate every time you slouch.
While in tracking mode, the vibration is turned off. It allows you to track your posture and progress throughout the day.
It is recommended to only use the Upright indoors for the first few training sessions. It is recommended you use the device at least three times per week.
Uncross your legs and sit in an upright position. I was interested to know if it would stop me from slipping down. I had to change the settings to a 5-second delay vibration. The vibration is mild and not painful. It's a little noisy – similar to a mobile phone vibration.
It took a little bit of getting used to having something hanging on my back. The necklace didn't bother me – it's lightweight and easy to take on and off. I like the magnetic closure.
The app shows you a handy visual representation of a side-on view of your posture. When you tilt forward or slouch it goes into the red zone and you'll experience a vibration. You can toggle the vibration on and off and set a delay. The bottom menu shows the home, statistics, video library, support (chat) and settings.
The workout video library contains exercises and stretches for better posture and back health. Many of these can be completed while sitting at your desk.
"We know the many benefits of improved posture go beyond the physiological, including appearing more professional, healthy and confident. This is why we are committed to improving Australian back health and posture as it is central to overall wellbeing. We are delighted to bring the next evolution of posture trainers to Australians," said Todd Lynton, APAC VP of Upright Technologies.
"With many of us working from home last year, our postural habits have been impacted drastically. Many of us have poor ergonomic home-office setups and we are slouching over laptops and phones, leading to many adverse effects on our health. Our Posture and Back Health Study found that 41% of Australians have suffered a deterioration in their posture since the shift to remote working. Upright solutions are designed to help improve posture and slouching through behavioural change."
Upright Go is an intriguing way to improve your posture. Start with short sessions and build up to longer sessions. I prefer to use the Upright necklace over the reusable stickers.
Pricing and Availability
UPRIGHT GO S is available now for purchase at uprightpose.com and in major retailers, including Bing Lee, Harvey Norman, and Officeworks. RRP $79.95 AUD.
1-year warranty
About Upright
Upright is a leading digital health brand focused on behaviour change to provide accessible and sustainable posture and back-health care.
In January 2021, Upright was acquired by DarioHealth Corp. (Nasdaq: DRIO), a leading global digital therapeutics company revolutionising how people with chronic conditions manage their health. Dario's next-generation, AI-powered, digital health and therapeutic solutions support more than just an individual's disease. Dario provides adaptive, personalised experiences that drive behaviour change through evidence-based interventions, intuitive, clinically proven digital tools, high-quality software, and coaching to help individuals improve health and sustain meaningful outcomes. To learn more about DarioHealth, visit dariohealth.com.