Ben Langford takes the Sennheiser CX 400BT True Wireless Ear Buds for a road test and says what you get is fantastic sound quality without the frills.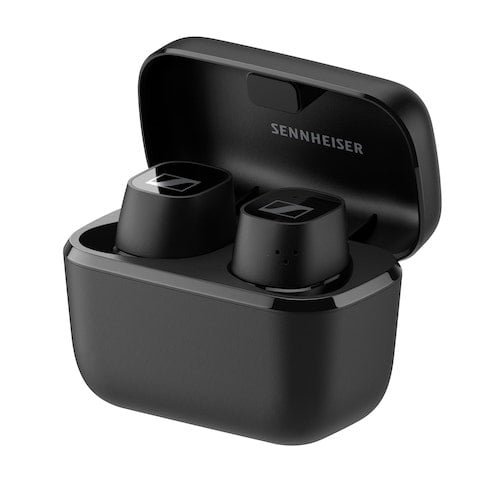 Like so many of us during these COVID-affected times, I have often found myself looking for new gadgets to improve my work from home setup. One example, that I trust others can relate to, is a pair of earphones that don't tether you to the laptop – making it a bit easier to move away from your computer and even pop a coffee on the stove during video conferences (with the video off!) during one of those interminable Zoom meetings. Or is that just me?
As with so many things today, one is overwhelmed with choice in the search for something seemingly as simple as earphones. Even if you know you want to go wireless, you still have many choices to make. In-ear, earbuds, over-ear, on-ear? Active noise cancellation? How much battery life do you need? And – how much do I really want to spend on a pair of headphones?
In my search, I tested a pair of Sennheiser CX 400BT True Wireless in-ear buds, with touch control and a claimed 20 hour battery life (6.5 hours straight play back and another 13.5 hours handily delivered through the chargeable carry case). Sennheiser is a name synonymous with sound quality and so I was keen to try these out even though it doesn't carry some of the more premium features like active noise cancellation. 
In short – the CX 400BT delivers superb audio, just as you would expect from Sennheiser. And, because they are in-ear buds, they do block out much of the ambient noise – this is known as 'passive' noise cancellation and not to be confused with active noise cancellation offered in some more expensive earphones. In fact, listening to Tame Impala's psychedelic instrumental was enough to whisk me away to another world. Would I upgrade just to get active noise cancellation (like the more premium Sennheiser Momentum True Wireless 2)? Probably not. 
It did take me a little while to choose the right fit bud. The CX 400BT comes with 4 different size buds. As those who have used in-ear buds know, getting the right fit is essential both for comfort (although in-ear buds will never be as comfortable as the far more bulky over-ear or on-ear alternatives) and keeping the buds in place, especially when moving around or, as I found, when eating. I certainly would not recommend the CX 400BT to someone looking to use wireless earphones while jogging, but I found the fit fine for my common uses – desk work, walking and even training on my stationary bike trainer (although being careful as they are not sweat-proof). 
Sometimes I did find that I would accidentally active one of the controls – start/stop music, or worse, hang up on a call – when readjusting for comfort. The versatility of the touch controls is a nice feature, but one that needs some getting used to if you are likely to fiddle with the positioning too much. 
For that matter, I did need to experiment with the positioning to make sure the microphone was effective for phone and video calls. The microphone is 3 pin holes at one corner of the right ear-bud – and these holes need to be pointed down towards your jaw for you to be heard. The instructions note that you should rotate the earbuds as you insert them – presumably to achieve this right direction – but could be more explicit about the importance of the positioning if you want the microphone to be effective. When poorly positioned, you can't be heard at all. When properly positioned, I was told that the sound quality was about the same – perhaps marginally less good – than when using my phone without headphones. Since I worked out how to correctly position them, I've had no complaints!
PROS
Fantastic sound quality 
Aeshetically, the stumpy, boxy shape means no stalk sticking from your ears – depends on your preference!
Affordable price point, especially as you can pick them  up cheaper now
CONS
No active noise cancellation – if that is important to you (but remember in-ear buds offer some passive noise cancellation)
While the touch controls are handy, they leave no room for 'fat fingers' – or adjustments for comfort without inadvertently stopping the song you are playing, or calling Siri when you don't need her
Not suitable for jogging or active exercise.

Those who don't like in-ear buds won't have their minds changed by these
The CX 400BT True Wireless are available in black AUD $299.95 / NZD $329.95.