Snapchat has announced Lens Studio 2.1 with all new templates and landmarkers, as well as new additions to the AR Bar – the one place to create, scan, browse and explore, and new exciting 3D Paint capabilities. Women Love Tech has also interviewed an offical Snapchat Lens Creator to see how it all works.
Since Snapchat's release of the lenses feature in 2015, Snapchatters have gone crazy over the hundreds made available to them. From seeing what you would look like as the opposite sex, to switching faces with a friend; it's fair to say that the lenses have been nothing short of a success story.
AR Bar
By tapping the camera screen, Snapchatters will be given the option to either create, scan, browse or explore.
Get creative!
Tap into your creative side using AR to make and edit lenses of your choice; right from the camera screen.
Scan your surroundings
These specific lenses allow users to scan tangible products and barcodes to get results about the products on Amazon. You can also listen out for a song via Shazam, and solve math equations by pointing the camera at the equation to surface the solution.
See what's already here
From the browse section, you can find a plethora of lenses for you to choose and use for your own fun.
Explore the Snapchat community
Now everyone can join in, and a lot of people have great ideas that they want to share with you. You can try out these community-created lenses via the explore section. Save your favourites and show all your friends!
3D Paint
The new feature added to the AR Bar where you can let out all your artistic callings in 3D. Whether it be drawing masterpieces on your face or giving life to the objects in your surrounding; they give another layer of expression to your snaps – oh and they pop out at you!
Lens Studio 2.1
Now making it easier for the Snapchat community to share ideas and creations amongst each other. Their new desktop app allows everyone to create their own AR lens!
New templates
Face In Video – track your face onto a video. By using tracking data from After Effects, snapchatters can attach their content to a video.
Portrait Particles – Add customised "particles" to your snaps along with the addition of headers, footers and post-effects.
Very useful for celebrations if you ask me!
Countdown – you can create personalised lenses that will countdown to a specific date; like a birthday or Christmas.
Skeletal – track 2D images like your head, elbow, and neck to make a funky "joints" snapchat .
Hair Colour – Have you ever wondered what you would like if your hair colour was different…I think we all have. Well now you can find out. Want to try a mix of blue and green? Find out if it suits you on the lens.
Make-up – Use AR lipstick, blush, eyeshadow and more to test out your look (without all the mess).
New Landmarkers – Scan your world
Originally introduced in April of this year – Snapchat has now released 14 new landmarkers of some of the most iconic landmarks across the world.
Arc de Triomphe, Paris, France
Astronomical Clock, Prague, Czech Republic
Brandenburg Gate, Berlin, Germany
El Castillo, Chichen Itza, Mexico
Galata Tower, Istanbul, Turkey
Leaning Tower of Pisa, Florence, Italy
Natural History Museum, London, UK
Neues Rathaus, Munich, Germany
Qasr Al-Farid, Mada'in Saleh, Saudi Arabia
Great Sphinx of Giza, Giza, Egypt
Statue of Liberty, New York, US
Taj Mahal, Agra, India
Tower Bridge, London, UK
For Snapchatter who are visiting any of these places, you can interact with these landmarkers by simply scanning the landmark in the scan section.
Interview with Abbas Sajad – Official Snapchat Lens Creator
What intrigued you the most about Snapchat's Lens feature when it was first released in 2015?
I thought it was pretty cool how it changed the way we communicated with friends and shared stories on the platform. It was the birth of AR selfies. Just look at the way it has grown since then, Snapchat introduced us to these Lenses, but now anybody can create them.
What are your thoughts on Snap's Lens Studio?
I owe my whole career to Lens Studio. When I first discovered it, I found it so easy to navigate and experiment with the program. Even if you have zero experience in AR, the ready to use templates make it super easy for anyone to create lenses. It's the perfect starting point for anyone wanting to learn more about augmented reality, that's for sure.
How did you end up being part of Snap's OLC community?
I started creating lenses early 2018, and just wanted to keep experimenting with the technology. I would challenge myself to learn a new skill and apply it to my next Lens Studio project. I didn't know what it was, but my gut was telling me to keep making lenses. Eventually, someone from Snap reached out and introduced the OLC program to me. Sometimes being passionately curious can lead you to the most unexpected opportunities.
What are your thoughts on the OLC community?
The OLC community is full creators from all walks of life. Even though we may come from different countries and cultures, we're all pretty close. I've learned so much from the OLC community, and owe my continued growth to them. I've seen some amazing work come from them and their continued success in the AR realm is incredibly inspirational. A community that learns together, grows together, and it's incredible being a part of that.
Your lenses have earned over 22 million views; what do you think makes them so popular?
I don't create lenses for massive views or anything like that. I tend to observe what's happening around me and keep an eye on what's trending, so timing also plays a big part in what becomes popular. I normally create lenses for people with similar interests to me. That's where a lot of brands go wrong, they don't take the time to understand their audience and end up with lenses that fail to deliver their intended message.
Out of the lenses that you've created, which would you say have been your favourites?
One Lens which I'm super proud of would have to be one of my recent ones. Sony reached out and asked me to create a Snapchat Lens for the upcoming Charlie's Angels movie. I created a rose gold crown with the Charlies Angel's emblem that sits on the Snapchatte's head, while the rays of light rotate behind them. When they raise their eyebrows, stars will appear around their face. I loved working on this Lens because I felt like I was able to deliver a unique AR experience for such a project while incorporating my creative style.
How would you describe your creative style?
I feel like my creative style is always changing because I enjoy experimenting and trying new things. I tend to keep things playful and straightforward. Getting too fancy isn't my thing. I see my lenses as more of a personal AR sketchbook that I can share with others.
Being an AR creator, what do you think we can expect to see in the near future regarding the use of AR?
Right now, AR is definitely in its infancy stage. It's been around for years, but its adoption by the smartphone ecosystem has changed things. Just look at the impact Pokemon GO had back in 2016. It created this crazy ripple effect that even small businesses like cafes and restaurants also profited from because of the sudden increase in foot traffic from Pokestops. Gaming in itself is a vast, ever growing industry, and I can see a future where it and AR will go hand in hand. Competition breeds innovation. As creators, this is a perfect opportunity for us to grow and be apart of such a limitless, exciting industry.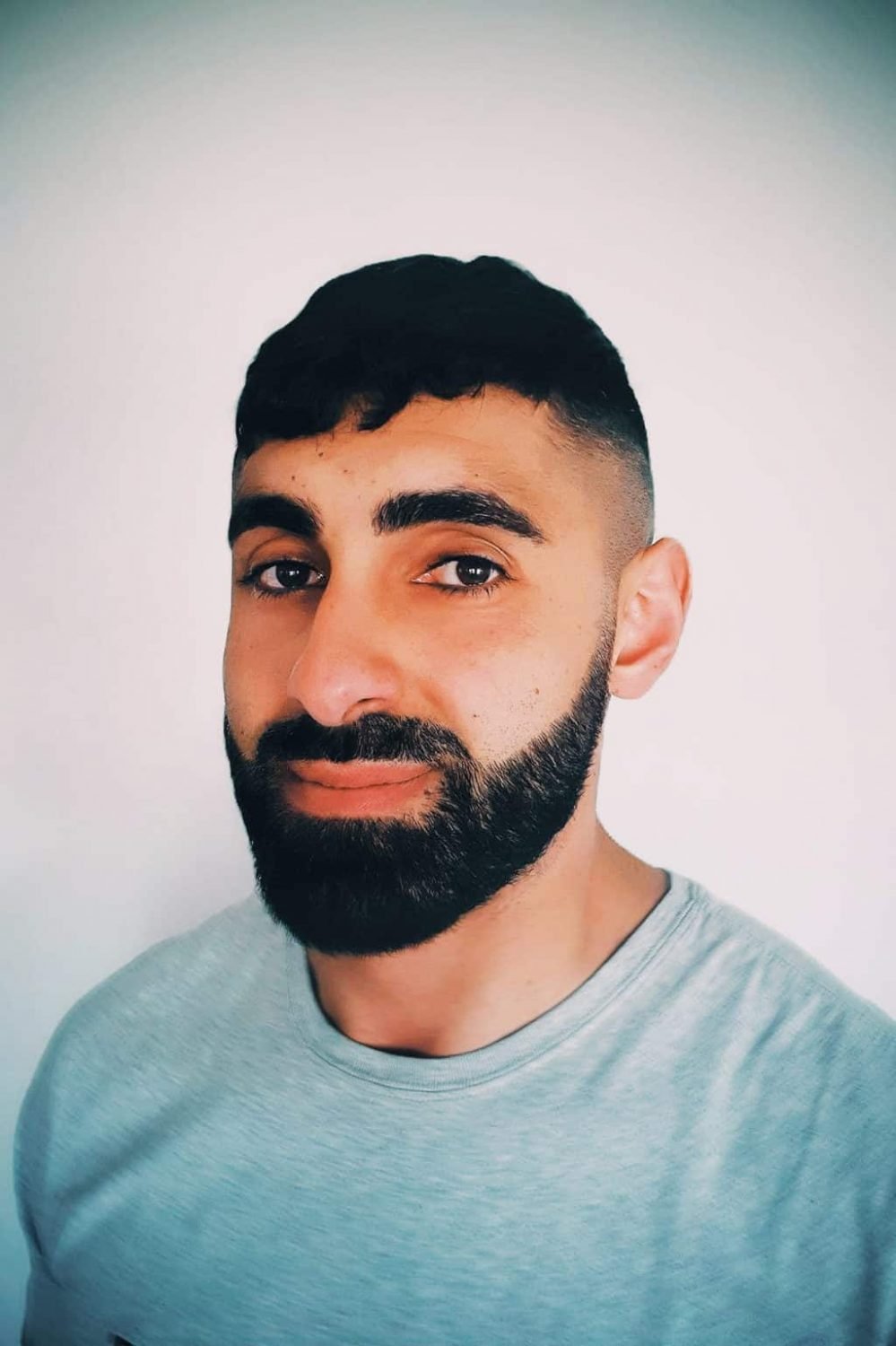 Abbas Sajad is an Official Snapchat Lens Creator based in Sydney, Australia. With a background in illustration & 3D design. He's created Snapchat Lenses for companies like Sportsbet, Absolut Juice and Sony's Charlie's Angels.
For more information, visit the Snapchat website.