TikTok star Tamara Michael is sharing her love for doodling with the world, with her new creativity challenge book A Doodle A Day Keeps the Stress Away.
As a schoolteacher, Tamara uses doodling to calm her classes after hectic lunch breaks. On TikTok, Tamara shares her knowledge of art through accessible how-to drawing exercises, helping millions find calm through creativity.
A Doodle A Day Keeps The Stress Away is a daily creativity journal, designed for the stressed and weary to find calm through creativity without staring at a screen. It will be released by Penguin Random House Australia on August 29th.
Here, we spoke to Tamara about the benefits of doodling, how she uses TikTok to spread her message, and the inspiration behind the book.
Why is doodling good for stress?
Research suggests that, during the process of doodling and art-making, our cortisol levels (the stress hormone) begin to lower. It also suggests that, as we participate in art activities, we begin to stimulate the reward centres in our brain, increasing our dopamine (the happy hormone).
The act of drawing a repeated shape or pattern keeps our brains from ruminating on unwanted thoughts, as we focus on the action we're doing. Turns out our brains are not very good at multitasking, so while we focus on drawing, it becomes very difficult to think about or focus on any negativity that we might be holding on to.
Doodling has also been shown to improve concentration and memory.
Can you tell us about your own experience of doodling to relieve stress?
I have always loved to doodle, ever since I was a child. I would sit at my desk at school and doodle all over my workbooks. I didn't realise it at the time, but I was using art to self-regulate as a way to deal with all my teenage angst! All these years later and I still use doodling and art as a way to navigate my stress and anxiety. I felt this most powerfully during lockdown. I was alone with my thoughts for far too long, as so many of us were, and I pulled out my sketchbook and pen and began doodling different patterns each night. It really helped reset my mental space, and it gave me an activity to do to keep my mind off all the pressing negativity of the time.
How did you use TikTok to get your message across, and what worked best?
I loved all the tutorials I was seeing on TikTok, I feel like I learn something new every day on that app. I decided to film a tutorial because I thought maybe someone out there might be feeling the same way I was, and it might help them in some small way. I never expected the overwhelming response I received from my tutorials.
I think what worked best was the relatability of the content. I never tried to make my tutorials polished or my drawings overly complex. I never hid my mistakes and was open and honest about my flaws when I draw. I think this gave people a sense of confidence in their own art ability and motivated them to try it for themselves. I also think focusing on the emotion that you convey in your videos goes a long way. I always tell myself I am not just creating tutorials, I am creating a feeling of calm.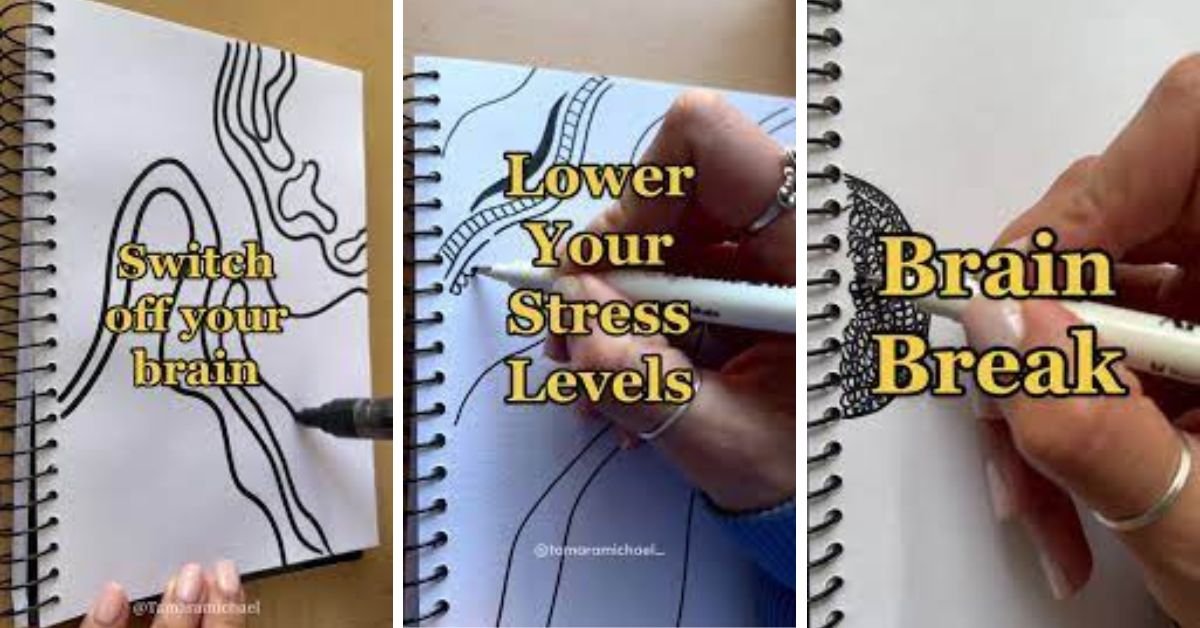 What was the inspiration behind your book?
I wanted to create a resource for people that didn't involve them staring at their screens. We all know how distracting that is and it's not always the greatest for our mental health. I imagined this book sitting on office desks and living in handbags. I want people to reach out and open to any page, do a little drawing, and give themselves a little brain break and mood booster!
What are your plans for the future?
I am working on creating longer-form content on YouTube, working with watercolours and other mediums. I feel like it is time to expand the tutorials I offer to my followers and give them room to grow as artists.