Founder and Editor of Australia's award-winning Women Love Tech, Robyn Foyster, has curated two panel discussions for the inaugural SXSW Sydney, an event attended by global thought leaders and leading brands that celebrates the convergence of tech, film, music education and culture. 
Robyn who is the former publisher and editor of Australian Women's' Weekly and top tech entrepreneur moderated Does Machine Learning and AI Further Entrench Gender Inequity for Future Generations of Women? on Tuesday. She is also emceeing You can't be what you can't see: Changing the face of the tech industry on Friday, October 20 at the ICC in Sydney.
The first session took place on Tuesday, 17 October at ICC Sydney and challenged attendees with a bold and news-making debate about AI, gender stereotyping and bias, the challenges and possibilities of machine learning while posing the question Are We Doomed? 
Robyn Foyster appeared alongside Skark Tank's Dr Catriona Wallace who is a metaverse and AI specialist; journalist and author Tracey Spicer; and entrepreneur, CEO and finance guru Shivani Gopal.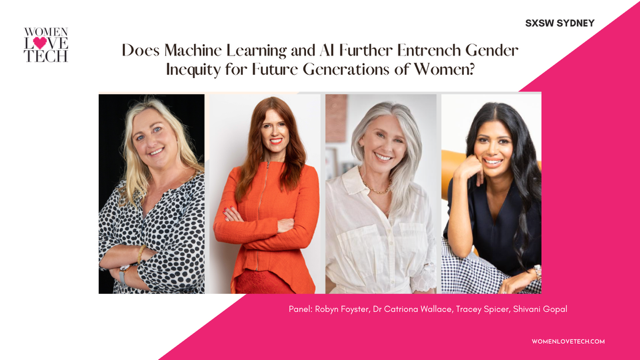 On Friday, 20 October at ICC Sydney Robyn will appear alongside proud Kamilaroi woman and tech entrepreneur Camille Goldstone-Henry; thought leader in tech diversity Luli Adeyemo; activist and Women Rising's CEO Megan Dalla Camina and featuring a presentation from author, activist and Missing Perspectives founder and editor Hannah Diviney. The discussion promises to be an engaging and dial-moving discussion about gender inequity in the tech sector. 
Robyn also announced her upcoming book Gamechangers: 100 Women Disrupting Tech at SXSW Sydney 2023. The book will celebrate women of all ages from diverse backgrounds who are at the forefront of making an impact on gender equality through the power of technology.
Robyn Foyster's Women Love Tech second panel will take place at SWSW Sydney on Friday, 20 October from 1.30 – 2.30 pm at the ICC Sydney, from 12.30 -1.30pm.  For more information visit: www.sxswsydney.com