Technics Australia has unveiled three new products in its audio line-up and these are bound to strike a chord with anyone who loves high quality sound. In fact, if all three products are used together – the turntable, amplifier and speaker – the sound quality delivered would do any audiophile proud.
Technics says when used together, the amplifier and speaker system will provide matched and calibrated audio which can be co-ordinated with the newly-designed turntable. The new range encompasses:
The SU-G700M2 Grand Class Integrated Amplifier – a successor to the SU-G700, inheriting Technics' full-digital core amplifier technologies, such as the JENO Engine for signal precision free of jitter and distortion, and LAPC for optimal matching with any speaker. The hairline-brushed aluminium casework is available in silver or black.
The SB-G90M2 Grand Class Floor-standing Speaker System improves the already high-quality performance of its predecessor – the SB-G90 – with drivers, elements and enclosure structures optimised to eliminate unwanted vibrations and distortions. Available in a black gloss finish.
The SL-1210G Grand Class High End Direct Drive Turntable encompasses all of the technical specifications of the SL1200G and is now encased in a black finish so it looks elegant.
Panasonic product marketing manager – Audio and Video Aaron Waters said: "Since our first components landed earlier this year, there has been huge demand and enthusiasm from our retailers and loyal Technics customers. The introduction of this Grand Class range adds a new dimension to Technics in Australia."
More details on these new products

Technics SL-1210G Direct Drive Turntable – could be a future classic
Taking all the technical specifications of the SL-1200G and encasing them in a minimalist black finish, the SL-1210G could be set up to be a future Technics classic.
Technics learned from the success of the limited-edition SL-1210GAE, launched in June 2020 and it almost immediately sold out. So now, knowing there was high demand for a 'regular' black version of this flagship 1200 Series model, the SL-1210G comes in a striking black finish.
A number of online reviews have stated the performance level of the SL-1210G is at the highest turntable standards, deserving to be partnered with the finest phono cartridges for inspirational vinyl playback.
Key features:
Iron-coreless direct drive motor with double rotor/single stator achieving ultimately stable rotation, free from cogging and with powerful torque.
Hybrid encoder for rotational speed detection, using a Hall Sensor for rotor position detection.
Highly sensitive yet robust tonearm made from cold-drawn magnesium for high damping effect. High-precision tonearm bearings use a cut-processed housing for high initial motion sensitivity, ensuring accurate reading of the music information etched in the record's groove.
Three-layer platter with high vibration-damping performance for undisturbed tracking. Each platter is individually adjusted for balance.
4-layer high-rigidity cabinet with heavy aluminium top plate and high-damping silicone-rubber insulators to shut out vibration.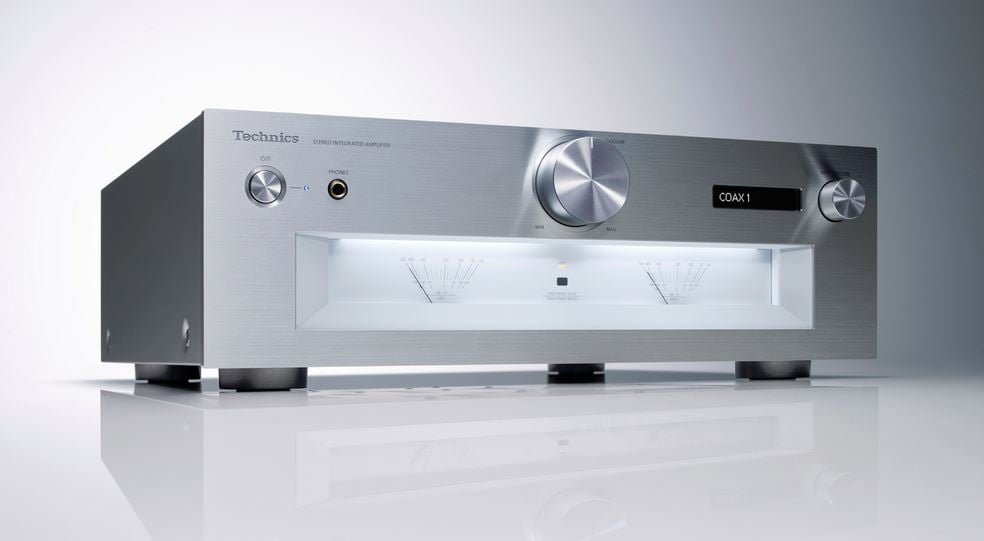 Technics SU-G700M2 Integrated Amplifier: successor to the SU-G700
The new SU-G700M2 Integrated Amplifier incorporates the following features:
An Advanced Speed Silent Power Supply (AS²PS), incorporating 'fast' semiconductor parts such as GaN (Gallium-Nitride) FETs and Silicium Carbide (SiC) Diodes for a more reactive, efficient supply of current to the power stage for higher drivability of speakers. This approach was used for the power supply of the Reference SU-R1000.
Improved sound image and dynamic power, combining low distortion and high transparency with energetic drive, improved soundstage and precise focus of voices and instruments without sharpness.
A high-quality MC phono input stage (in addition to MM input) for direct connectivity to turntables with high-end MC pickup cartridges.
Phono Input Phase selector for optimised playback of mainly older vinyl discs recorded with inverted phase.
Volume and source knobs now have the aluminium 'spin' texture also derived from the SU-R1000 Reference Amplifier for a clear distinction from the original SU-G700.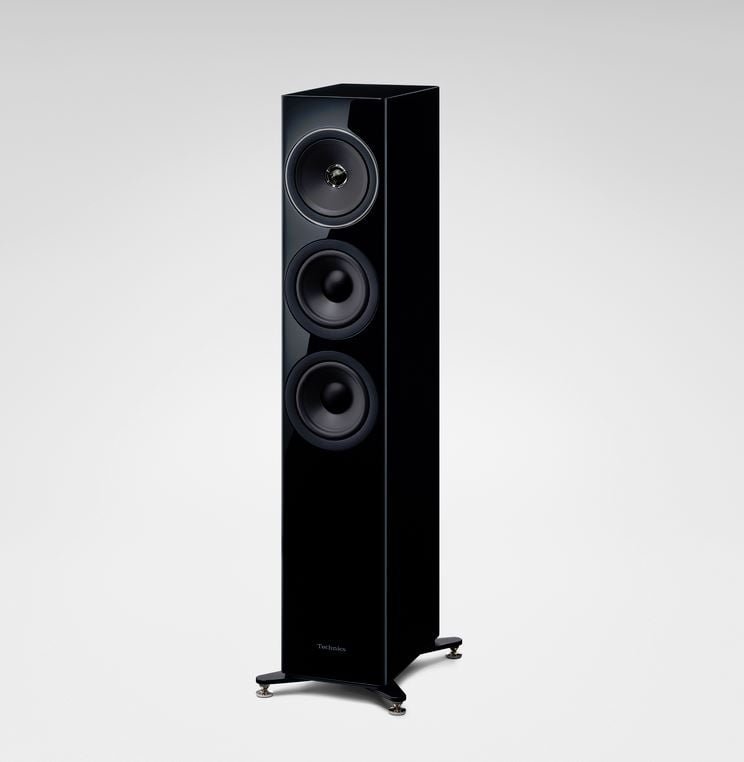 Technics SB-G90M2 Floor-Standing Speaker System

The new SB-G90M2 is a floor-standing loudspeaker in the Grand Class series. Like its predecessor, the SB-G90, the new M2 version is a 3-way bass reflex speaker system consisting of a 2-way coaxial driver combining a 25mm dome and a 160mm midrange cone made of aluminium. This is accompanied by two 160mm woofers, also constructed from aluminium.
The Technics' engineering team has researched how to improve audiophile performance quality through knowledge about mechanical construction and evolutionary driver design – and this speaker system is evidence of this.
Technics has used CAE analysis to optimise drivers, elements and enclosure structures to eliminate unwanted vibrations and distortions.
Consequently, Technics has significantly improved the performance qualities of the SB-G90 a great deal. Below are the technical enhancements of the SB-G90M2 loudspeaker system in comparison to its predecessor, the SB-G90:
Advanced Phase Precision Driver: The diaphragm of the Coaxial Driver Unit has been reworked. The structure has been newly calculated by FEM (Finite Elements Method) simulation for reduced resonance and a more natural midrange with less distortion. Also, a Linear Phase Plug has been added, efficiently eliminating any phase disturbance, thus making the sound pressure characteristics of the tweeter more natural.
Advanced BDMA (Balanced Driver Mounting Architecture): The inner Speaker Mount Baffle onto which the woofers are mounted at their centre of gravity around the magnet has now been extended to one plate attached to the base board, so vibrations can 'escape' to the ground.
More Energetic Cabinet Structure: The whole inner stiffening structure has been redesigned in the lower part of the cabinet. The so-called Standing Wave Termination Structure – a multiple-folded wave guide containing a controlled amount of acoustically absorbing material – will efficiently eliminate standing waves, at the same time minimising the use of acoustic damping material.
The new SB-G90M2 now features bi-wiring speaker terminals.
Technics Product History
About Technics amplifiers: Technics is the brand name of hi-fi audio products owned by the Panasonic Corporation of Osaka, Japan. The Technics brand was founded in 1965.
About Technics loudspeakers: The first-ever Technics product was a compact 2-way bookshelf loudspeaker system, released in 1965. It set new performance standards for compact speakers at that time.
About the Technics 1200 Series: The SL-1200 was launched as a popular direct drive turntable in 1972, becoming a best-selling model with cumulative sales of 3,500,000 units for the series. It was supported by powerful torque, easy operation, and high durability. It was admired by both audio enthusiasts and DJs who helped to unleash the DJ culture in areas such as electronic dance music. The series is still acclaimed by DJs worldwide today.
To find out more about these products, visit Technics here.
For more from Women Love Tech on high quality sound products, visit here.