Ted Lasso was never about football. It was about decency, generosity, and how people can grow when encouraged. It was Mary Poppins arriving and then disappearing having worked a kind of magic. It was about leaving a legacy of trickle-down kindness and compassion.
"I only did the Boy Scouts for a little bit, but I always loved that notion of 'Leave the campsite better than you found it'," says Jason Sudeikis, the co-creator and star of Apple TV+'s juggernaut which ends its third and possibly (though not confirmed) final season this week.
Ted Lasso has become an icon for an age, made award history and taken its creators to the White House. Fans of the show argue that Sudeikis, along with his collaborators, have placed a culture of kindness in the zeitgeist. He has made us all want to be better people.
Therapists, management leaders, politicians, even President Joe Biden, have commented on how this fish-out-of water comedy has touched real lives. It has shown leaders the importance of leadership by example and building trust. It's de-stigmatized mental health issues and normalized the usefulness of therapy. It's even become a teaching tool used by psychologists and teachers for self-improvement.
"It's nuts, man," says Sudeikis. "I don't think my Midwestern sensibilities would even allow my wildest imagination the opportunity to think the thing would become what it's become. Never, never in a million years."
The final episode remains as charming and uplifting as the first, delivering order to our troubled lives, making us laugh, cry and leaving enough open-ended plotlines for us to hope for further seasons.
The show has had its critics, but like Trent Crimm, the resident journalist on the show, they are probably just people trying to be 'edgy and clever' as he admits he once was himself, reminding us that it's easier to be critical than creative. We forgive them. The people for whom the show was written, the people for whom it mattered, adored it. Any foray into social media would confirm that.
As always with the show there were moments in episode 12 to make us think about our own lives. Perhaps the most inspiring of which was when Roy Kent finally asks if he can join The Diamond Dogs, Ted's all-male emotional support group. He asks the question: can people change? He has been trying to change himself because he wants to be someone better. "But I'm still the same f****** idiot I've always been," he admits.
The group debates the point about whether it is possible for human beings to change. "I don't think we change per se, as much as we accept who we've always been," says Crimm. Ted argues that Roy must have changed because here he is asking for help, something that men typically shy away from; Nate insists that people can change for the better and worse; and Coach Beard insists that chasing perfection is a fool's errand.
"Human beings are never going to be perfect," Higgins concludes. "The best we can do is keep asking for help and accepting it when we can. If you can keep on doing that, you will always be moving forward towards better."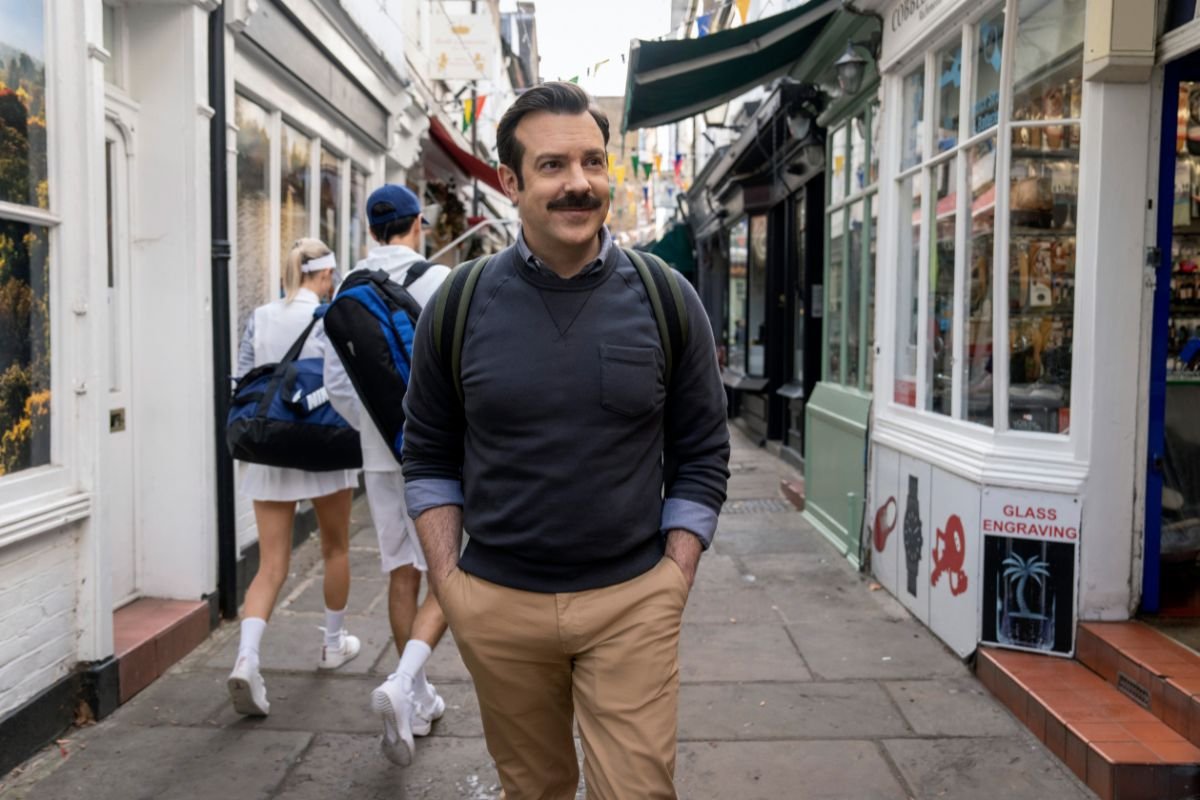 Sudeikis has not ruled out that there may be spin-offs from the show in the future. This humble writer would like to point to the clue at the end of the episode when Keeley suggests to Rebecca a women's football team. When Ted Lasso was being filmed in Richmond in 2022, The Lionesses, England's women's national football team won the UEFA Women's Championship. It was a significant moment which will not have been lost on the writers.
Speculation is likely to continue, and Sudeikis is giving nothing away. He remains adamant that the show in its current form was always destined to have a three-season arc. "That was one thing we spoke about on our final day of filming," he says. "The show may be over, but what we learned here… It's not like Vegas: what happened here, stays here. No, what happened here, take it, take it to your village, take it to your family, take it to your next project. For real. Aren't funerals not always to celebrate the dead, but also to remember you're alive?
"What I would wish for anyone involved with the show is: don't cry that it's over but smile that it happened."
We're smiling now. All of us, imperfect but hopeful human beings.
Lucy Broadbent is the author of What Would Ted Lasso Do? How Ted's Positive Approach Can Help You. Find it on Amazon here.
Ted Lasso Season Three is streaming on Apple TV+
Ted Lasso On The Benefits Of Forgiving Our Parents For Their Faults
Ted Lasso's Culture of Kindness Helps All of Us