Apple has just announced the Apple Watch Series 7 alongside the new iPhone 13, bringing its first redesign to the line. The watches will be running the new watchOS 8 taking full advantage of the larger display.
Design
The smartwatch has softer corners that blend seamlessly into the larger display. The watch features a re-engineered Always-On Retina display that covers more of the watch face without compromising size. Speaking of size, the watch comes in two new sizes – 41mm and 45mm. With thinner 1.7mm bezels, the smartwatch has a 20% larger screen.
The Always-On Retina Display is up to 70 per cent brighter indoors than that of the Apple Watch Series 6, making it easier to see the watch face without having to wake the display.
According to Apple, the new design features a 'robust geometry that is over 50 per cent thicker than that of Apple Watch Series 6'. It is also certified IP6X dust-resistant and has a water resistance rating of WR50, meaning it can tackle any environment.
Features
The smartwatch provides an all-day 18-hour battery with 33 percent faster charging compared to the Apple Watch Series 6.
WatchOS 8 utilises the bigger screen sizes to its advantage. There are new watch faces to choose from including the Contour Face, which brings the dial to the edge of the display and animates throughout the day, with particular emphasis on the current hour.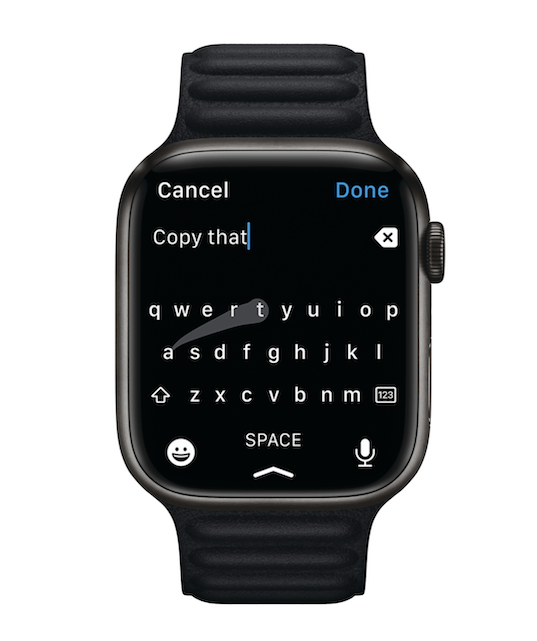 The two larger screen sizes also allow for a full QWERTY keyboard, that can be tapped or swiped with QuickPath. There have previously been third party apps that enabled keyboard typing but it's the first time Apple is including it themselves.
Health has been placed at the forefront with the new Mindfulness app, sleep respiratory rate tracking, Tai Chi and Pilates. Fall detection algorithms have been updated and optimised, particularly for falls during cycling.
The Apple Watch Series 7 will be available later in the year with five new colours, midnight, starlight, green, and a new blue. Click here for more information