BLACK+DECKER has released a range of crafting products to help you make some creative gifts and projects.
The tools are coloured in white and light blue so they can be used by everyone in the family.
USB Rechargeable 4V MAX* Cordless Glue Gun
You can craft anywhere with cordless convenience. The BLACK+DECKERR 4V MAX Cordless Glue Gun gives you the ability to glue a variety of materials including paper, card, fabric, cork, and wood for crafting and light DIY tasks.
Dual Temperature (High/Low) Hot Glue Gun
This handy full-size Hot Glue Gun from BLACK+DECKER is ideal for crafts and repairs. The dual-temperature setting allows you to work on a variety of materials.
Use the low-temperature setting for more delicate materials that may melt or distort from too much heat like ribbon, silk florals, and Styrofoam, or thin materials like burlap and lace.
Using the high-temperature setting creates the strong bond needed for tougher materials such as wood, plastic, and thicker fabrics.
The high temperature provides a longer working time so you can easily move materials in place before they set.
Hobby Knife Kit
The BLACK+DECKER Hobby Knife Kit is a versatile set, great for cutting a wide variety of materials. The Hobby Knife's unique handle is designed specifically for comfort.
The added over-mould material and contoured handle provide support for your fingers over extended periods of use, as opposed to a standard straight handle. The 26-blade assortment allows you to cut paper, card stock, soft woods and more.
They all fit securely in the included carrying case. The kit also includes a self-healing cutting mat to protect your work area, and a metal rule to help with straight and precise cuts. The carrying case securely stores the knife and extra blades. This handy and extensive set makes a great addition to any crafter, quilter, artist, DIYer and creative collection.
USB Rechargeable 4VMAX* Cordless Power Stapler
A must for your crafting upholstery, DIY and upcycling projects, the BLACK+DECKER 4V MAX* Cordless Power Stapler has the power to drive staples flat into surfaces with minimal effort thanks to the easy squeeze trigger.
Weighing under 2.5 lbs., this lightweight cordless stapler is very portable. You can move between your craft room, garage, basement, studio and anywhere in between to complete your projects free of a compressor, hose and power cord.
For added versatility, this stapler is compatible with staples (ranging from 1/4-in.-9/16-in. / 6mm-14mm) and 18-gauge brad nails (up to 9/16-in. / 14mm).
To get you started on your projects, 800 (1/2 in. / 12mm) staples and 200 (5/8 in.) brad nails are included in the kit.
USB Rechargeable 4V MAX* Cordless Power Rotary Cutter
Providing versatility and power, the BLACK+DECKER 4V MAX Cordless Power Rotary Cutter can cut a wide variety of materials such as paper, cardboard, leather, plastic, carpet, denim, and other fabrics.
The extra-long trigger, nonslip comfort handle and cordless power make continuous use and repetitive cuts easy. With a safety lock button, you can rest assured that the Rotary Cutter is only powered on when you need it. This versatile tool is essential for your crafting and DIY projects.
USB Rechargeable 4V MAX* Cordless Power Scissors
The kit includes two blades for easy cutting:
use the 'O' blade for fabrics and paper
the 'D' blade for thick materials such as leather and plastic.
The power scissors provide faster cutting and the extra-long trigger and nonslip comfort handle make continuous use easy. With a safety lock on the extra-long trigger, you can rest assured that the scissors are only powered on when you need them.
Crafting Shears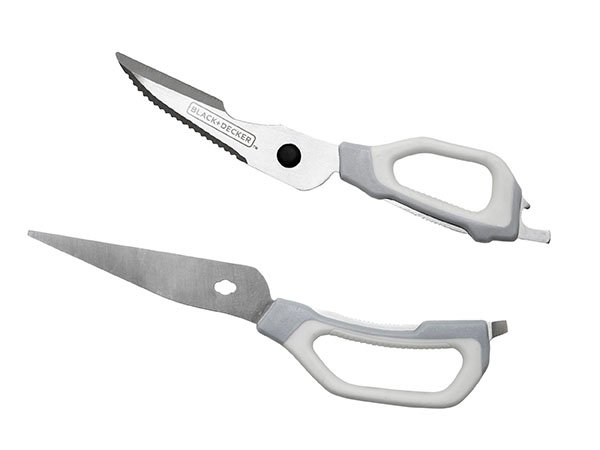 The BLACK+DECKER Crafting Shears feature stainless steel blades for tough cuts through thick materials. The shear blades separate for easy cleaning when switching from project to project to help ensure your final creations remain precise. These shears also feature a bonus convenient paint can opener.
Multipurpose Scissors Set
This multipurpose set from BLACK+DECKER is great to keep on hand for a variety of cutting tasks. You can tackle paper of varying weights, cardboard, photos and fabric.
Store the scissors set in your office, craft room, sewing basket, workshop, or utility drawer for household tasks. Available in different sizes: (5.5", 6.6", and 8.5").
These innovative products are ideal for saving money on making your own gifts.
About BLACK+DECKER
Since 1910, BLACK+DECKER, a Stanley Black & Decker brand, has been setting the standard for innovation and design. The inventor of the first portable electric drill with a pistol grip and trigger switch, BLACK+DECKER has evolved from a small machine shop in Baltimore, Maryland to a global manufacturing powerhouse with a broad line of quality products used in and around the home. When homeowners have work to get done, they trust that BLACK+DECKER products will do the job efficiently and reliably.
For more information on BLACK+DECKER products, visit the BLACK+DECKER website.