It wasn't that long ago that words like 'bespoke' or 'customised' would have conjured images of the elite, those untouchables whom everything was made 'just for them', no money spared. But these days, thanks to tech advancements and algorithms that improve with use, us mere mortals now enjoy the luxury of bespoke services and customised products at affordable prices. And that is exactly what is happening in the beauty and skincare industry, allowing us all to have that enviable glow of celebrities.
If you're not a facial nut like I am, you may have missed the latest trends in skin rejuvenation. Advancements in technology have made it easier for clinicians to diagnose and treat skin issues with customisable treatments. Clinics such as Clear Skincare Clinics, which has over 80 clinics across Australia and New Zealand, uses a trademarked program called Skin Journeys™ to deliver treatments that are designed specifically for your skin and concerns. To get you started, they have a simple quiz online. As someone with the unfortunate combination of acne and extreme sensitivity, I have always struggled with the one-size-fits-all approach and so programs such as these are a much-needed advancement for anyone that has struggled to find long-lasting results.
Of course, we are nothing without our serums and retinols, am I right? Years ago, in my desperation for something that could help clear up my skin, I ended up with some very suspicious tonics made by a very earthy woman who happily took my hard-earned cash for 'customised' products that delivered debatable results, or none at all. Luckily we live in a new age where we can simply fill in an online questionnaire and voilà, an algorithm will design a product that is just for you, meeting your specific concerns and skin type, and delivered straight to your door. What a world we live in.
A great example is the much-hyped Skin Software with their dermatologist-formulated solutions, prescribed by their online team of GP's and personalised to your skin goals. Pair that with direct-to-you shipping plus regular check-ins on your progress, and you have the kind of skincare experience that actually yields results.
But bespoke skincare would not be complete without bespoke cosmetics, especially when we want to highlight that flawless glow we have worked so hard for. It is also a poignant move towards greater inclusivity in the cosmetic industry that has historically favoured lighter skin tones.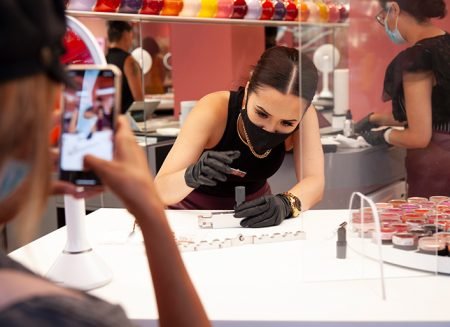 Two brands worth mentioning is Lip Lab by Bite Beauty and DCYPHER. With Lip Lab, customers can choose from a virtual or in-store experience where they will work with Colour Experts to create a custom lipstick in just 4 easy steps. DCYPHER offers a custom blended foundation just for your skin tone. Simply upload a photo onto their website and let their AI technology do the rest. It even caters to your preferences for coverage, texture and finish. How will we ever be limited to a colour range again!