The new Apple Watch Series 9 has a handy new 'double tap gesture' which means you can control the watch without ever having to touch the display. While this sounds good to us, this new feature has many saying this makes the Apple Watch Series 9 the best watch for "the laziest people on the planet!"
OK sure – we know they're joking but here at Women Love Tech, we say everyone's time poor these days so if we can control our watch by tapping or swiping – why not? With the Apple Watch Series 9, you simply use gestures like tap, swipe, wrist raise and cover to control it. For the double tap gesture, all you have to do is to tap your index finger and thumb of your watch hand together twice to perform many of the most common actions on Apple Watch Series 9.
The watch is also more powerful with the new S9 SiP, has a brighter display and Precision Finding for iPhone. The Apple Watch Series 9 runs on watchOS 10, which delivers redesigned apps, the new Smart Stack, new watch faces, new cycling and hiking features and tools to support your mental health.
The Apple Watch Series 9 is a big plus for sustainability because it's one of Apple's first fully carbon neutral products. For the first time you can choose a carbon neutral option of any Apple Watch – with some case and band combinations of the Apple Watch Series 9 representing the first-ever carbon neutral products from Apple. This represents a milestone for company's plan to be carbon neutral across its entire business, manufacturing supply chain, and product life cycle by 2030.
Apple's chief operating officer, Jeff Williams says of the new watch: "Apple Watch is an indispensable companion that helps millions of people with their health, fitness, communications, and safety, We're introducing our best Apple Watch lineup, with incredible new capabilities and technological advancements, including a new double tap gesture, brighter display, as well as our first-ever carbon neutral products. Whether users are upgrading from earlier models or buying their first, there's never been a more compelling time to experience Apple Watch."
Powered by the new S9 SiP
Apple Watch Series 9 is powered by the new S9 SiP which is Apple's most powerful watch chip yet. This chip enables system-wide improvements and features, including the new double tap gesture. Apple Watch Series 9 also has a new 4-core Neural Engine which can process machine learning tasks up to twice as fast, when compared with Apple Watch Series 8. The power efficiency of the S9 SiP allows Apple Watch Series 9 to maintain an 18-hour battery life.
More on the double tap gesture
Double tap controls the primary button so it can be used to stop a timer, play and pause music, or snooze an alarm. The gesture can be used to answer and end a phone call, and even to take a photo with the Camera Remote on Apple Watch. Double tap will also open the Smart Stack from the watch face, and another double tap will scroll through widgets in the stack.
This new double tap gesture is enabled by the faster Neural Engine in Apple Watch Series 9, which processes data from the accelerometer, gyroscope, and optical heart sensor with a new machine learning algorithm. The algorithm detects the signature of tiny wrist movements and changes in blood flow when the index finger and thumb perform a double tap.
Brighter display
The power-efficient S9 SiP and advanced display architecture increase the brightness of the Apple Watch Series 9 display up to 2000 nits — double that of Series 8 — making it even easier to read text in bright sunlight. For dark rooms or early mornings, the display can also lower to just one nit so as not to disturb people close by.
On-Device Siri with the ability to access and log health data
For the first time on Apple Watch, Siri requests can be processed on device. For requests that do not require information from the internet, such as starting a workout or setting a timer, Siri doesn't rely on Wi-Fi or cellular networks, resulting in quicker responses. The Neural Engine also makes dictation up to 25% more accurate than Apple Watch Series 8.
On-device processing is private and now Siri can be used to access data from the Health app for health- and fitness-related queries. For example, a user can ask how many hours of sleep they had the previous night, for progress on closing their Activity rings, or about their blood glucose level if they have a connected monitor. Users can also make Siri requests on Apple Watch Series 9 to log health data such as their weight, period, or medications taken.
Precision finding and HomePod integration
The ability to use Apple Watch to find your iPhone is a favourite user feature. Now, the S9 SiP includes a second-generation Ultra Wideband (UWB) chip to enable Precision Finding for the iPhone 15 family, which has the same chip. Precision Finding provides distance and direction, as well as visual, haptic, and audio guidance to a misplaced iPhone, even if it is in a different room.
The S9 SiP chip features second-generation Ultra Wideband to enable Precision Finding, providing distance and direction, as well as visual, haptic, and audio guidance to a misplaced iPhone, even if it's in a different room.
UWB also brings deeper integration between Apple Watch and HomePod. When an Apple Watch user gets within 4 metres of a HomePod playing audio, Apple Watch Series 9 will launch Now Playing to control the media. Or if nothing is playing on HomePod, media suggestions will appear at the top of the Smart Stack.
Apple Watch Series 9 runs watchOS 10 – an update which includes:
A fresh approach to view information with redesigned apps and a new Smart Stack to show relevant widgets when they're needed.
New watch faces: Snoopy, Palette, and Solar Analogue. A new Nike watch face, Nike Globe, lights up the lines on the globe with each passing second.
Bluetooth connectivity for power meters, speed sensors, and cadence sensors arrives for cyclists, unlocking new metrics and Workout Views, and cycling workouts.
A cycling workout can automatically show up as a Live Activity on iPhone and utilise the full screen when tapped.
New Compass Waypoints and Maps capabilities to further help during outdoor adventures.
Additional tools to support mental health with state of mind logging in the Mindfulness app.
The ability to measure time spent in daylight using the ambient light sensor to help reduce the risk of myopia and provide additional benefits to physical and mental health for all ages.
Carbon neutral models
Select case and band combinations of Apple Watch Series 9, Apple Watch Ultra 2, and Apple Watch SE are Apple's first-ever carbon neutral products. As part of Apple 2030, the carbon footprint of Apple Watch has been significantly decreased. Emissions were reduced from the three biggest sources of greenhouse gases — materials, electricity, and transportation. The small amount of emissions remaining are offset with high-quality carbon credits from nature-based projects. Apple Watch packaging has been redesigned to be 100% fibre-based, and a new logo on the packaging indicates models that are carbon neutral.
Apple Watch SE
Apple Watch SE delivers the core Apple Watch experience at a more affordable price point. Apple Watch SE offers Activity tracking, high and low heart rate notifications, Fall Detection, Emergency SOS, Crash Detection, and watchOS 10.
Bands
Apple is introducing FineWoven, a luxurious and durable microtwill made of 68% post-consumer recycled content which has significantly lower carbon emissions compared to leather. FineWoven has a suedelike feel, and is available with the Magnetic Link and Modern Buckle bands. Starting today, Apple will no longer use leather in any new Apple product, including watch bands.
The luxurious new microtwill, FineWoven, is available with the Magnetic Link (pictured) and Modern Buckle.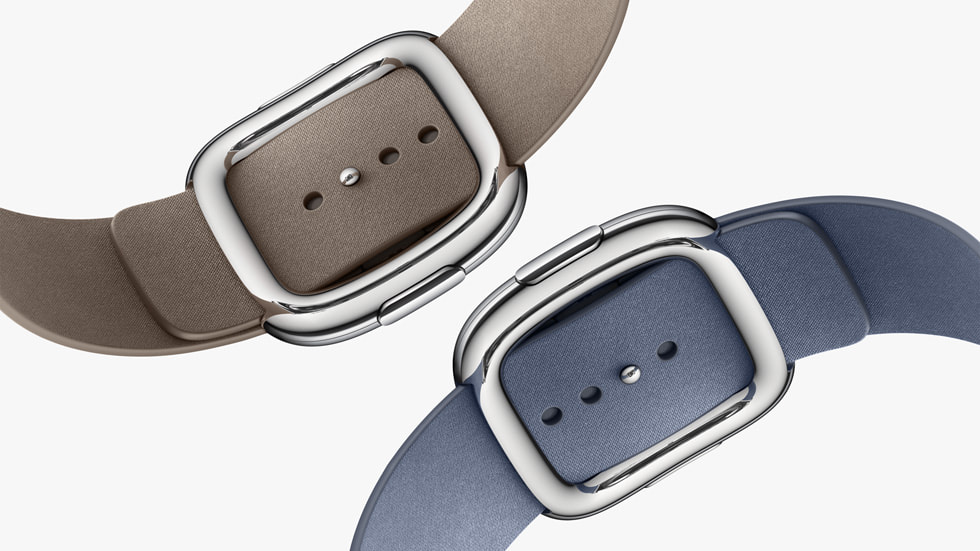 Apple worked with Nike on more environmentally friendly band collections. The Nike Sport Band now contains 32% or more recycled fluoroelastomer, including flakes made from excess bands that create a randomised pattern, while the Nike Sport Loop with a space-dye pattern repurposes yarn from previous seasons.
A new collection of Hermès bands draws on the house's history in textiles and craftsmanship. Two new woven bands are introduced: Toile H is an interpretation of the brand's signature checked canvas, and Twill Jump is a rich solid colour with contrasting details. The first-ever knitted band for Apple Watch, Bridon, is hand-braided with a bold chevron pattern, while Kilim is made of sporty, waterproof molded rubber and has a deployment buckle. A classic new watch face, Hermès Radial, complements these four new band styles.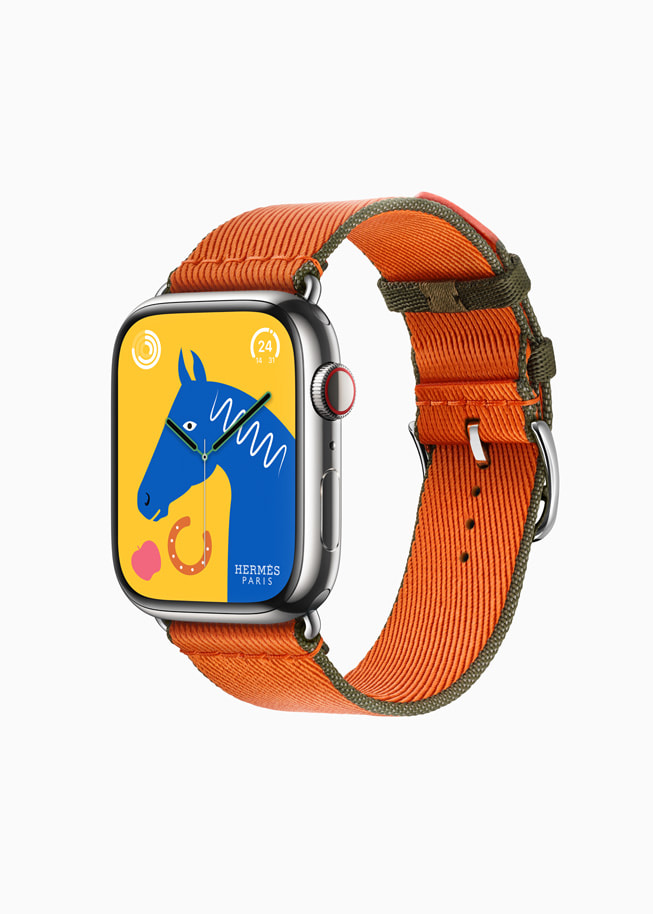 Pricing and availability: Customers in Australia, Canada, France, Germany, India, New Zealand, the UAE, the UK the US and more than 40 other countries and regions can order Apple Watch Series 9 and Apple Watch SE now and it will be available from Friday 22nd September.
The Apple Watch Series 9 starts at RRP A$649 inc. GST and Apple Watch SE starts at RRP A$399 inc. GST.
For more information about the Apple Watch Series 9, visit here.
For more from Women Love Tech on Apple products, visit here.