The dynamic design duo of Karen Ann Donnachie and Andy Simionato received the Tokyo Type Directors Club award for their AI reading machine project – a machine that essentially transforms books into short Haikus accompanied by related images.
It does this by using computer vision and optical character recognition to 'read' books. Then with machine learning and natural language processing, it selects a poetic combination of words while erasing the rest to form an artsy-looking Haiku. While doing this, the reading machine also using Google to search up images that relate to said words.
Donnachie and Simionato have released a series of books that we know and love with a slight twist. Each has been reconstructed into illustrated Haikus by the AI reading machine and carries a witty cautionary label: 'Warning! This book was not designed by humans.'
They've already done this with over a dozen books including Margaret Atwood's The Handmaid's Tale, Truman Capote's Breakfast at Tiffany's and even E.L. James' 50 Shades of Grey. I don't think you need me to describe what the corresponding images for the Haikus of 50 Shades of Grey were like…I'll just let your imagination run wild.
The best part is that you never know how a page will turn out. At times it's deeply poetic and soul-opening and the next it's non-sensical and comedic gold.
"We run several versions of each book and they always produce different results (…) each formulation unlocks new puzzles and combinations that have always been there but which we could never see,"

says Andy Simionato.
For example: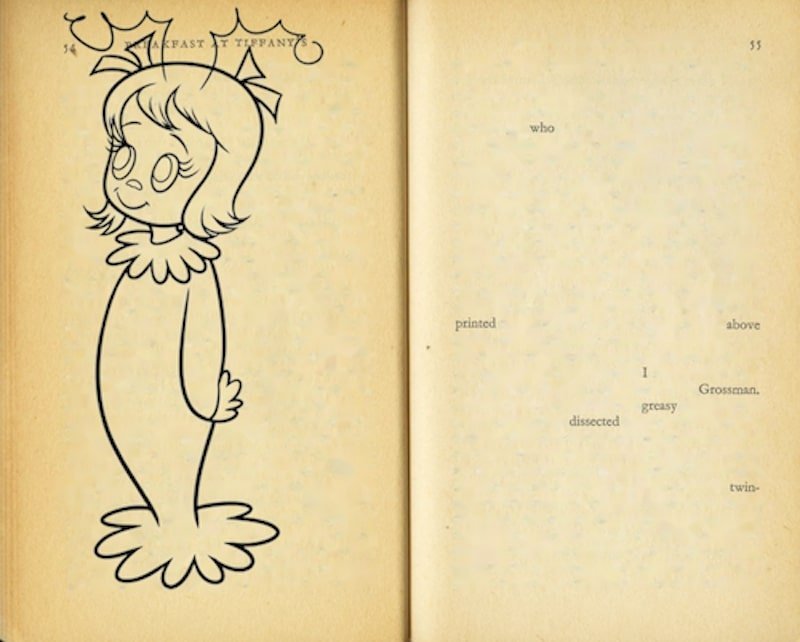 Or this one:
So profoundly poetic isn't it?…wait is it? I can't tell.
But beyond the laughs lies a more serious side to the purpose of this AI reading machine. Donnachie explains that they want people "talking about poetry in the age of AI. This, really, is our attempt to grapple with the future of the book, an object we've had around us for so long and that's so central to many cultures, that's changing so fast."
With the world being so saturated with short, sometimes meaningless pieces of text from social media, memes, emojis, Simionato and Donnachoe place importance on the themes of chance and imperfection. Like the reading machine, whose results are based exactly on those two things, chance and imperfection "have always been what makes us human and what often delights us in art," says Simionato.
"We embrace uncertainty and this demonstrates one way that we can make our technology do that too. It's a choice,"

says Simionato
The Library of Non-Human Books reading machine previously went on display at the Melbourne Art Book Fair at the National Gallery of Victoria.