Yesterday it was announced that TikTok will be setting a default 60-minute time limit for all users who are under 18. Since the rise in popularity of the social media platform, many have voiced the concern that TikTok is highly addictive.
This is because scrolling through short videos releases bursts of dopamine in the brain, encouraging users to endlessly scroll. TikTok anticipates that the 60-minute time limit, along with other wellbeing updates, will help to prevent teens from becoming addicted to the app.
Here is everything you need to know about the update:
Default screen time for under 18s
Academic researchers and experts from the Digital Wellness Lab at Boston Children's Hospital were consulted to decide on the 60-minute limit. When the limit has been reached, teens will be required to enter a passcode to keep watching.
Cormac Keenan, TikTok's head of trust and safety, stated that: "while there's no collectively-endorsed position on how much screen time is 'too much', or even the impact of screen time more broadly, we recognize that teens typically require extra support as they start to explore the online world independently".
If teens decide to opt out of the 60-minute default and choose to spend more than 100 minutes a day on TikTok, this will prompt them to set a daily screen time limit for themselves. In TikTok's first month of testing, this approach increased the use of their screen time management tools by 234%.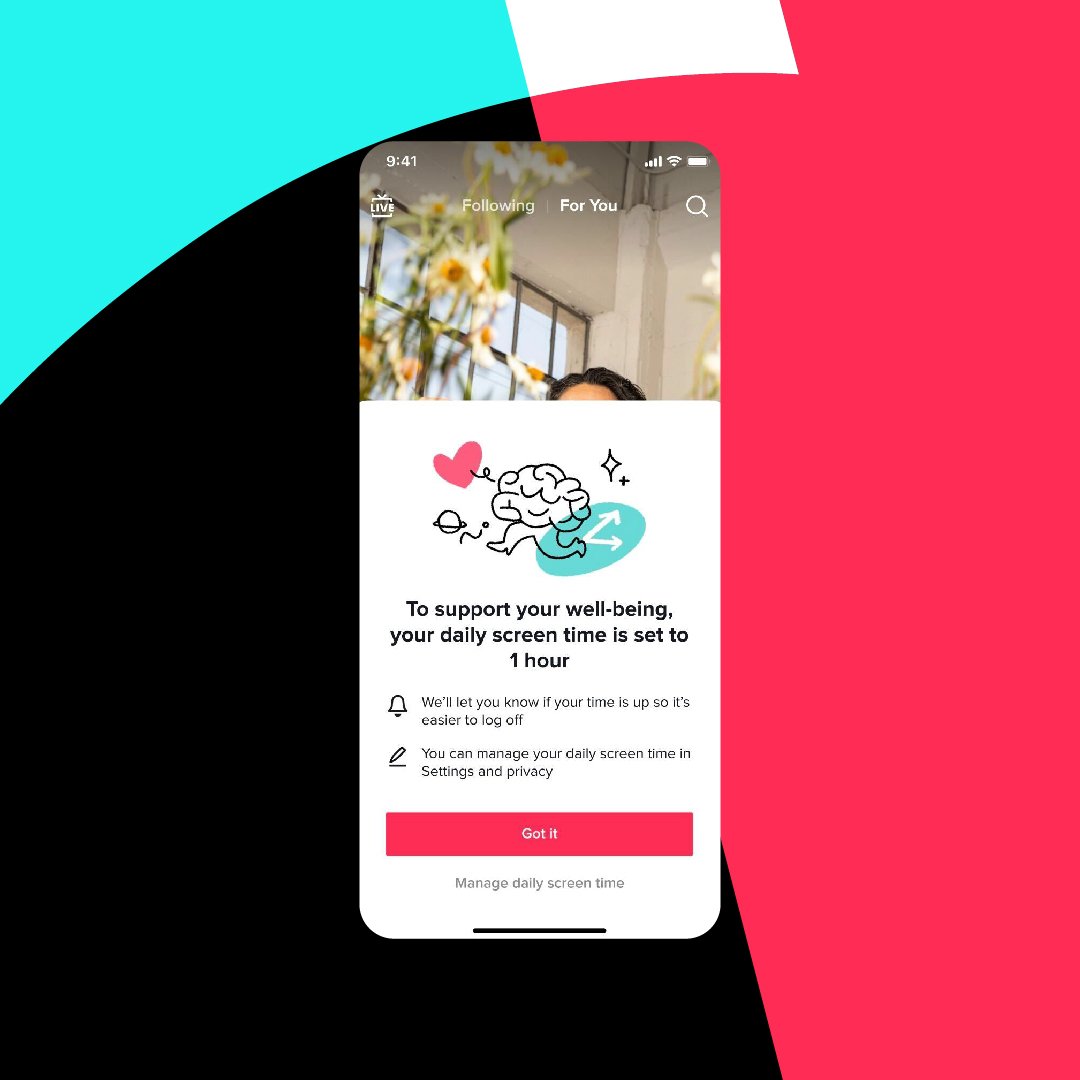 TikTok will also send every teen a weekly notification with a summary of their screen time. The idea of these changes is not to necessarily ban over-usage of the app, but to make teens more aware and intentional about how they spend their time.
Some content creators are concerned that these changes will reduce their engagement levels, especially if their audience mainly consists of young people. However, these time management tools are necessary for the overall digital wellbeing of the TikTok community.
Caregivers can check their teen's screen time
Parents and caregivers play a crucial part in guiding teens to make healthier digital choices. So, the new Family Pairing features give caregivers the ability to set a custom daily screen time limit for their teens, and this can be adjusted for particular days. For example, caregivers can adjust screen time based on whether it is exam season or if their teen is on a holiday break.
Caregivers will also be able to view a screen time dashboard. This includes the number of times their teen opened the app, as well as a summary of the time spent on TikTok during the day and night. Caregivers will also be able to set a schedule for muting TikTok notifications, which could reduce distractions, especially during their study and sleep hours.
New features for everyone
But these features aren't just limited to teens. All TikTok users will soon be able to set a customised screen time limit for themselves, as well as a schedule to mute notifications. TikTok is also adding a sleep reminder feature, which will help people plan when they want to go offline to unwind at night.
For more TikTok news, check out:
Yikes! The Teenage Filter on TikTok is Trending
TikTok's For You Fest 2022 Winners & Celebrities